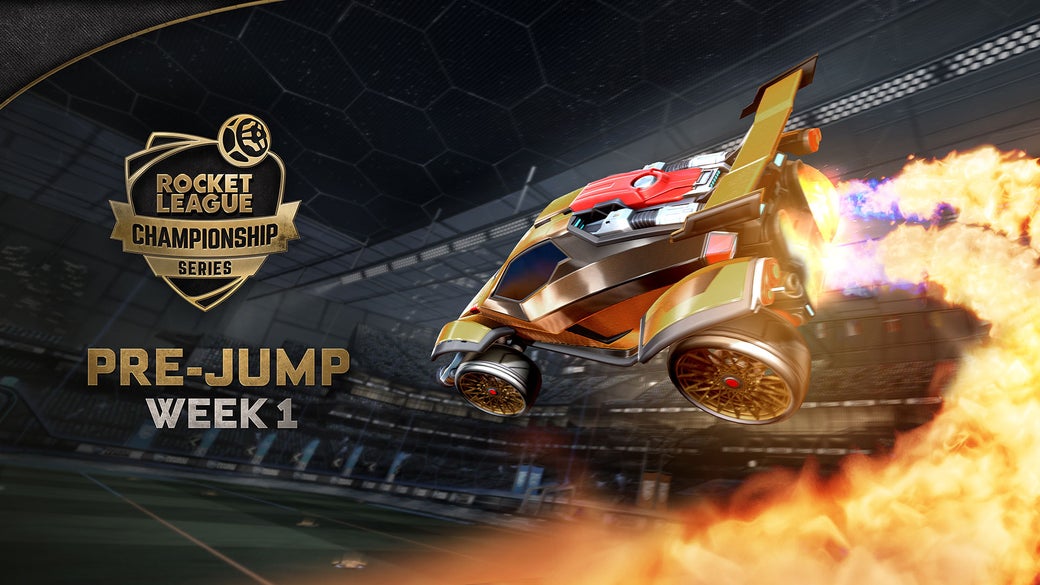 The first week of #RLCS8 has come and gone and there are already storylines developing throughout both the North American and European Rocket League Championship Series (RLCS). If you missed the first weekend of the RLCS or you just want to check in on some of the biggest takeaways of the week, we've got you covered.
Let's (pre) jump into it!
Knight and Day
After an electric win at DreamHack Montreal, expectations launched into the stratosphere for the Pittsburgh Knights (formerly The Peeps). That kind of pressure coupled with their debut match in the RLCS lead to a less than stellar opening result. Their 1-3 loss to Ghost Gaming felt flat, uninspired, and quite frankly, not like themselves at all. If you're one to jump to conclusions, then you probably jumped directly to the "These guys are a one-hit-wonder" line of thinking. What it ended up being was a team getting their first taste of the RLCS while finding their footing along the way.
Their second match was much more in line with expectations. In an arguably tougher match up, the Pittsburgh Knights swept Rogue 3-0 in order to lock in a 1-1 Week 1 record. The Pittsburgh Knights looked like they settled into their playstyle, utilizing bumps and demos in order to open up opportunities for their offense. It was a relief for fans after what was a shaky start. The question remains: Which Pittsburgh Knights will we see next week against Cloud9? If they want a realistic shot against the Season 6 World Champions, they'll need to bring the swagger that made them so dangerous in Montreal.
Lighting a Flame
Ask just about anyone what Veloce's record would be after Week 1 and you'd get a near-unanimous 0-2. So, when Veloce ended the week 2-0 it was an alert that reminded us just how close teams are in terms of talent and ability. It wasn't like their first week was a walk in the park either. When you've got Complexity and their young playmaker Hrant "Flakes" Yakoub as your opening match, followed up by a date with Dignitas and their mechanical wizard, Maello "Aztral" Ernst, it's safe to say you've got your work cut out for you. Veloce stepped up to the challenge, handily defeating Complexity 3-1 and then they toughed out a close 3-2 victory over Dignitas.
While both Sandro "FreaKii" Holzwarth and Jack "FlamE" Pearton performed very well, it's interesting to look at the effect Andy "Kassio" Landais has on the roster. The way he plays is reminiscent of the type of guy who earns "Sixth Man of the Year" in basketball. That award goes to a player that isn't a starter but typically puts up starter-level performances all year off the bench. A lot of fans and analysts haven't given Kassio the time of day (he did finally earn Player of the Day this week), yet this is the second RLCS team where he's transformed their playstyle by being the bedrock playmaker. It remains to be seen if the Kassio effect will hold throughout Season 8, but if the early signs are an indication of things to come, it might be time to put more respect on Kassio's name.
A Complex Problem?
If Veloce wasn't predicted to go 2-0, Complexity was definitely not predicted to start 0-2. It's a tough position for a team, especially when you know the ceiling is so much higher than you've shown. Complexity has repeatedly shown up and placed respectably at DreamHacks throughout the year, so it was a bit of a shocker to see them drop their first two matches. The first loss against Veloce felt like an unfortunate concoction of first-game jitters and uninspired teamwork. Their second loss was more understandable (a 1-3 loss to defending World Champions, Renault Vitality), but in that defeat, they looked like a completely different team. Their defense was snappy and their overall presence on the pitch felt revitalized.
That's the silver lining here. If Complexity can match the defensive effort they put up against Renault Vitality, almost any other team will fail to find the goals required to beat them. It's easy to give in to a bad couple of matches, but Complexity is in the RLCS because they've proven they have what it takes to play against the best teams in the world. It'll be up to them to take their frustration, hone it, and turn it into competitive energy that'll help them start getting dubs on the RLCS pitch. They can do it. It's more than possible based on the talent on their squad. Now it's up to Complexity to get their mentality squared away heading into Week 2, because if they do that, they've got an attackable match up with Dignitas that could represent the start of their turnaround.
One-Man Show
Based on the headline, who do you think is being referenced? If you guessed Yanis "Alpha54" Champenois, then you're correct! TSM's newest addition was simply masterful on Sunday. After his squad dropped down 0-2 to mousesports, it looked like a clean sweep was on deck. Fortunately, Alpha54 awoke from his two-game slumber to drag TSM kicking and screaming across the reverse sweep finish line. His six-straight goals propelled TSM to an unlikely win that could very well have Regional Championship implications down the line. It shouldn't come as a surprise really, considering that he's the reigning European RLCS MVP, yet it doesn't make it any less impressive.
While the spectacle of Alpha54 was certainly something to behold, it doesn't seem like a sustainable strategy moving forward. He'll need much more consistent backing from his teammates if TSM wants to compete for a top-four spot in the European RLCS. It isn't like Remco "remkoe" den Boer and Otto "Metsanauris" Kaipiainen aren't capable—they are, we've seen it—but they need to bring more to the plate, especially to maximize the offensive hurricane that is Alpha54. Regardless, there's just one question left: What are they putting in the French water?

What were your biggest takeaways from Week 1? Let us know on Twitter with hashtag #RLCS8! Be sure to tune in on October 12 at 11:30 a.m. PDT (6:30 p.m. UTC) and October 13 at 8:30 a.m. PDT (3:30 p.m. UTC) for the North American and European RLCS Pre-Shows. The RLCS action will follow shortly after each. We'll see you there!