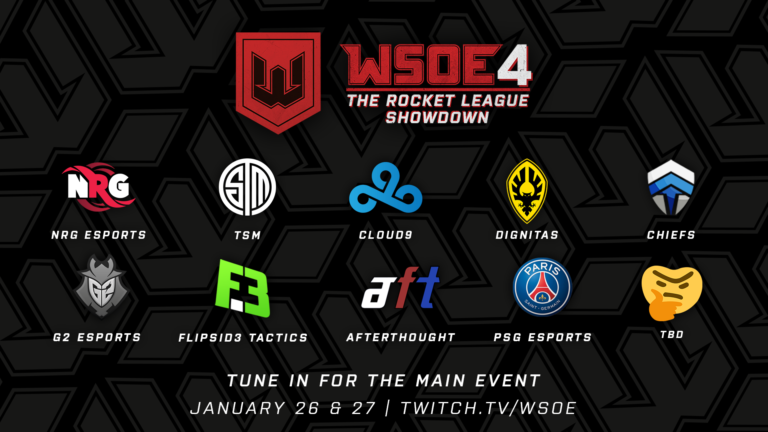 After a great 2018 for Rocket League Esports, we're starting the year off with a bang in association with our friends at the World Showdown of Esports (WSOE)!
WSOE 4: The Rocket League Showdown premieres this weekend and will feature ten of the best teams in the world competing for a prize pool of more than $100,000 over the course of two action-packed days! Plus, for the first time ever, fans will get to see a South American (SAM) team compete against the best that North America, Europe, and Oceania have to offer. It's finally time to see how SAM's best players compete at the highest level of Rocket League! Check out the full list of teams below:

Europe:
Dignitas - Turbopolsa, ViolentPanda, Yukeo

FlipSid3 Tactics - Kuxir97, Miztik, Speed

PSG Esports - Chausette45, Ferra, fruity

TSM - EyeIgnite, Metsanauris, remkoe
North America:
Afterthought - hockser, mist, Shock

Cloud9 - Gimmick, SquishyMuffinz, Torment

G2 Esports - Chicago,JKnaps, Rizzo

NRG Esports - Fireburner, GarrettG, jstn
Oceania:
Chiefs - Kamii, Torsos, ????_?????????
South America:
The Boost Deniers - FireFoxD, Noiisey, valt
Schedule
Day 1: Saturday, January 26 at 9:30 a.m. PST (12:30 p.m. EST / 5:30 p.m. UTC)

Day 2: Sunday, January 27 at 9:30 a.m. PST (12:30 p.m. EST / 5:30 p.m. UTC)

For more information on the event, make sure to follow WSOE on Twitter and check out their website!