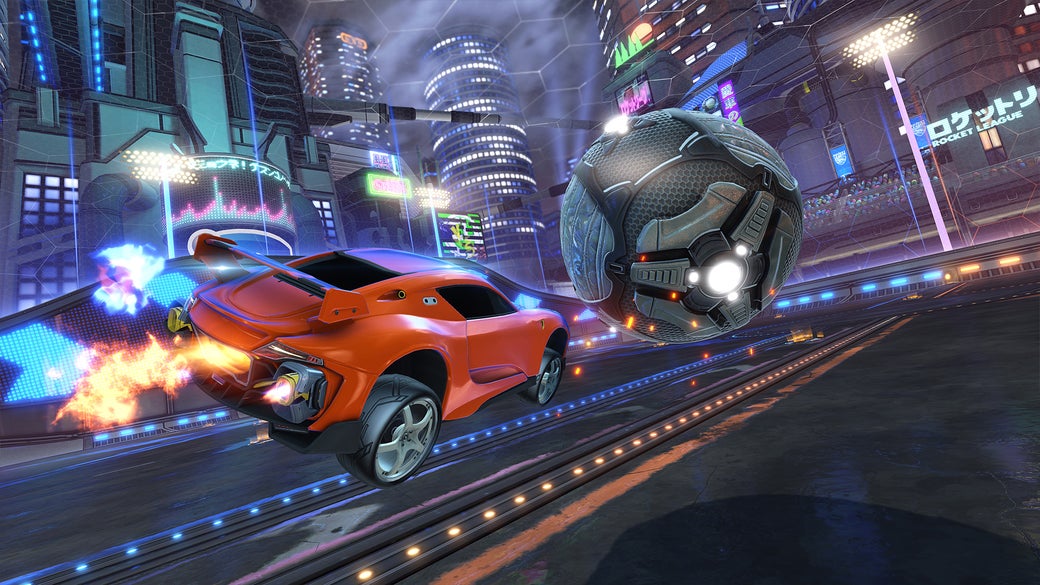 The Rocket League Championship Series (RLCS) World Championship is nearly upon us! With just a few days before the best teams in the world compete in the highest-stakes tournament of their lives, fans are debating who might make the biggest impact in New Jersey.
There are big names and tournament newcomers that all have a shot at making a splash when they hit the stage at the Prudential Center. Let's take a look at some of the players who could make this Rocket League World Championship one that we'll never forget.
Yanis "Alpha54" Champenois
As the reigning European RLCS MVP, there's no shortage of reasons to watch Alpha54. What makes his MVP win even more awe-inspiring is that he hit every shot, made every save, and dished every assist as a rookie. If you needed any more convincing, turn your attention to him having led his newly promoted FC Barcelona (formerly Savage!) squad to second place in the European RLCS. For only having one season under his belt, Alpha54 has already amassed quite a stack of accolades.
Having earned honors in one season that other players will work their entire careers to achieve, it's no wonder that Alpha54 hits this list. FC Barcelona's ultra-aggressive style goes as Alpha54 goes, and while they've got plenty of auxiliary talent between his teammates Daniel "Bluey" Bluett and David "Deevo" Morrow, FC Barcelona is continuously keyed by their all-star rookie. His level of play will continue to dictate FC Barcelona's pace, and if he's at the top of his game, there's no limit to the aggression that Alpha54 and FC Barcelona can bring.
Aidan "ZeN" Hui
After the shocking departure of Matthew "Drippay" Den-Kaat in early 2019, Renegades (formerly Chiefs Esports Club) had a massive void to fill and not a lot of time to make it happen. They ended up taking a gamble on an up-and-coming young star by the name of ZeN. He quickly made a name for himself while also soaking up years of veteran experience from his teammates, Daniel "Torsos" Parsons and Cameron "Kamii" Ingram. ZeN continued to grow his game throughout the season. Even though Torsos' monster performances earned him the regular season MVP, ZeN was working his way into form.
It all came together for him in the Rocket League Oceanic Masters Regional Championship where ZeN keyed Renegades' top finish and picked up his own MVP award. It'll be up to him to make sure he continues to build upon the foundation that he and his teammates have set. It's a whole new ball game playing in the World Championship and, as the newest member of Renegades, he's got that much more to prove. If ZeN can put the puzzle pieces together while competing in the biggest tournament of his young career, then his squad has a fighting chance to match the fourth place Oceanic benchmark set by Chiefs Esports Club last season.
Jayson "Fireburner" Nunez
The story of Fireburner has always been one of quiet consistency. His steadfastness and level-headedness under pressure have made him into one of the most universally respected "third men" to ever hit the Rocket League pitch. Couple that with his ability to win nearly any 50/50 ball under the sun and you've got a recipe for an all-time great player.
Fireburner is often seen as the player that sets NRG Esports' sky-high skill floor. His ability to play fluidly between roles helps him fit neatly into whatever his team needs in a given situation. That means he easily compliments the insane firepower that his teammates Justin "jstn" Morales and Garrett "GarrettG" Gordon bring to the pitch. While their ability to absolutely go off at any moment creates the explosive nature of NRG Esports' offense, Fireburner's consistent offensive pressure and stalwart defense are what will set the pace for his team as they battle for their first World Championship trophy.
They may have stumbled at DreamHack Dallas, but Fireburner is aiming to help carry his team to victory whether he's taking the lead on offense or dropping back to stop a shot cold in its tracks. He'll be in front of thousands of fans in his home state and if there was ever a time to deliver—it's now.
All of Renault Vitality
On paper, this is one of the most talented rosters to ever be assembled in Rocket League Esports. The trio of Victor "Fairy Peak!" Locquet, Kyle "Scrub Killa" Robertson, and Alexandre "Kaydop" Courant are quite simply all at a superstar level. Yes, they didn't really show up to play at DreamHack Dallas, but one poor outing isn't enough to take away from the dominance that Renault Vitality displayed throughout League Play during Season 7, where they locked in a dominant 6-1 overall record. They topped that off with a stellar showing at the European Regional Championship, claiming Europe's first seed at the World Championship with a 4-2 win over FC Barcelona in the Finals.
With immense offensive firepower and the defensive masterminding to match, Renault Vitality is nothing short of a powerhouse ahead of the World Championship. If they can tighten up their play as they prep for hitting the stage in New Jersey, it'll be a tough ask for any team to stand in their way. Renault Vitality built this team to win and they've got a very real shot to take home the hardware if they're firing on all cylinders come June 21.
Gabriel "Caard" Vieira
It's arguable that Caard carries the expectations and hopes of the entire South American region on his shoulders. As one of the most talented—and flashy—players to come out of the Grand Series, Caard is looking to make a name for himself and help put his region on the map in their first-ever trip to the World Championship. It's an incredibly tough assignment, but one that he, and the entire roster of Lowkey Esports, have fought for all season long.
What sets Caard apart from many of his peers is how he performs under pressure. His ability to seize the moment and make plays when his team needs them the most has turned him into one of South America's first true superstars. To make that translate from online play to the biggest stage in Rocket League Esports is incredibly difficult and it remains to be seen how that type of pressure will affect Caard. Yet, if we're to believe that Caard is a player that thrives under the gun, then we just might be in for one high-flying debut.
Dillon "Rizzo" Rizzo
It may be a bit strange to see Rizzo's name here, especially given that he plays on the same team that has the two-man fireworks show of Reed "Chicago" Wilen and Jacob "JKnaps" Knapman. But hear the argument out here. When G2 Esports have looked their best, they've had a more balanced attack that features a more aggressive Rizzo. Sure, it has worked to have the duo of Chicago and JKnaps try to carry the offensive load, but that's not a strategy that'll deliver consistent results at the highest level. When it comes to the World Championship, G2 Esports will need Rizzo to step in and deliver more highlight-reel plays if they want to compete for the trophy.
So, in order to become more balanced in the offensive half of the field, G2 Esports will be relying on Rizzo to step up his game and find the proper role that'll help elevate their team play to the next level. It's not an easy fix to implement, but they showed flashes of improved team synergy while playing at DreamHack Dallas. If G2 Esports can continue to figure out creative ways to slot Rizzo into their offense, it might just be the push they need to make a deep run at the World Championship this season.

Want to catch these players clash live at the World Championship on June 21-23? Be sure to tune in on Twitch and YouTube all weekend long starting Friday! The action begins each day at 12:00 PM ET / 4:00 PM UTC. Don't miss it!