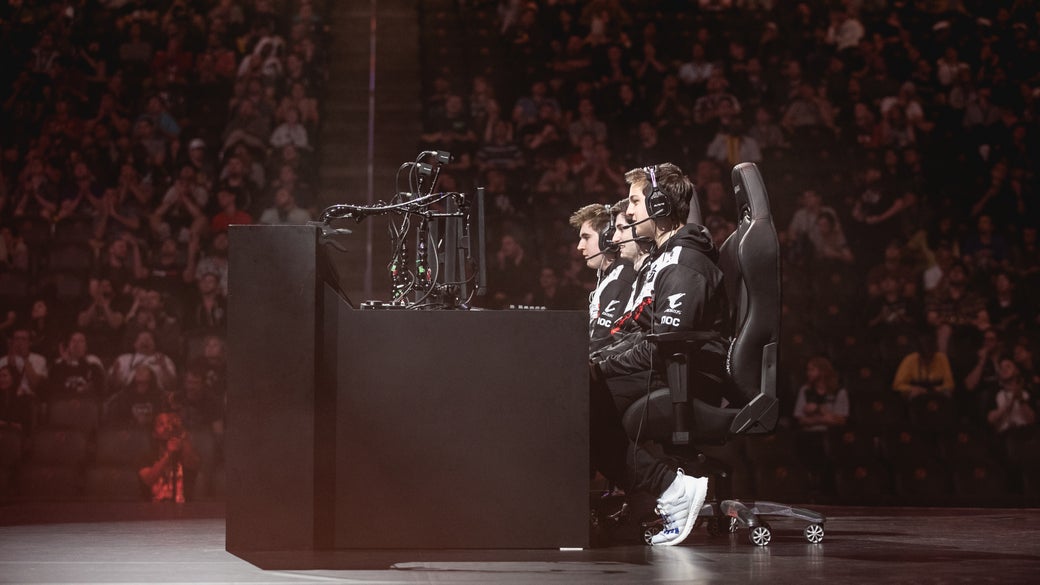 Day 2 of the Season 7 Rocket League World Championship is in the books. It was another day full of clutch shots, insane plays, and the addition of one beautiful, cell-phone-fueled waves by our awesome fans. What if you missed all or some of the day though?
No worries! Read on to get caught up on the biggest storylines heading into Championship Sunday.
All In the Family
It's undeniable, Triple Trouble are the most wholesome team to ever hit the World Championship stage. Whether it's Dion "Base" Rees-Harris bawling on-stage after his team punched their tickets to Day 3, Euan "Tadpole" Ingram's family cheering from the stands, or Aldin "Ronaky" Hodzic's girlfriend supporting him while he handles the immense, World Championship pressure, Triple Trouble's family ethos has quickly endeared them to fans around the world.
That's not the only reason we're talking about them though. Their solid play on Day 2 showed us increasingly bright glimmers of the potential lying just under the surface. It looks like the World Championship rookies are getting acclimated to the roar of thousands of fans around them and it couldn't come at a better time.The simple truth is that Triple Trouble will have never been under the type of pressure they'll be facing when they take to the stage for their Quarterfinal matchup against Rogue. But with their support system behind them, Triple Trouble believe that anything is possible. Now it's up to them to make us all believers.
The Knapsack Is Back
After underwhelming performances at the last two World Championships, G2 Esports was unfortunately beginning to become known as a team that couldn't deliver in a LAN environment when it mattered most. In an effort to change their fortunes, the team brought on Reed "Chicago" Wilen to replace RLCS veteran Cameron "Kronovi" Bills before Season 7 began. It's a change that has seemed to spark a completely new gear for G2 Esports. But more specifically, it seems to have brought Jacob "JKnaps" Knapman back into tip-top form.
Day 2 was an absolute masterclass from the G2 Esports frontman. He led a relentless G2 Esports assault that resulted in them taking first place in their group over European heavyweights Renault Vitality. It was an unexpected, but absolutely stunning display that instantly put the rest of the field on notice. If JKnaps can hold his form and his team continues to keep the passing plays coming, they might be one of the most dangerous squads heading into Championship Sunday.
PSG Perseveres
When people talk about PSG Esports it's usually one of two things. The first being how they're consistently slept on and underrated for a team that continues to make World Championship after World Championship. The second is how they can have trouble closing out series after they've built themselves a lead. That problem is something that Victor "Ferra" Francal has gone on the record about and he admits the team has begun to feel the pressure when they need to close out series strong.
It's an issue that PSG Esports has actively been working to address throughout the season. Day 2 was a testament to the work they've been putting in. Their first series was played at breakneck pace as they battled at lightspeed across the pitch against NRG Esports. While they ended up losing 1-3, it showed that PSG had clearly been tuning their play up ahead of the World Championship. Their next series was against South American upstarts, INTZ e-Sports. They went up 2-0 quickly in the series, which is a place they've been at plenty of times before (but has also become precarious for them). But this time around, PSG Esports closed out the series in a clean 3-0 sweep that punched their tickets to Championship Sunday. And like Ferra has said, once his team's there, anything can happen.
Thank You, South America
Yes, they didn't make it to Championship Sunday, but for the two South American teams that represented the Grand Series this weekend (INTZ e-Sports and Lowkey Esports), they should have nothing but pride in how they performed. After years of preparing themselves in the crucible of locally organized tournaments, these teams were finally able to showcase what makes their region one that belongs among the best teams in the world.
Their ultra-aggressive, high-flying style instantly made them crowd favorites. It was impossible not to be impressed by their speed, reckless abandon, and now, well-known South American mechanical flair. It was a wonderful debut that served as a reminder that great Rocket League doesn't only come from North America, Europe, and Oceania. There's a ton of promise in the fledgling South American region and now there's excitement brewing about just how great the Grand Series teams could be come Season 8. On behalf of the Rocket League community, thanks for one heck of an opening act, South America.
Are you ready to watch the best teams on the planet battle on Championship Sunday? Be sure to tune in at 12 p.m. EDT / 6 p.m. CEST on June 23. We're about to crown a World Champion. Be there.