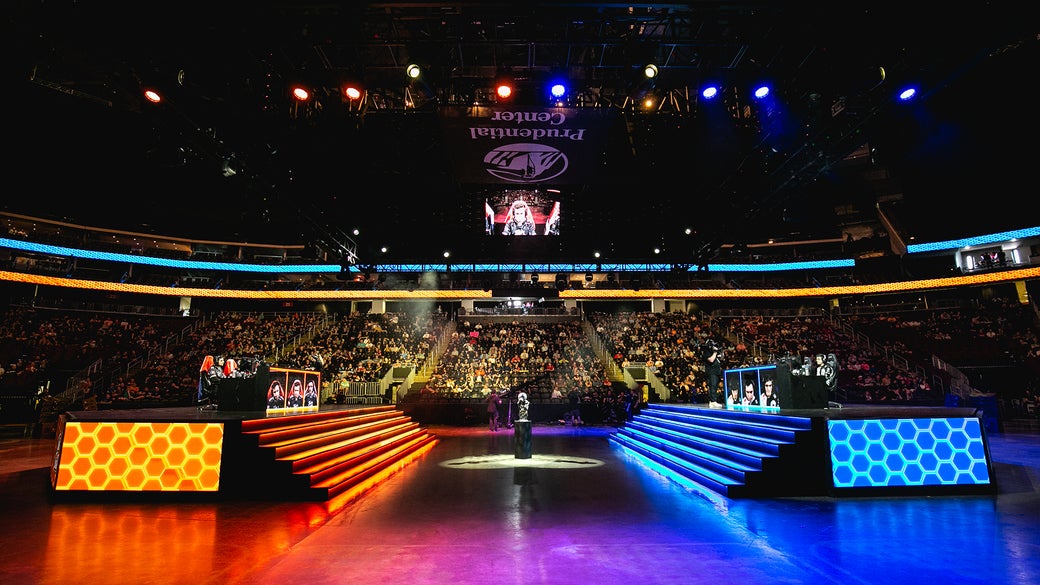 Whew. We just wrapped up Day 1 of the Rocket League Championship Series (RLCS) Season 7 World Championship and it was full of amazing plays and clutch moments.
But what happens if you had to miss some or all of the action? We've got you covered. Check out some of the biggest takeaways from Day 1 and get yourself prepped and ready for Day 2 of the World Championship!
South America Impresses
The expectations for the Grand Series representatives was admittedly low coming into the World Championship. As the South American region's first foray into World Championship waters, Lowkey Esports and INTZ e-Sports came into the event knowing that their performance would set the bar for their peers for seasons to come. On Day 1, they made their region proud.
Even though they came up winless, their performances inspired confidence, awe, and most importantly, respect. Lowkey fought valiantly against defending World Champions, Cloud9. Meanwhile INTZ e-Sports pushed North American powerhouse, NRG Esports, to the brink in a nail biting 2-3 series loss.They may not have gotten a win, but both squads emphatically proved that they deserve to stand amongst the best teams in the world.
Rogue Strikes Early and Often
When fans think of Rogue they think of Cameron "Kronovi" Bills carrying the team to victory through both his leadership and play. Yet, on Day 1 of the World Championship, it was Nicholas "Wonder" Blackerby and Austin "AyyJayy" Aebi who carried the day, turning in the most clutch performances of their careers so far.
The otherwise quiet Wonder could be seen yelling and pumping his fist as both he and AyyJayy knocked down shot after shot. It was a new look for Rogue as a whole, but it was one that fit them well. Their fiery performance was one of the biggest surprises of the day and was punctuated with a fitting overtime finisher from Wonder. Momentum is a powerful force in Rocket League and it looks like Rogue's got it in spades heading into Day 2. If they can pick up a single game win tomorrow against Renegades, they'll punch their tickets to the high-stakes Day 3.
On Cloud9
Fresh off a massive win at DreamHack Dallas, Cloud9 had everything going for them heading into the World Championship. In true championship form, they hit the pitch and took care of business. A 3-0 win over Lowkey Esports gave way to a convincing 3-1 win over European upstarts, Triple Trouble.
With those scorelines, it's tempting to think that Cloud9 completely coasted through the competition, but that's not the whole picture. The defending champs actually displayed remarkable resilience after a huge missed opportunity from Mariano "SquishyMuffinz" Arruda turned into a gut-wrenching overtime Game 1 loss to Triple Trouble. For lesser teams, that type of disaster could spell a tail spin, but SquishyMuffinz and Cloud9 instead rattled off three-straight wins to dispatch Triple Trouble and book their spot in Championship Sunday. There's no team on the planet that's looking scarier than Cloud9 and they've only got one thing on their minds—going back-to-back.
Ready for the Big Time
Young prodigy Kyle "Scrub Killa" Robertson is no stranger to massive expectations. Ever since the Rocket League Esports community caught wind of a youngster that could body just about anyone he went up against, he's been under the spotlight. Well, on Day 1 of the World Championship, Scrub Killa proved that the spotlight is exactly where he belongs.
Whether it was him beckoning the crowd to get loud and cheer him on, his creative striking, or his Day 1 MVP award Scrub Killa undoubtedly stole the show during his time on stage. Most importantly though, he and Team Vitality took care of business and have set themselves up beautifully for a shot at Day 3 after taking down Ground Zero Gaming 3-1. If Scrub Killa can continue to turn in monster performances while simultaneously being a crowd-favorite personality, he could very well be the face of Rocket League Esports for seasons to come.

Want to catch World Championship action live? Be sure to tune in on Twitch and YouTube on June 22-23 at 12 p.m. EDT / 4 p.m. UTC! If you miss any of it, don't worry, we'll have another one of these to get you caught up before Championship Sunday.