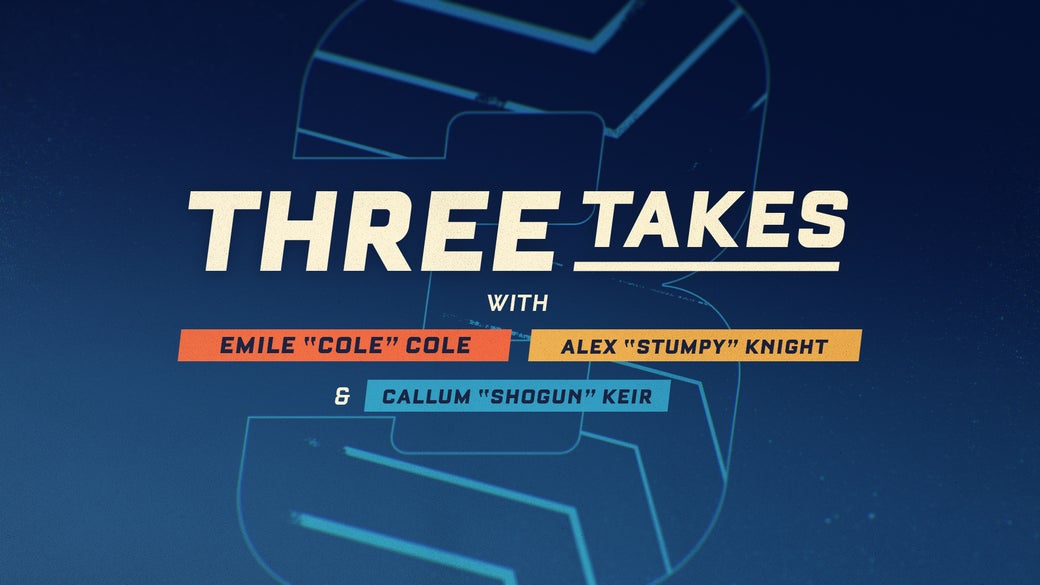 Welcome to Three Takes, where spicy takes are the only thing on the menu! This week we sat down with Emile "Cole" Cole, Alex "Stumpy" Knight, and Callum "Shogun" Keir to get their thoughts about how the Rocket League Championship Series (RLCS) season is shaping up so far.
Let's stop the chatter and jump right into the spice!
Take #1
"Team BDS will win the next two Regionals. Just because they lost one Grand Final (and one freak series in the Swiss, where Andy "Kassio" Landais's Game 5 bump into Archie "archie" Pickthall was the save of the season) doesn't mean they'll be dragged into the mid-table overnight. If anything, Endpoint's smash n' grab from 3-1 down in the first Series of the Grand Finals Set will make Team BDS even more formidable going forward; never again will they be stunned when a team wrestles back momentum from them." -Cole
We specifically told Cole we were looking for hot takes and we got… this. Sure, Team BDS fell to a red-hot Endpoint squad this weekend. Yet, there were glimmers of the dominant Team BDS throughout the Grand Finals that we've come to expect. Like many great teams before them, Team BDS is learning that sustained greatness is truly the hardest code to crack in the RLCS. It gets even harder as teams gain ground and come up with tactical plans to thwart the European behemoth that is Team BDS.
While winning the next two European Regionals seems far from certainty, if there was any team that could do it, most people's chips would be down for Team BDS. It's bounce-back time for Team BDS, as they've failed to scale the Grand Finals summit in their last two RLCS events (European RLCS X Championship and the European Open). Legends in the sporting world are defined by what they do not only when they're dominant, but also by how quickly they stand back up after being knocked down. Queue up the motivational music, Team BDS has a chip on their collective shoulders.
Take #2
"Team Vitality absolutely threw it. They choked, they lost, suffered the worst placement the organization has ever had, and that's how competition goes sometimes. The difference with Team Vitality, and why I'm not counting them out just yet, is because they've been down before and have risen back to become European Champions. A long, hard conversation needs to be had with every player on that team to make them play even semi-competently again, but I hope they realize that this season won't be a casual Major qualification run, they'll need to respect every single opponent. When you're at the top of any region, you have a gigantic target on your back." -Stumpy
After we posted the European RLCS Points Leaderboard online, the comments were filled to the brim with variations of "Where's Vitality?" It's a great question considering that you'd have to scan all the way down to 16th Place to find the defending European RLCS Champions. It's quite the early stumble, and one that could cost Team Vitality dearly if they don't place near the tip-top of Europe in the next two Regionals.
There's not much else to say here. This outing was one that everyone from Team Vitality would like to forget about. And they'll need to have the memory of a goldfish, because they've got Open Qualifiers coming up, and assuming they make it, they've got the insane challenge of running the gauntlet of talent that is the European RLCS.
Take #3
"With Team BDS & Endpoint making the Grand Finals while playing from a bootcamp, coaches and organizations from all regions must take heed—and find every angle they can to get their players to the next level. It may well be that the advantage given by a bootcamp has already gone after this weekend, since I'm sure many are now plotting it out. If that's the case, getting this all figured out may now be a case of keeping up instead of getting ahead." -Shogun
This one should be interesting to track throughout the RLCS 2021-22 season. Bootcamps have been a thing for ages, but their popularity in Rocket League Esports is starting to pick up steam, especially with a return to LAN events on the horizon with the Fall Major set to take place in Stockholm, Sweden. Getting players prepped for in-person play is going to be a major advantage as eyes inevitably start turning to Stockholm for the Fall Major.
As competition tightens at the highest level, coaches and organizations would do well to search for any and all methods that can separate their team from the rest of the pack. Bootcamping is a clear place to start, and if it does become a defacto arms race in gaining an advantage as Shogun says it will, that advantage will soon fade and become the status quo. In a Split where only two Regional Events remain per region, the clock's ticking. As the saying goes, the early bird gets the worm.
Make sure to tune in this weekend on Twitch and YouTube at 10 a.m. PT (5 p.m. UTC) for the second North American Fall Split Regional Event, dubbed the Haunted Hallows Cup, for some festive (and competitive) RLCS action! Don't forget to also tune in to the Asia-Pacific South (APAC S), Middle East & North African (MENA), and Oceanic (OCE) RLCS broadcasts this weekend. APAC S begins at 5 p.m. SGT (2 a.m. PT), MENA begins at 6 p.m. KSA (8 a.m. PT), and OCE begins at 5 p.m. AEDT (11 p.m. PT). Additionally, if you tune in to any RLCS broadcast over the weekend for 30 minutes or more, you'll be eligible to receive the Joker Player Avatar Border as a Fan Reward. It'll only be available this weekend, so make sure to tune in and claim it. We'll see you this weekend!