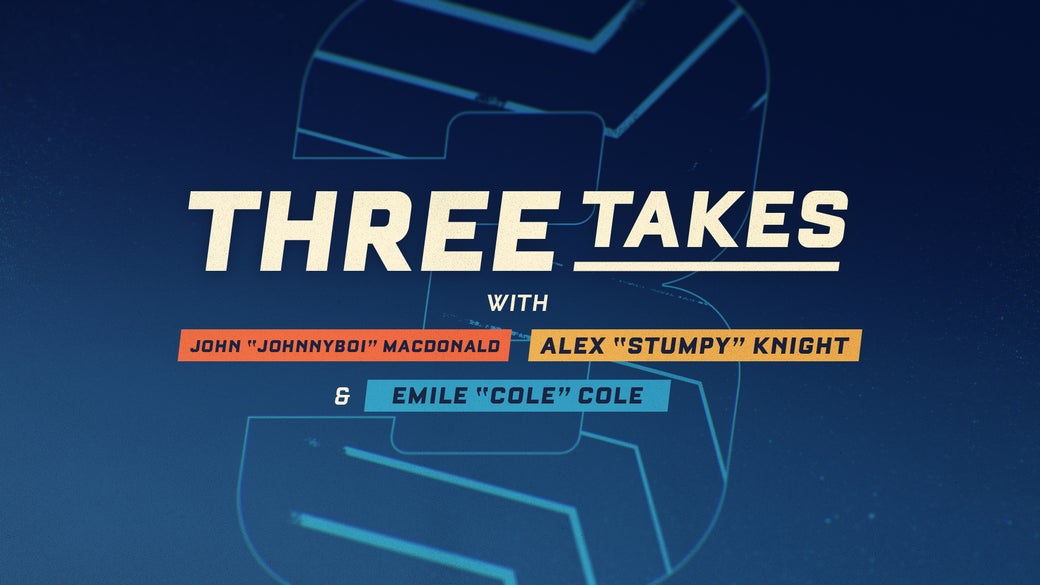 We're hot off of a crazy European BMW Rocket League Open Regional, heading into the third and final Regional Event for North America for the Fall Split , and that means that we've got hot takes ready to go. We sat down with Emile "Cole" Cole, Alex "Stumpy" Knight, and Johnny "Johnnyboi" MacDonald to see what they have to say, and it's… spicy.
Let's dive in!
Take #1
"In North America, just 61 points separate FaZe Clan, G2 Esports, Ex-True Neutral, Spacestation Gaming, Team Envy, and Version1. Only four of those five will join NRG Esports at the Fall Major (maybe even fewer if XSET or Ghost Gaming pop off). As such, the temptation for those that miss out will be to make a quickfire roster change. My hot take: that would be absolutely crazy for any of them. In the uber-competitive North American region, your team will still have two thirds of a season to catch up on any points you'll miss out on at the Major. That's a very long time, and a rushed roster move is way more likely to send you tumbling down the rankings than it is to suddenly make you world-beaters (looking at you, Galaxy Racer). Instead, your best bet is to get back on the grind and come back stronger in Winter." - Cole
This is an interesting one from Cole. On the one hand, professional Rocket League teams are absolutely notorious for liking to play musical roster chairs whenever there's a whiff of trouble on a team. And that actually makes sense to some degree, because with just three players on a team, chemistry becomes one of the most important components of a successful Rocket League squad.
But, there's also the flip side of that coin, which is to stick it out and see if the issues are more fleeting turbulence rather than an uncrossable chasm. There's a ton of merit to sticking together as well. As the Rocket League Championship Series (RLCS) seasons have changed to be more of a marathon than a sprint, consistency is becoming more crucial than ever. A key consideration for players and teams going forward has to be longevity. As the season progresses, teams that can stick it out, make it work, and most importantly, grow, are going to be the most successful teams in the RLCS 2021-22 season.
Take #2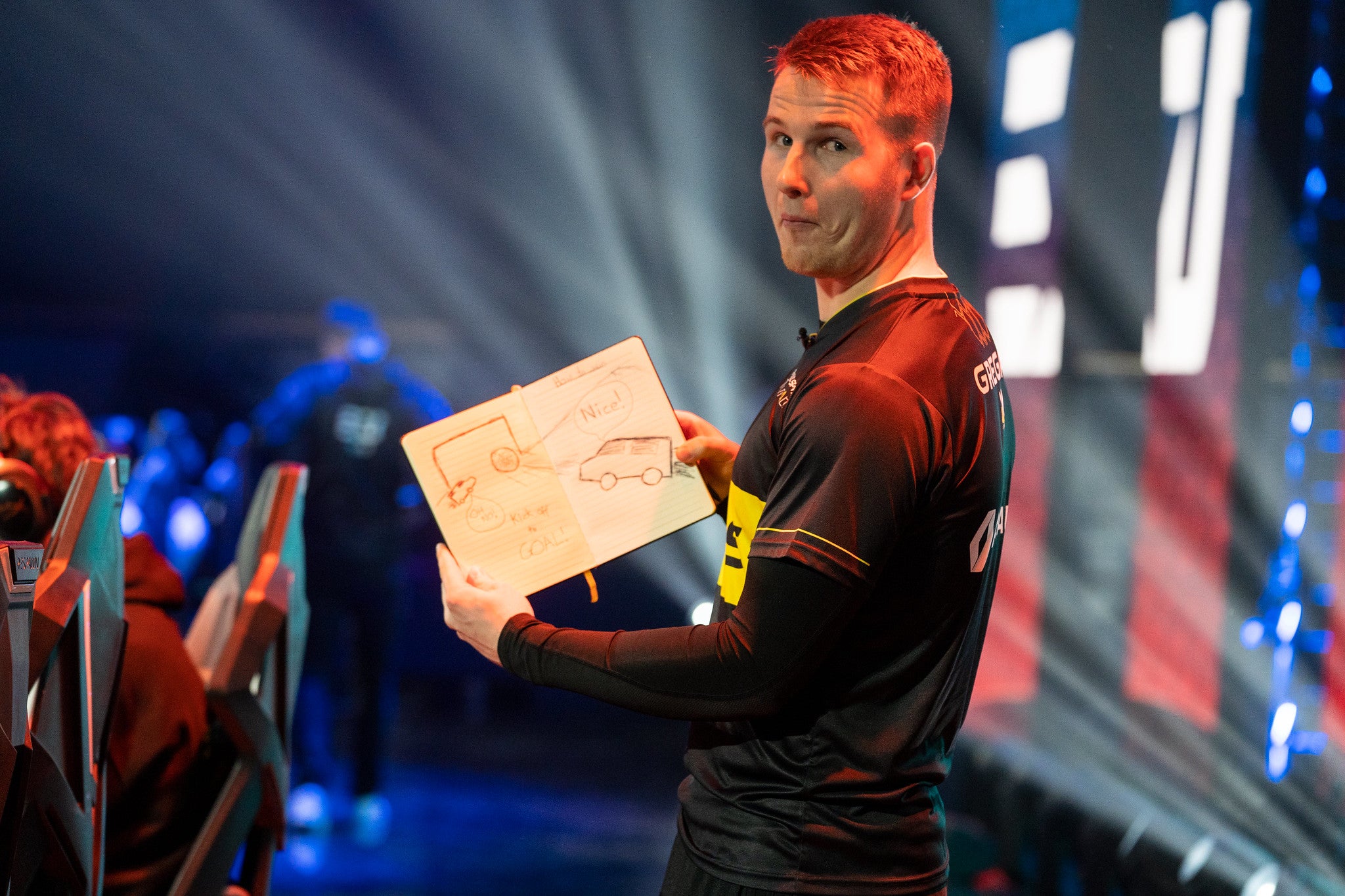 "I don't think it's in the airplane handbook that when a plane is in a nose dive, you should fire the pilot, yet that's exactly what Guild Esports have done by removing Mike "Gregan" Ellis from the organization. It seems to me like a shortsighted plan to appease fans looking for a scapegoat to prove that Guild are doing something to change their fate. Yet, to remove a World Championship-winning coach with a focus on competitive psychology from a team that clearly lacks motivation, trust, and a competitive edge absolutely baffles me. We've seen some dreadful roster moves in the five years of the RLCS, but this has gotta be somewhere near the top." - Stumpy
Whew. This is quite the spicy one from Stumpy. And yes, let's just get it out there that this has a lot of bias, as the two are friends. But, it's interesting to look at it in the light of Cole's take as well. While many would argue that a shake up was needed for Guild Esports after they missed out on playing in the BMW Rocket League Open, the question still remains: Is it too hasty?
The RLCS 2021-22 season is a long one, but after stumbling pretty hard out of the gates, Guild Esports is clearly feeling the pressure to right the ship. After finishing in 5th Place at the European RLCS X Championship last season, hopes were very, very high coming into this season. Guild Esports' mark is top five in Europe, and in their view, something had to change to get them back to their winning ways. Stumpy clearly isn't a fan of how they're striving to get there, but in sports hard decisions always have to be made. Will this be the right one? We'll have to defer on that until upcoming results paint a clearer picture.
Take #3
"A lot of people seem eager to jump on the Karmine Corp doubt train. We need to give them the same chance that Team Vitality had before passing judgement. I believe they can bounce back from an 0-3 week with a deep run as well." - Johnnyboi
Karmine Corp's shocking Swiss Stage exit seems like something to obviously raise alarm bells at. With so much at stake with each and every tournament result in the RLCS 2021-22 season, a catastrophic outing like this one hurts. But, Johnnyboi isn't quite ready to join swathes of doubting fans yet, let alone ring any alarm bells. It's hard to argue with the logic as well. Team Vitality did nearly the same exact thing, then came roaring back at the BMW Rocket League Open to take a well-deserved 2nd Place finish.
Karmine Corp has the firepower to do just that as well, they've just got to muster up the same mental fortitude that Team Vitality did. While Team Vitality are proven champions with a pedigree of getting back up quickly after being knocked down, Karmine Corp needs to prove that they've got the same bounce-back potential. Karmine Corp has championship dreams with this current roster, and this is their first opportunity to show that they've got what it takes to do what all the greats do—learn from mistakes and become better for it.
Make sure to tune in this weekend on Twitch and YouTube at 10 a.m. PT (5 p.m. UTC) for the third North American Regional, dubbed the Fall Classic! Don't forget to also tune in to the Asia-Pacific South (APAC S), Middle East & North African (MENA), and Oceanic (OCE) RLCS broadcasts this weekend. APAC S begins at 5 p.m. SGT (1 a.m. PT), MENA begins at 6 p.m. KSA (7 a.m. PT), and OCE begins at 5 p.m. AEDT (10 p.m. PT). We'll see you then!