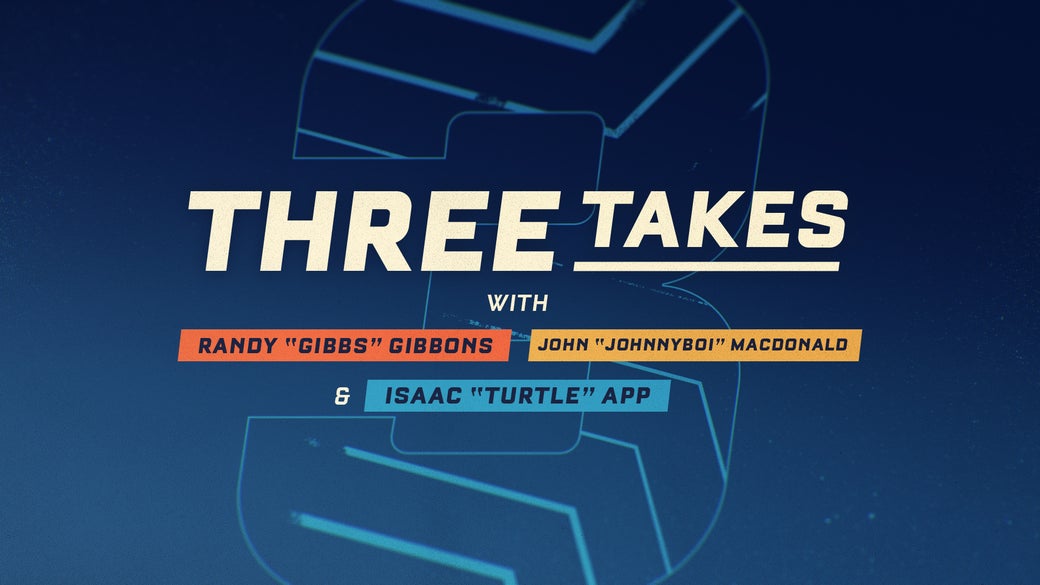 The first week of the Rocket League Championship (RLCS) 2021-22 season is in the books! The best players from Asia-Pacific South, Middle East & North Africa, North America, and Oceania duked it out, and that, of course, means that our talent have some thoughts about what's gone down so far.
Without further ado, let's hear what Randy "Gibbs" Gibbons, Johnny "Johnnyboi" MacDonald, and Isaac "Turtle" App have to say.
Take #1
"After NRG took second place, Mariano 'Squishy' Arruda said he was happy with a top-two finish and Justin 'jstn.' Morales pulled out a Merc in the Grand Final... I just want to point out there are only three Regional Events before the Fall Major and only five teams get to go from North America. A second-place result is not necessarily safe for a top-five finish with two Regionals left. What if NRG has a bad Swiss day next time around? They could easily be on the outside looking in for a top-five spot entering the final Regional. You can't take any match for granted this season. Even a single point, like FaZe Clan's 301, could be the difference between hosting a viewing party versus playing in Stockholm, Sweden." -Gibbs
This is truly "Dad Gibbs," at his finest. If there's one thing Randy Gibbons does not like, it's fooling around, or even the appearance of fooling around. Memes aside, he isn't wrong here. One slip up in a season as high stakes as this one, could easily be the difference between going to the first Rocket League Esports LAN event in two years or watching at home on Twitch.
While Second Place isn't an at-all troubling start to the season for NRG, they'll need to keep it together as the competition in North America continues to amp up all around them. Game on!
Take #2
"FaZe Clan are cool and all, but my cross-region dream team from the first RLCS weekend has to be Cameron 'CJCJ' Johns (Oceanic RLCS), Khalid 'oKhaliD' Qasim (Middle East & North African RLCS) and Max 'Maxeew' Ng (Asia-Pacific South RLCS)." -Johnnyboi
Listen, Johnny is consistently at the forefront of Rocket League talent scouting, but not to include Jason "Firstkiller" Corral on this list feels… like something. You can't question the greatness in Johnny's list, though. CJCJ has risen back to the top of Oceanic Rocket League, oKhaliD came out and dominated just like we thought he would, and Maxeew is arguably the breakout player of the Fall Split right now. But, seriously, what about Firstkiller?
Who's right? Johnnyboi or our own two eyes? Only time will tell.
Take #3
"True Neutral are bound to win one of the next two Regional Events, in my opinion. They have been improving at such an astounding rate, and with how close their games were against Spacestation Gaming, I'm starting to believe they have the makings of a top-four team. All they need is a little momentum." -Turtle
Well, well, well if it isn't the trio of Facundo "Shad" Vallerino, Victor "Reysbull" Duran Parra, and Lautaro "ajg" Gusinsky making us, once again, question everything we knew about Rocket League Esports. It's hard not to get excited about a team that moved from the South American RLCS to the North American RLCS and is already sitting at fifth in the overall North American Points Leaderboard.
Yet, the fact of the matter is, that very same leaderboard is stacked with talent above and below them. Above them sits Version1, Spacestation Gaming, NRG, and FaZe Clan. Below them rests Envy, G2 Esports, and XSET. Their first-ever performance in the North American RLCS was an impressive campaign, it's going to take a heck of a lot more effort to climb the points leaderboard.
But, maybe Turtle is onto something here. All it takes is one spark to light a fire, and we've all seen what True Neutral is capable of once they're ignited. The reigning South American RLCS Champions are here, and they mean business.
What do you think of these takes? Love 'em? Hate 'em? Let us know on Twitter! Don't forget to tune in to this weekend of the RLCS, when Asia-Pacific North, Europe, and South America hit the RLCS pitch for the first time this season. Europe begins on Friday at 8 a.m. PT (3 p.m. UTC), Asia-Pacific North begins on Friday at 5 p.m. JST (1 a.m. PT), and South America begins at 4 p.m. BRT (12 p.m. PT). We'll see you then!