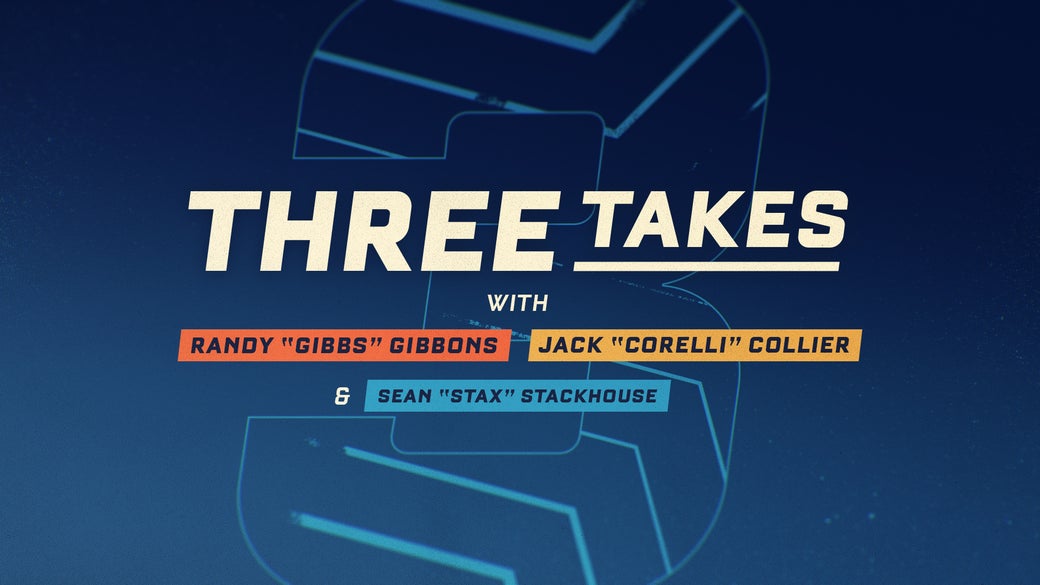 Whew. It has been quite the couple of weeks of Rocket League Championship Series (RLCS) action. Outplays, crushing moments, and drama—it was all there. Do you know what that means? You guessed it: our talent has some hot takes. We talked with Jack "Corelli" Collier, Randy "Gibbs" Gibbons, and Sean "Stax" Stackhouse to see what they were thinking ahead of the final weekend of Regional Events in the Fall Split.
Let's get into it!
Ain't No Scrub
"Dignitas is ahead of the curve and changing the game in Europe. Many experts will claim you need a proper coach to be a legitimate contender on the world stage. However, the duo of Jack "ApparentlyJack" Benton and Joris "Joreuz" Robben has gone without a coach and signed Kyle "Scrub Killa" Robertson, who had been bouncing around from team to team since his departure from Team Vitality after Season 8.
Some experts have said this roster was extremely volatile and just waiting for something to go wrong before completely imploding. Instead they sit atop the standings in Europe after winning the BMW Rocket League Open, beating Team BDS and Team Vitality back to back. Like Simba returning to Pride Rock to defeat Scar, Scrub Killa is back. In total, Dignitas is 6-2 against Scrub Killa's former teammates from the past two years since his signing. That includes a 3-1 record against Team Vitality. Dignitas continues to defy conventional wisdom on its road to Sweden. That makes this team the most interesting in Europe, and quite possibly the world." - Stax
Stax is hot on Dignitas, and it's hard not to be. After rolling the dice on Scrub Killa and gaining the treasure of a BMW Rocket League Open crown, Dignitas is the hottest commodity in Europe. Their electric, mechanical play style, coupled with the rock solid shot calling from ApparentlyJack has rocketed them to the top of the European RLCS and resurrected Dignitas' brand in Rocket League Esports.
It's a new dawn for Dignitas, and it's time everyone around the world woke up to that.
Keeping That Same Energy
"While NRG are indisputably the best team in the North American RLCS, international success will require adaptations to their play style. NRG has a losing record against some of North America's best offenses like FaZe Clan and Envy this season. Giving up the midfield and relying on your defense has worked in North America, will it work against Europe?" - Corelli
While a team's play on any part of a Rocket League pitch is important, midfield control remains an essential part of any team's overall strategy. Pathing through Boost Pads and grabbing the large Boost Capsules can be the difference between sustaining an attack or having to peel off and try again later. Retreating into your half of the field opens up the opportunity for your opponents to control the midfield and dictate the pace of the game, and that's what Corelli is getting at here.
Turtling up and playing defensive is a necessary part of high-level Rocket League play, but just like relying too much on a potent offense absent any defense leaves a team vulnerable, playing too defensively can open up opportunities for your opponents to strike. NRG can play with such pace that it's typically difficult to get them turtled up in their half, but Envy played a blistering series in the Semifinals of the NA RLCS Fall Classic that did just that.
After not having played a series against a European Rocket League team on LAN in nearly two years, it's possible that NRG could get caught off guard and be forced to cede midfield control, but you probably shouldn't count on it. The return to LAN play has teams motivated, and it's expected that NRG will show up ready and eager to trade blows with whoever is unlucky enough to hit the pitch against them in a few weeks.
International Tests Await
"With five different winners in five tournaments so far for North America and Europe, the top echelon of Rocket League has never been so competitive. Many of each region's top players are heading to Stockholm, Sweden soon and they'll be able to prove that their performance in the Fall Split was no joke. No matter who makes it for Europe, Sweden will be absolutely stacked and I could easily field an argument for 10+ different teams winning the Fall Major." - Gibbs
At this point, it feels like throwing a dart at a dartboard while blindfolded trying to pick who could be favorites at the upcoming Fall Major. The RLCS 2021-22 season has produced some of the most competitive Rocket League teams of all time. And after years of waiting, we're mere weeks away from seeing them face off in a LAN environment.
Gibbs' take is emblematic of the excitement that the Rocket League Esports community is feeling about the upcoming Fall Major. The one thing we can be sure of is that the Fall Major is bound to be some of the most exciting play on a Rocket League pitch ever. Buckle up.
Make sure to tune in this weekend on Twitch and YouTube at 8 a.m. PT (3 p.m. UTC) for the third European Regional, dubbed the European Rocket League Grand Prix! Don't forget to also tune in to the Asia-Pacific North (APAC N), South America (SAM) RLCS broadcasts this weekend. APAC N begins at 7 p.m. JST (2 a.m. PDT) and SAM begins at 4 p.m. BRT (11 a.m. PDT). We'll see you then!