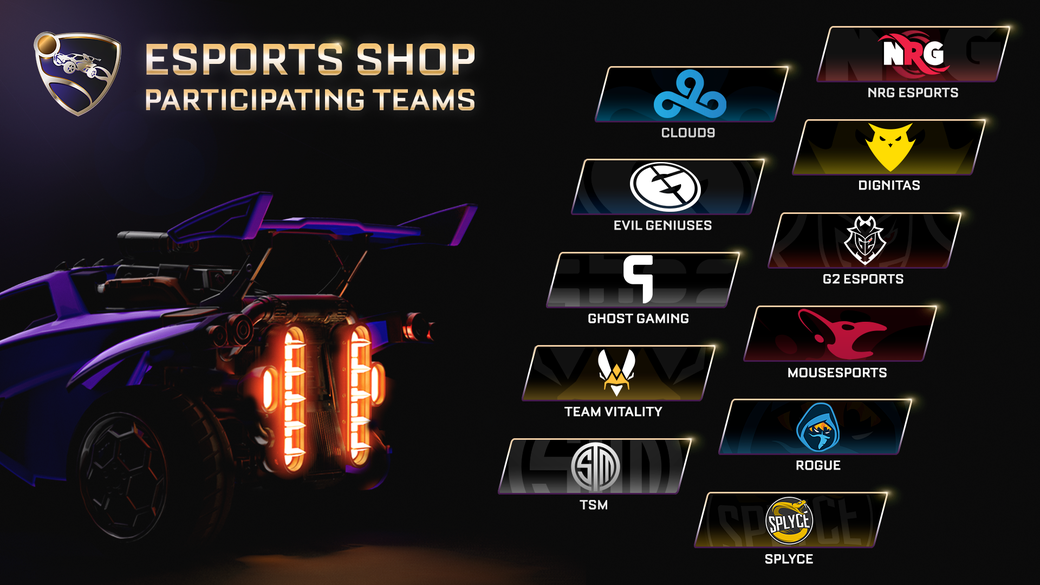 Get ready to show-off your team pride for your favorite teams in Rocket League Esports! The Rocket League Esports Shop pilot program will open for business on April 16 at 10:00 a.m. PDT (5:00 p.m. UTC) and bring new Decals, Wheels, and Player Banners that represent some of the best teams in the sport.
Rep Your Team
For the initial pilot program of the Esports Shop, we have partnered with the following Rocket League Championship Series (RLCS) teams (in alphabetical order): Cloud9, Dignitas, Evil Geniuses, G2 Esports, Ghost Gaming, mousesports, NRG Esports, Rogue, Splyce, TSM, Team Vitality. Featured items include two Decals per team (Octane and Dominus), one Player Banner per team, and a variety of Wheels per team.
How The Esports Shop Works
Following the update, the Esports Shop will appear in the Main Menu under "Shop." It will feature six in-game items each day and refresh at 12:00 p.m. PDT (7:00 p.m. UTC) . Each item will have a timer displayed to show how long that item will appear in the Shop. Once the timer expires, a new Esports Shop item will take its place. Some items will be featured for 24 hours, while others will be featured for 48 hours.
Items from the Esports Shop will require a new currency called Esports Tokens. These Tokens will be sold in the following packs:
100 Tokens for $0.99 (or regional equivalent)

600 Tokens for $4.99 (or regional equivalent)

1200 Tokens for $9.99 (or regional equivalent)

2500 Tokens for $19.99 (or regional equivalent)
Items purchased in the Esports Shop are Premium and therefore, not tradable, nor are Esports Tokens. Esport Tokens can only be used in the Esports Shop. Items in the Esports Shop will start at 100 Esports Tokens.

Support Your Favorite Teams and Players
The best part about the Esports Shop, is that purchasing team items supports that esport organization. All organizations participating in the Esports Shop pilot program will receive 30% of the revenue. Additionally, a portion of the revenue from the items sold in the Esports Shop will also go to the players in North American and European RLCS League Play via a Prize Pool bonus (whether their organization is part of the pilot program or not). Opportunities for Oceania and South America to participate in the revenue share will be addressed in future seasons.
We're very excited to show all of you the new items coming to the Esports Shop, and we're even more excited to see them being used on the field. See you on April 16!