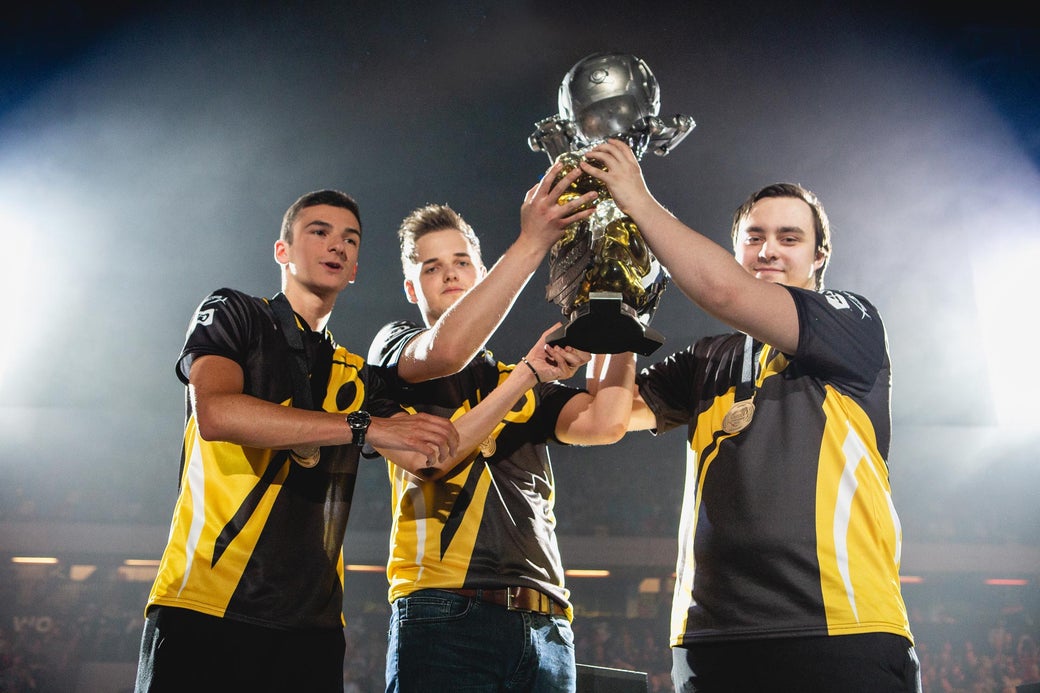 Wow! Wow! Wow! The RLCS Season 5 World Championship was nothing short of extraordinary. Fans from around the world took to London to witness Team Dignitas earn their Season 5 World Championship medals and solidify themselves as the best team in all of Rocket League Esports. Kaydop, ViolentPanda and Turbopolsa are the first team ever to win back-to-back RLCS World Championships, and with this roster continuing their dominance, the question, is can anyone dethrone them?
The journey that Dignitas took through the lower bracket led to a rematch in the Grand Finals against the North American powerhouse, NRG Esports -- where GarrettG and Fireburner were on a mission to claim their first World Championship title. With a jaw-dropping performance from RLCS rookie, JSTN, and the last-second goal heard around the world, NRG vs Dignitas will go down in RLCS history as one of the most exciting finals ever and THE series of Rocket League that all esports fan should watch!
Series highlights:
Not only did we see one of the greatest Grand Finals in esports history, but we also saw an Oceania team (Chiefs Esports) make it to Day 3 of the World Championship for the first time. The Chiefs made their region proud and were also a crowd favorite among fans in attendance. Alongside their OCE rivals, Tainted Minds, also became a favorite. Led by the charismatic CJCJ, Tainted Minds captured the passion of the entire Copper Box Arena with a creative walkout and an electrifying series against Team Envy on Day 2!

Catch some of the highlights from the weekend:
We are all #Team104
The weekend gave us some of the best plays in the history of Rocket League Esports, but Team 104 and the entire London crowd will likely go down as the best crowd in Rocket League Esports (until the next one). The crowd never stopped cheering and chanting throughout the entire weekend in London.
What the London crowd brought to the World Championship is the epitome of what we strive to achieve with Rocket League Esports. We're all connected by our love of the game and every event is a constant celebration of what brings us all together. Rocket League is truly unique and there is no better embodiment of what makes it special than the community that joined us this weekend.
From the entire Psyonix team, THANK YOU, to the players, families, and all fans who showed up this weekend to make the Copper Box an unforgettable event in our history. Congratulations to the RLCS Season 5 World Champions Team Dignitas and the World Championship MVP Kaydop!
RLCS SEASON 5 GRAND FINALS RESULTS
1st Place: Team Dignitas (EU) - (ViolentPanda, Kaydop, Turbopolsa) $100,000
2nd Place: NRG Esports (NA) - (Fireburner, JSTN, GarrettG) $60,000
3rd Place: Complexity Gaming (EU) - (al0t, Mognus, Metsanauris) $30,000
4th Place: Cloud9 (NA) - (Torment, SquishyMuffinz, Gimmick) $15,000
5/6th Place: Evil Geniuses (NA) - (Klassux, Chrome, CorruptedG) $10,000
5/6th Place: Chiefs ESC (OCE) - (Torsos, Jake, Drippay) $10,000
7/8th Place: Team Envy - (Remkoe, Deevo, EyeIgnite) $7,000
7/8th Place: G2 Esports (NA) - (Kronovi, Rizzo, JKnaps) $7,000
9/10th Place: Renault Vitality (EU) - (Paschy, FreaKii, Fairy Peak!) - $5,500
9/10th Place: Tainted Minds (OCE) - (CJCJ, Kamii, Julz) - $5,500
To close out another incredible season of Rocket League Esports, we'd like to pass on a quote that Drippay's Dad shared with us in a tweet he posted over the weekend that perfectly captures why thousands of fans gathered to bring down the house at the Copper Box.
"Don't ask what the world needs. Ask what makes you come alive, and go do it. Because what the world needs is people who have come alive." - Howard Thurman

We'll see you in Season 6!