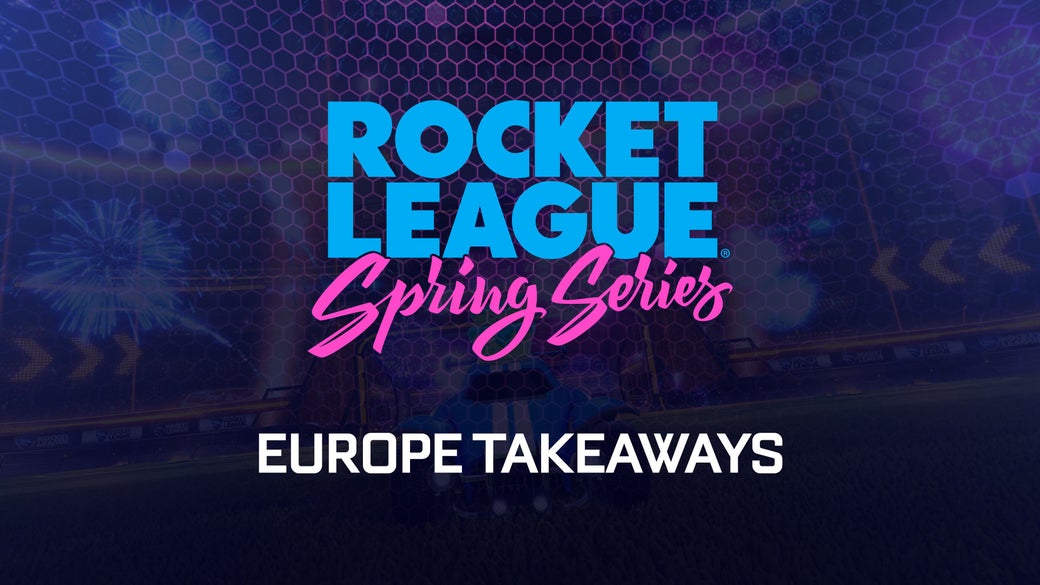 After four weeks of incredible Rocket League action, the Rocket League Spring Series has come to a close. We wrapped it all up with the European Spring Series, which was full of big plays as some of the best teams in the region battled to prove they were a cut above the rest.
Wth the bracket complete and champions crowned, let's take a look at what it told us about the European region!
Can't Stop the Kaydop
At this point, it feels really weird to doubt Alexandre "Kaydop" Courant's ability to show up huge in big moments. The French superstar has built a reputation of sustained greatness in a sport where winning one tournament⁠ is a monumental task for even the most experienced and battle-hardened players. His three Rocket League World Championship titles speak to just how talented and hardworking he is. So, when Renault Vitality took to the field this past weekend, you always knew they had more than a fighting chance going into it. With Kaydop at the helm, Renault Vitality tore through the European Spring Series bracket, only dropping four games in four matches on their way to a dominant 4-0 sweep over Dignitas in the Grand Finals.
Sure, we can attribute Renault Vitality's scorching run through the Spring Series to Kaydop, but that would be discounting the immaculate weekend that Yanis "Alpha54" Champenois turned in. Whether he was soaring through the air to dish a pinpoint accurate assist, or making last-second saves to keep his team's sheet clean, Alpha54 played like a man possessed. Simply put: his awakening unlocked a new level of potential for Renault Vitality. When Alpha54 starts bringing out the best in both Kaydop and Victor "Fairy Peak!" Locquet, it's going to be a tall order for any team to stop them. Because, as this Spongebob meme puts it best: HE DON'T MISS!
Join us in congratulating Renault Vitality on a brilliant European Spring Series victory. Nicely done!
Far from the End
If Team Endpoint was looking for an answer to their problems, they may have just found it with Otto "Metsanauris" Kaipiainen. In one of the biggest surprises of the tournament, Team Endpoint made it all the way to the Upper Bracket Finals before taking their first loss of the tournament, and it was to the eventual Champions, Renault Vitality. They took their second-straight loss to Dignitas in the Lower Bracket Finals in a 2-4 scoreline, but considering where they were just a month ago, it's a huge improvement for the roster. Especially when you consider the fact that this team has only had two weeks together to prepare for the Spring Series.
Metsanauris' solid play helped bring out an even more vicious play style from his teammate, Nelson "virtuoso" Lasko whose relentless focus on demolitions quickly became the talk of the tournament. Sure, Team Endpoint didn't make the Grand Finals, but their new roster has an incredible amount of room for growth and falling to Europe's top two teams isn't the worst position to be in. To go from the Promotion Tournament, to the Top 3 in the European Spring Series is an explosive upward trajectory. If Team Endpoint can add more tools to their arsenal and expand how they approach different matchups, they could potentially become one of the most feared teams in Europe. We're working with an extremely small sample size, but if their growth as a team continues, Mestsanauris may have just found his new home in professional Rocket League.
Maybe Next Time
For Barça, this is a tournament that they'd really like to erase from their collective memories. They truly seemed like one of the hottest teams in Europe following an impressive Regional Championship performance that saw Aldin "Ronaky" Hodzic unleash an epic offensive salvo upon their opponents. Combine that with the playmaking ability of Hrant "Flakes" Yakoub and the veteran leadership of David "Deevo" Morrow, and it felt like Barça was cooking up a recipe for success. Unfortunately, their performance during the European Spring Series turned all of that positive thinking on its head.
While it was easy to write off the first 0-3 loss to Team Endpoint as first-game jitters, the second 0-3 loss to Dignitas sent Barça packing from the Spring Series without a single game win to their names. It was an undeniably poor showing from a squad that had shown so much potential just a few short weeks ago. In retrospect, matches with Team Endpoint and Dignitas should have presented difficult challenges, but not so difficult that they'd leave Barça winless. We've seen Barça's potential and they simply didn't live up to it this time around. That doesn't mean all's lost or that it's time to sound the alarm, but it does mean that this roster needs to band together and figure out how to string together more consistent performances. It'll be a tough road to travel back towards the top of European Rocket League, but every comeback story has to start somewhere.
Congratulations once again to the European Spring Series Champions, Renault Vitality. GG WP!
That does it for the Spring Series. Thank you for tuning in and for cheering on your favorite teams! Follow us onTwitter to keep up-to-date on everything that's happening in Rocket League Esports. We'll have more to share on what's happening next in Rocket League Esports on the way soon!