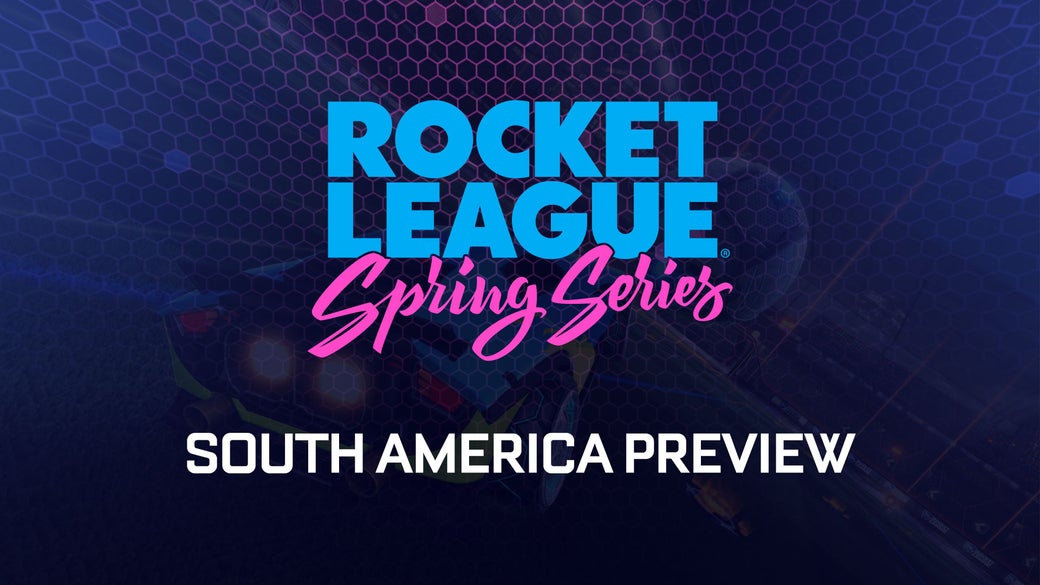 The Rocket League Spring Series is kicking off on April 18, and South America will be the first region to hit the pitch. With $50,000 up for grabs, South America's four proven best teams from the Grand Series will face off against four additional teams from the Open Qualifiers. Every win matters, and only one team can rise as the South American Spring Series Champions!
Let's dive into who might be some of the biggest playmakers heading into the tournament.
South American Titans
Ellevens Esports knew what they were doing when they signed South America's all-star trio of Gabriel "caard" Vieira, Caio "CaioTG1" Vinicius, and Enzo "tander" Toledo. This squad is battle-tested, having played together at the Season 8 Rocket League World Championship. They proved they're top-tier caliber once again by winning the Grand Series this season with a clutch 4-3 win over Avidity in the Grand Finals.
The team is led by offensive fireworks provided by CaioTG1 and caard, who clocked in 1.04 and 0.90 goals per game respectively. Their prowess in their opponents' half has made them a lethal duo that can strike true at any moment. Meanwhile, tander anchors the team, dishing 0.61 assists per game and 1.61 saves per game on top of that. This trio clearly knows how to get wins when it matters the most and will look to leverage their experience to help bring home a second title to their new organization, Elleven Esports.
They're favorites heading into this weekend, but they're certainly not a lock for first place. Avidity Esports follows closely behind them, with a spectacular trio of their own.
A Chance at Redemption
Avidity Esports experienced utter heartbreak after they came within one goal of a Grand Series title. Second Place is nothing to scoff at, but nothing in Rocket League Esports stings worse than a Game 7 loss by a single goal. The squad is composed of Bruno "Haberkamper" Haberkamp, Antonio "FirefoxD" Schilling, and World Championship veteran, Renan "renaN" Rossi de Oliveira. They share a more well-rounded approach on offense, with each player chipping in to help propel themselves to victory. No one player scores a vast majority of their goals, as all three players lie within 0.20 goals per game of one another. The margins are even slimmer when it comes to assists, with every player falling within 0.15 assists per game of each other.
Now that they've had additional time to perfect their team-oriented play style, Avidity Esports has their sights set squarely on revenge. With their Game 7 Grand Finals loss still stinging, they have a rare shot at redemption that most competitors would kill for. The chances are high that they meet Ellevens Esports at some point throughout the South American Spring Series, and when they do, they'll look to finish the job this time.
Down, But Not Out
After a disappointing Fourth Place finish in the Grand Series, World Championship veteran Matheus "matix" Rodrigues became the unfortunate scapegoat for The Three Sins' underperformance. The team opted to drop matix and bring on another player with World Championship experience, Matheus "Math" Gonçalves, reforming a previous iteration of The Three Sins as Team Renewed. Meanwhile, matix went off to form the team Chromax, with Guilherme "Droppz" Siqueira and Pedro "Brad" Lima. With matix on board, the team instantly became a favorite to run through the Open Qualifiers and grab a spot in the South American Spring Series.
And run through the Open Qualifiers they did. Through two full days of competition, Chromax dropped a total of three games before punching their tickets into the South American Spring Series. This included a perfect run through the second day of Qualifiers, with dominant 3-0 sweeps in every series they played. They're coming into the main event scorching hot and have the talent and experience to make a splash. For matix, he'll have a chance to strike back against his former team, and there's no motivation quite like having a chip on your shoulder.
Day 1 Match Schedule
Match 1: Ellevens Esports vs. Pêra
Match 2: Chromax vs. True Neutral
Match 3: Avidity Esports vs. Locusts
Match 4: Team Renewed vs. Stiff Team
Match 5: TBD vs. TBD
Match 6: TBD vs. TBD
Match 7: TBD vs. TBD
Match 8: TBD vs. TBD
Who do you think takes the whole thing? Let us know on Twitter using the hashtag #RLSpringSeries. Don't forget to tune in on Twitch and YouTube on April 18 and 19 at 7:30 a.m. PDT (2 p.m. UTC) for the Spring Series Pre-Show. We'll see you this weekend!