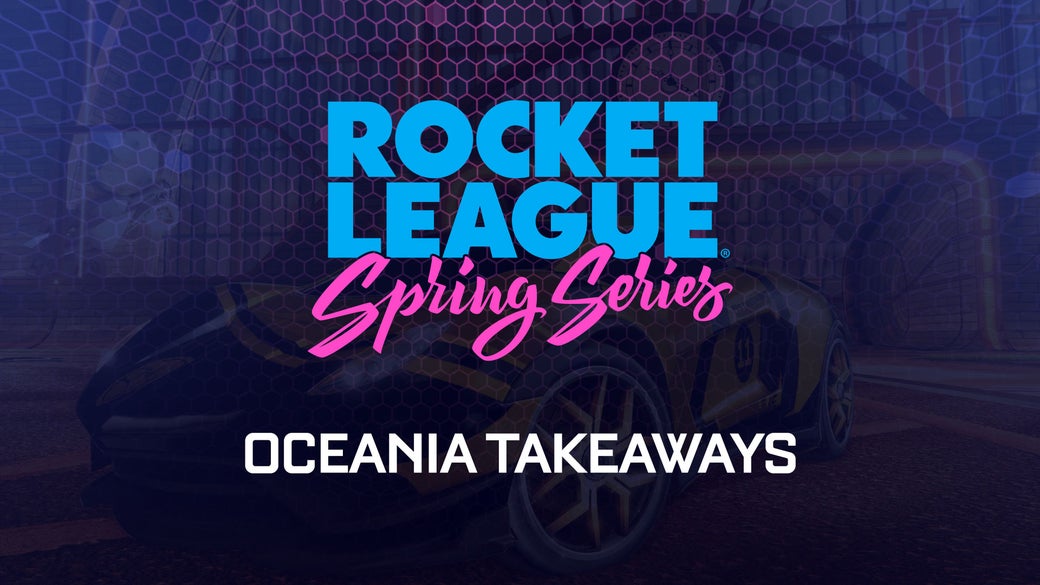 Another weekend, and another wild Rocket League Spring Series weekend is written into history. The Oceanic Spring Series was full of memorable moments and ridiculous plays that have come to define Oceanic Rocket League throughout the years.
So, now that the dust has settled and all the cars are parked safely in their garages, let's take a look at some of the biggest takeaways from the Oceanic Spring Series.
Realizing Their Potential
For Renegades, this tournament was a defining moment. They fought through the Lower Bracket to emerge victorious and claim the title of Spring Series Champions! In a stunning Grand Finals comeback, Renegades took down Cringe Society and claimed their spot among the most elite teams in the Oceanic region. For a squad that stumbled in the LPL Rocket League Oceanic Championship, it was the perfect way to flip the script and change their team from an underperformer to Oceanic royalty overnight.
Perhaps what was most impressive was Renegades' ability to turn on the afterburners when their backs were against the wall. After dropping to the Lower Bracket, they aced their first test against FURY with a clean 4-0 sweep. Then after going down 0-2 in the Grand Finals, they found their composure and roared back for a clutch 4-3 victory! With the win in the bag and the redemption arc completed, Renegades now have the weight of expectations on their shoulders. It's no doubt a better place to be than before, but now they've got to prove that they're here to stay.
Congratulations to Renegades on their victory and for claiming the title of Spring Series Champions!
So Close, So Far
For Cringe Society, this weekend was full of what-ifs. This is especially true of the Grand Finals, where they had three games of championship points to put away the Renegades, but ultimately failed to do so. It cost them the Oceanic Spring Series title and a chance to stake their claim as the top team in the region. But in all fairness, it was an overall fantastic showing for a roster that just recently began integrating their new third, Alex "Decka" Tsoutsouras, into the team. If their Spring Series performance is where they've set the bar, it's a starting point that most other teams in the region can only dream of.
There's no doubt that they've got room for improvement, but it should be a challenge that the team relishes taking on. Decka proved his worth on a team stacked with the legendary names of Daniel "Torsos" Parsons and Matthew "Drippay" Den-Kaat. Cringe Society is no doubt a huge threat in the region, and if current trends continue, they're only going to get better from here. A few tweaks could easily set this team over the top of the competition. A Second Place finish in a major tournament is nothing to scoff at, but you can bet that next time they'll be ready to finish the job. Cringe Society has proven that they're anything but cringe, and with more room to grow, they could easily find themselves Champions rather than the Runners-Up.
A Tournament to Forget
If you're part of the Ground Zero Gaming organization, this is probably a result that you'd like to just forget. They suffered a huge blow after Decka and the team parted ways following their Oceanic Regional Championship victory. They opted to fill Decka's shoes with Blake "SPYDOGE" Evans, and this was definitely not the result the squad was looking for to kick off their time together. It started off well enough with a clean 3-0 sweep over Overt. But after that, things went completely off the rails for Ground Zero Gaming.
They met Renegades in the Upper Bracket Semifinals, and took what seemed to be an understandable 1-3 loss. And even with that defeat, Ground Zero Gaming were still heavy favorites coming into Day 2, and were fully expected to make it through to the Lower Bracket Finals at the very least. That wasn't to be though, as they were taken down by Canberra Havoc's explosive offense in a 1-3 upset that turned out to be one of the defining matches of the tournament. It was a stunning defeat that seemed to stand in defiance of all of the talent on Ground Zero Gaming's roster.
The silver lining here is that this should serve as a wake up call rather than a death sentence. The teams above Ground Zero Gaming are only getting better and the challengers below them are only getting hungrier and more driven. It's a learning experience that will hopefully lead to growth as the team continues to build crucial chemistry with one another. They should be able to bounce back, but only time—and results—will truly tell if that's the case.
We'd like to once again congratulate our Oceanic Spring Series Champions, Renegades! GG WP!
Don't forget to tune in at 9 a.m. PDT (4 p.m. UTC) this weekend on Twitch and YouTube as we finish out the Spring Series tournaments strong with the European Spring Series. We'll see you on Saturday!