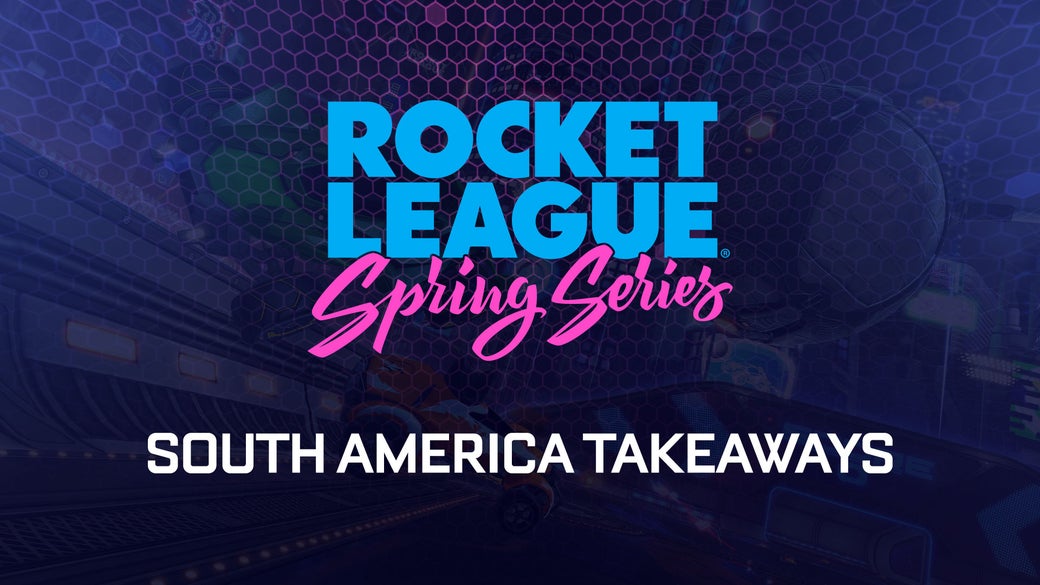 Just like that, the South American Rocket League Spring Series has drawn to a close. We saw narrow defeats, epic victories, and we crowned our first Rocket League Spring Series champions!
If you missed out on what went down and want to catch up, look no further. We've got you covered.
Take Two
If you asked analysts who the top two teams to watch in South America were, you'd most likely hear Ellevens Esports and Avidity. In fact, Ellevens Esports had just come off of a razor-close victory over Avidity in the Grand Series Regional Championship Grand Finals. With that 3-4 loss, Avidity got an unprecedented chance at redemption during the Spring Series. They capitalized by storming through the Upper Bracket on Day 1, setting themselves up for a fateful rematch with Ellevens Esports in the Upper Bracket Finals on Day 2.
They capitalized on the opportunity, handily taking down their rivals with a 4-2 match score, and punching their tickets to the South American Spring Series Grand Finals. There they met one of the tournament's most explosive offensive teams, Team Renewed. It turned out to be a battle for the ages. In an intense Game 7 overtime, Antonio "FirefoxD" Schilling slotted home the shot that secured Avidity the win and the tournament. It was sweet redemption for a team that had come so close to another championship title just weeks earlier.
Avidity rose to the challenge, taking home First Place in the South American Spring Series, and cementing their spot among the elite in South American Rocket League. Congratulations to the whole team on a victory well won!
Truly Renewed
While Team Renewed is made of some of the biggest names in the South American region (Matheus "math" Gonçalves, Diogo "PJ" Sanches Ferme, and Valter "valt" Junior), nobody expected them to make it as far as they did. As a reincarnation of a former roster, the trio teamed up for the South American Spring Series Open Qualifiers. They had an up-and-down Day 1 as they swept eRa, before getting swept themselves by a scorching hot Avidity team that was laser-focused on redemption.
The story was different on Day 2, as Team Renewed tore through the Lower Bracket. Their run to the Grand Finals included a massive upset over Ellevens Esports that gave them all the momentum they needed to give Avidity a run for their money. Team Renewed may have been taken down by Avidity, but it was only one goal that separated them from another crazy upset. By the end of the South American Spring Series, Team Renewed proved to everyone that they have what it takes to live up to their name and star power.
With a little more time to get acquainted with one another, Team Renewed could easily become one of South America's biggest threats.
A Time to Learn
This wasn't at all how Ellevens Esports pictured this going. After a victory in the Grand Series, it felt like this was another tournament that would add to their new—but growing—trophy cabinet. That wasn't meant to be, as they were knocked down to the Lower Bracket by Avidity, then knocked out by Team Renewed. It was a gut punch for a team that had extremely high expectations coming into the South American Spring Series. But with losses, there also comes a time for reflection and adaptation.
Ellevens Esports didn't ever look like they were outclassed by their opposition, in fact, they looked up to the task in every series they played. Yet, when it came down to it, they simply couldn't get the job done when it counted. It was a position that the squad rarely finds themselves in, especially considering their most recent results. It's all about how the squad responds and how they change going forward. There's no doubt that they're still one of the top teams in South America, it's just that now they've got legitimate contenders rising up all around them.
Ellevens Esports are definitely disappointed with the weekend's results, but now we get to see what this team looks like when they've got to bounce back. Watch out South America, this team officially has a chip on their shoulders.
Once again, congrats to Avidity for taking the title of South American Spring Series Champions! GG WP!
What did you think of the South American Spring Series? Let us know on Twitter with the hashtag #RLSpringSeries. Make sure to tune in this Saturday for the North American Rocket League Spring Series on Twitch and YouTube at 9 a.m. PT (4 p.m. UTC).