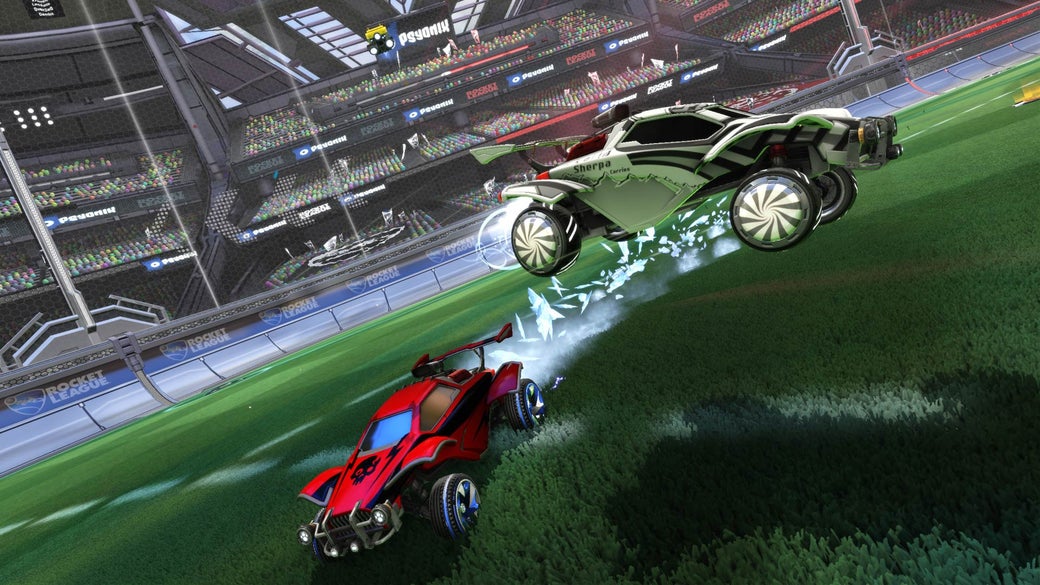 We're just a few days away from the epic finale of Season 8 of the Rocket League Championship Series (RLCS). With the World Championship kicking off on December 13, teams from around the globe are converging in Madrid, Spain for their shot at the title of Season 8 Rocket League World Champions!
Squads from Europe, North America, Oceania, and South America will battle it out live in front of an audience of thousands. But, what if you haven't kept up with every region? We're here to get you caught up with bite-sized storylines that'll help get ready for a full weekend of Rocket League action.
To get things started, let's take a look at Europe!
Comebacks and Conquerors
The European RLCS had quite the wild season. From Veloce showing up big and making their way to Madrid, to the defending World Champions Renault Vitality barely making it to the Regional Championship (and then Worlds), this season had something for everyone.
For Dignitas, it was about getting back to the World Championship. When they brought on Maello "Aztral" Ernst as their new third, it was a risky gamble on a relatively unknown player. Yet, as the season progressed, it became clear what the organization saw in the young, mechanical superstar. His penchant for creative offense opened a new door for attacking opportunities that Dignitas hadn't been able to find since Season 6. Aztral was key in Dignitas' run through the European Regional Championship, where they took down FC Barcelona and mousesports to lock in their spot at the World Championship. Dignitas is finally back where they feel they belong, but their journey isn't over yet. They'll need to channel their past success if they want to clutch up and make a serious run at the World Championship trophy.
As for Veloce, they've got a chip on their collective shoulders. After faltering in the Promotion Tournament, they were given a second lease on RLCS life after Triple Trouble disbanded. They picked up Andy "Kassio" Landais and soon shocked fans and analysts alike by locking in a 5-2 League Play record and an auto-qualification to the World Championship. Veloce is a true underdog story, but they don't view it that way. They feel that they belong among the best teams in the world, and this is their time to prove it. Veloce made believers out of us already and they're looking to defy expectations once again and make this season a Cinderella Story to remember.
Dominance and New Blood
As for the North American RLCS, it was one of the most shocking seasons on record. The Big 3 was dismantled, new teams rose up, and NRG Esports set the pace all season long.
In one of the most hyped roster moves in all of Rocket League Esports, NRG Esports picked up three-time World Champion, Pierre "Turbopolsa" Silfver, to complete their roster for Season 8. What followed was a dominant 6-1 League Play record and the North American RLCS title. It was on par with expectations for a squad that is absolutely stacked with talent. We've seen this before though with NRG Esports, and it's always ended without a World Championship trophy. With the leadership and experience that Turbopolsa brings, things feel like they might be different this time around. Only time will tell, but with one of the most talented rosters of all time, anything short of the trophy will be a failure. NRG Esports is coming for the crown.
After one of the greatest underdog runs in Rocket League Esports history at DreamHack Pro Circuit Montreal, the Pittsburgh Knights (then The Peeps) came rocketing into the RLCS. They also brought a huge playstyle shift with them. Their physical, bump-heavy offense changed Rocket League at the highest level and added another layer to the meta that nobody was expecting. The Pittsburgh Knights proved they weren't one-hit wonders by earning a respectable 4-3 League Play record that they followed up with a Second Place finish at the North American Regional Championship. They're one of the most electric teams in the world, and their aggressive style will be put to the test against international competition in Madrid, Spain. This trio of young guns has the opportunity to make a huge splash at the World Championship, they'll just need to make sure that the change in scenery doesn't bump them off course.
Playing Their Cards Right
After a great first showing at the Season 7 World Championship, the expectations for the South American region are now set. Their aggressive, pedal-to-the-metal approach to Rocket League endeared them to fans across the globe in June. Now that they have another season of experience under their belts, it's time to see how they stack up against the best teams on the planet.
There were stretches of Season 8 where Lowkey Esports looked like they were unstoppable. In fact, they didn't drop a single game until Week 5, where they faltered against Monos, and then were taken down by INTZ e-Sports to end League Play. Their success throughout the season can be largely attributed to their all-star playmaker and League Play MVP, Gabriel "caard" Vieira. It's not that his teammates Enzo "tander" Toledo and Caio "CaioTG1" Vinicius aren't pulling their weight—they are—but it's caard's offensive prowess that drives the team forward. They may not have won the Regional Championship (they fell 4-2 in the Grand Finals to The Three Sins) but they're still as dangerous as ever. Both tander and caard have World Championship experience, and they'll need to use it to help propel Lowkey Esports to South America's first Worlds win.
As any team in the RLCS can tell you, a 1-3 start to a season is dangerously close to a deathwish. It can make it incredibly difficult to qualify for the World Championship. The Three Sins didn't let those odds stop them though, and they came roaring back in Weeks 4 and 5 to earn a 4-3 record and a spot in the South American Regional Championship. In an epic Lower Bracket run, The Three Sins not only qualified for the World Championship, but they took South America's number one spot with a massive 4-2 win over Lowkey Esports. The trio of Matheus "math" Gonçalves, Valter "valt" Junior, and Matheus "matix" Rodrigues is surely a talented bunch, but math is the player that fans have wanted to see hit the World Championship stage. His aggressive and clinical offensive style makes him, hands down, one of the most electric players from South America. The Three Sins will also rely on the top-flight experience of matix, who made his name known at the Season 7 World Championship as part of INTZ e-Sports. They've got a lot to prove in Madrid, and The Three Sins will be in a race with Lowkey Esports to see who can strike first at Worlds for South America!
Causing Havoc
In Oceania, it was business as usual for the Renegades who coasted through League Play to a dominant 6-1 record and a massive +14 game differential. They didn't hit the brakes at all during the Regional Championship as they battled their way through the Upper Bracket and earned a 4-1 Grand Finals victory over Canberra Havoc. The squad is led by the Oceanic League Play and Regional Championship MVP, Christopher "Siki" Magee, who scored a ludicrous 1.38 goals per game on an extremely efficient 34.29% shooting percentage throughout the season. If Renegades want to shake off their lackluster performance at the Season 7 World Championship, they'll need Siki to step up and deliver the offense he's become so well known for.
Canberra Havoc (formerly Attack of the Invisible Ninja) was this season's biggest surprise in Oceania. After taking Third Place in League Play, they took down heavy favorites, Chiefs Esports Club in the Regional Championship in a razor-close 4-3 victory that sent them to the Season 8 World Championship. They fell to Renegades 1-4 in the Grand Finals, but the deed was already done. Canberra Havoc had secured their unlikely spot in Madrid. Their star defenseman Daniel "Walcott" Hawkeswood registered an impressive 2.19 saves per game over the course of the season. His sensational defensive efforts helped catapult Canberra Havoc to the World Championship. He and the rest of the Havoc squad will be put to the test against some of the most potent offenses on the planet. One thing's for certain: Walcott will need to keep up the defensive heroics in order for Canberra Havoc to continue writing their Season 8 underdog story.
What do you think the biggest story is heading into the Season 8 World Championship? Let us know on Twitter! If you want to catch the action in-person, make sure to grab your tickets HERE. If you can't make it to Madrid, make sure to tune in live at 3 p.m. CET (6 a.m. PT) on Twitch and YouTube from December 13-15. We hope to see you there for the epic conclusion of Season 8!