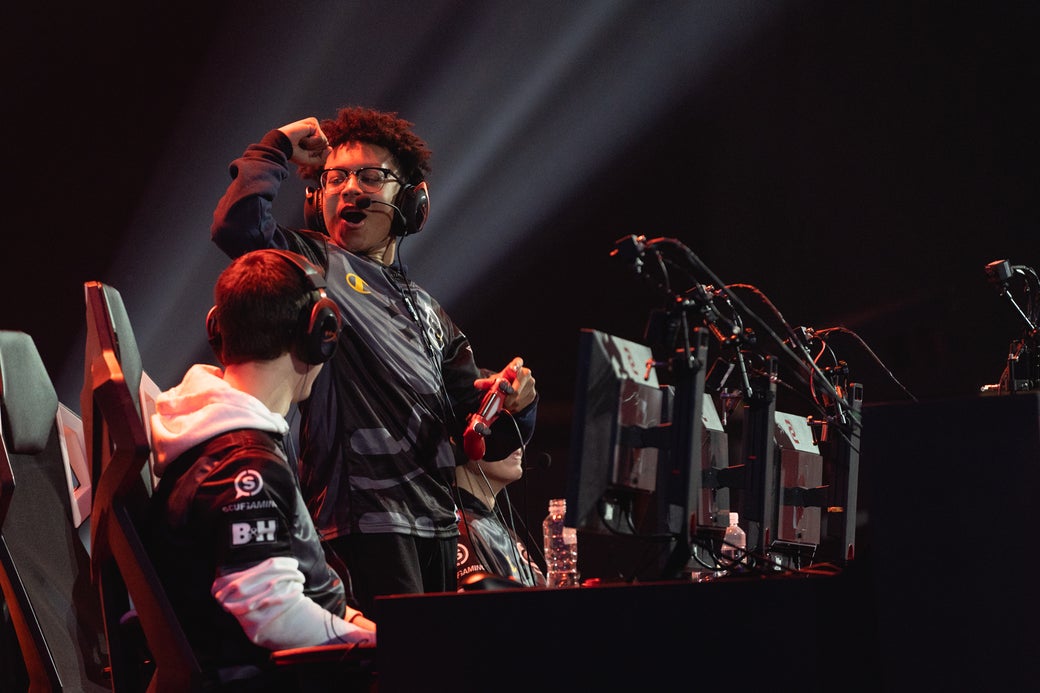 Just like that, Day 1 of the Season 8 Rocket League World Championship is done and dusted. It was a day filled with insane plays by the top players on the planet. From ceiling passes to unbelievable double taps, this World Championship is truly delivering.
If you missed it, or just want to relive some of the best moments from Day 1, we've got you covered.
Shoot for the Stars
There was a decent level of hype behind Spacestation Gaming coming into the World Championship. After all, they do have the reigning North American Rocket League Championship Series (RLCS) MVP in Caden "Sypical" Pellegrin. But, nobody could have expected quite what happened on Day 1.
In a flurry of stunning offensive prowess, Tshaka "Arsenal" Lateef Taylor Jr completely went off, decimating anyone who stood in his path. A 3-0 demolition of Canberra Havoc gave way to a massive upset over Team Reciprocity and a guaranteed spot in Championship Sunday. The Spacestation that showed up to Madrid is even more lethal than the Spacestation that showed up to Weeks 4 and 5 of RLCS League Play. They may not quite have dethroned NRG Esports as favorites of the whole tournament, but they are most definitely knocking on the door. They've got a date with a scorching hot Dignitas squad tomorrow for a bye into the Semifinals on Day 3, and that battle will largely tell us where Spacestation truly stands.
Spacestation's problem has been delivering on their potential consistently. But, if they keep up this form over the next two days, Spacestation's got a realistic shot at taking home the hardware come Championship Sunday.
Danger Zone
For Team Reciprocity, Day 1 couldn't have gone much worse. The lone match they played was against Spacestation Gaming, and the 3-1 scoreline tells the bleak tale. While the Reciprocity that dominated League Play showed up for a game, the rest of the series they looked like a hollow husk of the dominant force they could be.
Their struggle to find their identity on the World Championship stage was the most frustrating part about their loss. We've seen the Reciprocity that suffocates the opposition, and we've seen that same team withstand nearly any offensive storm. It's just that on Day 1 of the World Championship, that team was nowhere to be found. It isn't unfixable though, and that's the very clear silver lining of the situation. Reciprocity has built a name on resilience and there's no reason to think that they can't figure out a way to recover and bounce back.
They've got a long road ahead of them if they want to contend for the World Championship trophy, but as fruity said on Twitter, nothing in life is easy. Now they're in do or die territory, and it's time for Reciprocity to step up to the plate and capitalize on their immense potential.
At Last
When the South American region made their World Championship debut in June with INTZ e-Sports and Lowkey Esports, the Rocket League Esports world was abuzz with how much potential both squads had. Even though they didn't end up taking a series win, they laid a promising foundation for the seasons to come.
Yet, that optimism didn't make the near-six-month wait for a second shot at the World Championship win any more bearable. They didn't have to wait long in Madrid though, as Lowkey opened their World Championship campaign with a huge 3-1 upset over Europe's Veloce Esports. It was a moment of relief and joy. It was undeniable proof that South America could not only hang with more established regions but that they could match them blow for blow and come out on top.
To some, it may seem trivial to celebrate a single win, but for South America, it represents a milestone. It was another obstacle that they found a way to overcome. That win felt like a testament to their work ethic and love for the game that played out for us on the World Championship pitch. Even if both South American teams (Lowkey Esports and The Three Sins) leave without another win, they'll have left with more than they came with, and it's important to remember that sometimes the road to greatness is a slow—but steady—path upwards.
Want to catch more World Championship action? Tune in on Twitch and YouTube on Saturday, December 14 and Sunday, December 15 at 6 a.m. PT (3 p.m. CET) to catch all of the competition and drama as team's fight to lock in their spots in Championship Sunday. You won't want to miss it!