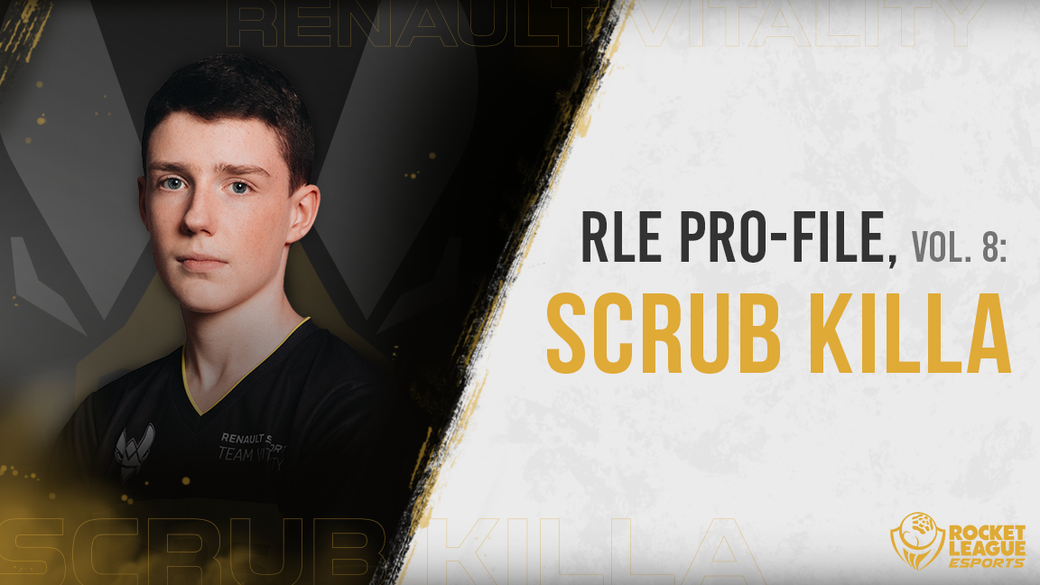 For some Rocket League professionals, mastering the game at a high level is an arduous climb to the top of a nearly unscalable peak. For others, it's destiny.
Kyle "Scrub Killa" Robertson fits neatly into the latter category. That's not to say he hasn't put in the work to be one of the best players on the planet—he has—but ever since he picked up a controller as a young kid growing up in Scotland, a life in competitive gaming felt like it was written into his future. After claiming the Season 7 Rocket League World Championship trophy at the age of 16, it seems that Scrub Killa has already realized that destiny. But if he has it his way, this is only the beginning of one of the greatest careers in Rocket League Esports history.
An Early Start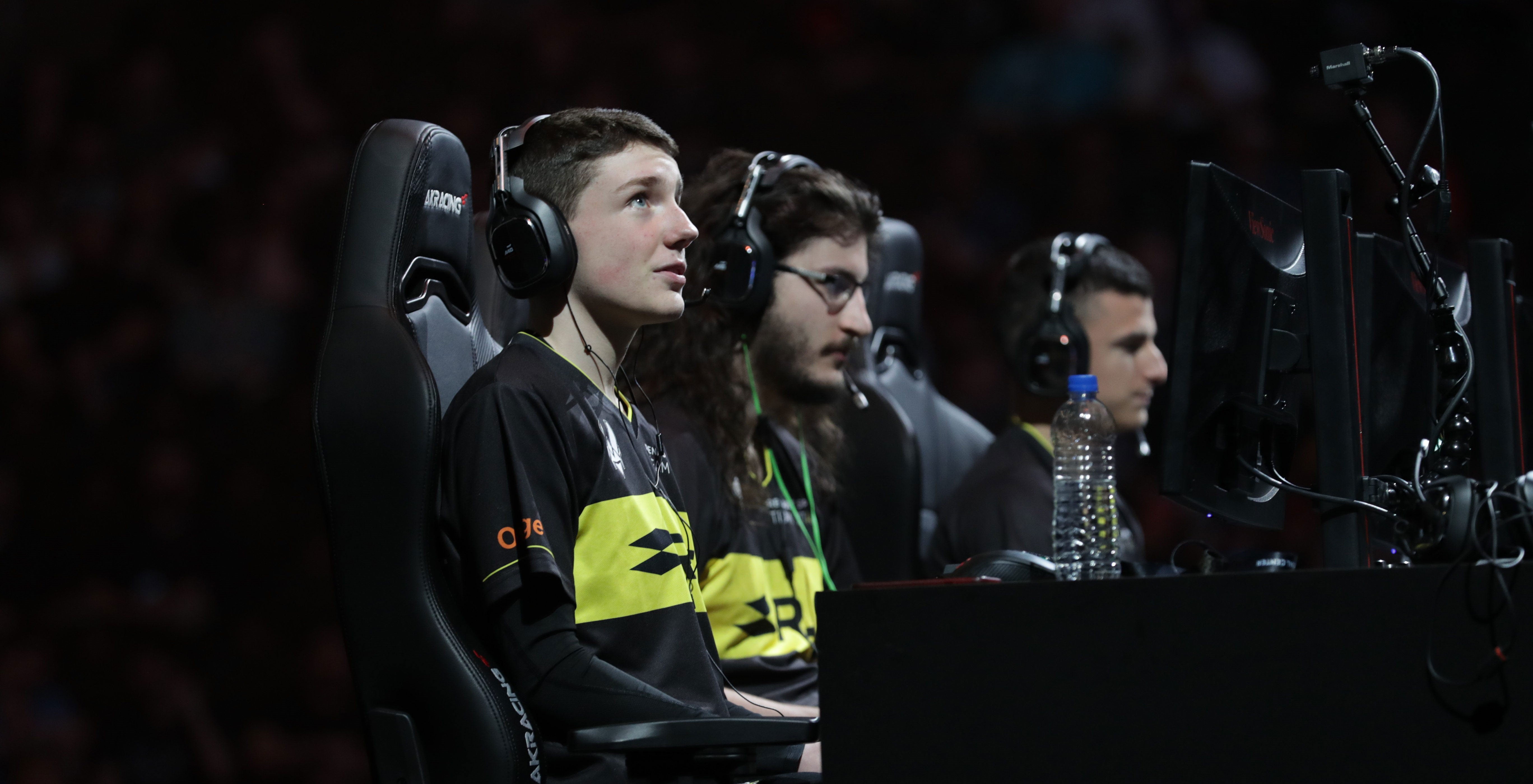 It's no secret that Scrub Killa got his start early with both Rocket League and gaming in general. Yet, Scrub Killa doesn't believe that his early childhood was too far outside of the norm. "I did the same things most children do. I went outside and played, read books, watched TV, played games—stuff like that," he says.
It wasn't long before he'd get his first introduction to the world of Soccar. His father, who's also an avid gamer, picked up Supersonic Acrobatic Rocket-Powered Battle-Cars (SARPBC) off of the PlayStation 3 store. "My dad has always played games, so naturally that got me into playing games since day one," Scrub Killa says. "And yeah, he was the one that first played SARPBC with me." At the time, Scrub Killa was only six-years-old, but playing the game with his dad was an introduction to a world of possibility that would eventually end up changing the entire course of his life.

As he continued to grow up, his skills in gaming were quickly becoming evident. Plus, SARPBC's successor, Rocket League, had just released. Once Scrub Killa found out about it, he took to the internet to watch players like Cameron "Kronovi" Bills and Francesco "kuxir97" Cinquemani play the game at the highest level. He instantly knew he had what it takes to reach the same level of play, it was just a matter of picking up the game and putting in the hours. "I saw it on the Steam store a month or two after launch," says Scrub Killa. "I watched videos of people like Kronovi and kuxir97 and thought I can easily do that so why not pick it up to see what it's like and also because I loved the predecessor so much."
The Waiting Game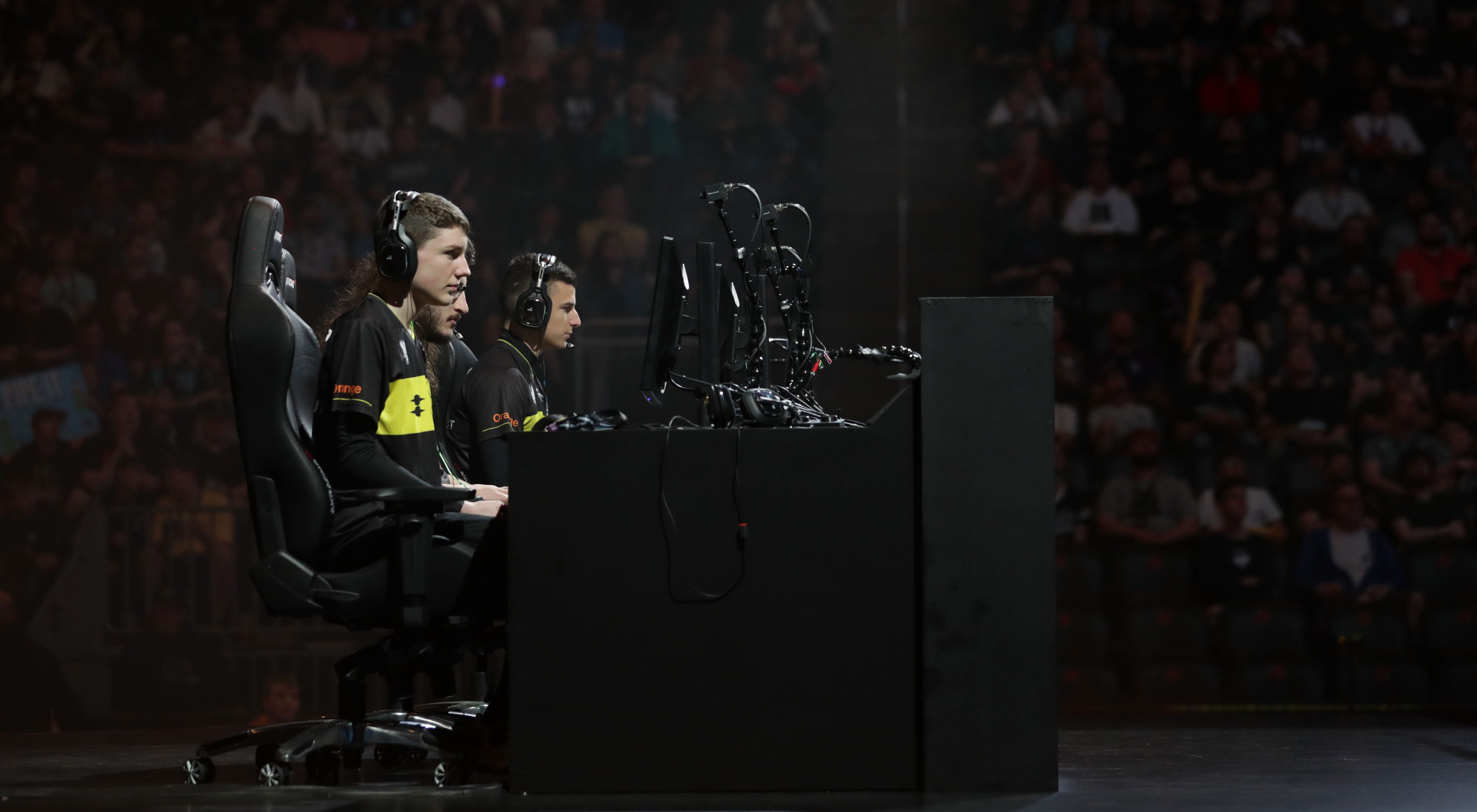 With each minute that ticked on by, Scrub Killa's mastery of Rocket League continued to grow. Not only that, but Rocket League itself was experiencing exponential growth as well. What began as a small project to make a spiritual successor to SARPBC quickly ballooned into an overnight sensation. The game's esport potential became increasingly obvious as it continued to grow. Less than a year after Rocket League's release, the Rocket League Championship Series (RLCS) was born as the premier league in Rocket League Esports. Unfortunately for Scrub Killa, he was only 13 years old at the time (15 years old is the minimum eligible age in the RLCS) making him ineligible to compete in RLCS-sanctioned events. But that didn't stop Scrub Killa from finding out other ways to hone his skills and put himself on the professional radar.
His mechanical prowess was apparent just about instantly and his skill set continued to grow as he made a name for himself in the 1v1 community. The hype about the young up-and-comer reached a fever pitch after he took a win over one of the most popular players in the world (and one of Scrub Killa's Rocket League inspirations) Kronovi. It was a massive victory that helped elevate Scrub Killa from prospect to the real deal.
In addition, Scrub Killa got high-level 3v3 experience under his belt by playing as part of We Dem Babies, a collection of upcoming talent that was too young to compete at RLCS-level. They played in multiple non-RLCS tournaments and turned in solid results against a slew of tough competition. Scrub Killa stayed surprisingly patient while waiting for his opportunity, but he acknowledges that the We Dem Babies squad could have probably been a top RLCS contender if they weren't below the age requirements. "It wasn't too frustrating because I knew my time would come and the age limit was just something I had to deal with," he says. "We [We Dem Babies] were really successful against top teams so maybe it was a tad bit frustrating knowing that we could have won RLCS if we were old enough."
Scrub Killa wasn't just catching the eyes of pros and the community though. In fact, he was so impressive that he was invited to attend the Season 1 World Championship (as a fan) that was held in Los Angeles, California. Before he knew it, he was on a plane departing from Scotland and en route to the United States. It was a trip that would convince Scrub Killa—for certain—that the RLCS was exactly where he belonged. "After Psyonix invited me to the RLCS Season 1 World Championship, I knew I wanted to keep playing and eventually pursue a career," he recalls. "It was all just a matter of time and as long as I kept putting in the hours I knew I could make it work."
It would take four more seasons of waiting, but as the days passed by Scrub Killa was inching closer and closer to his dream of hitting the pitch as an official member of the RLCS.
Swing and a Miss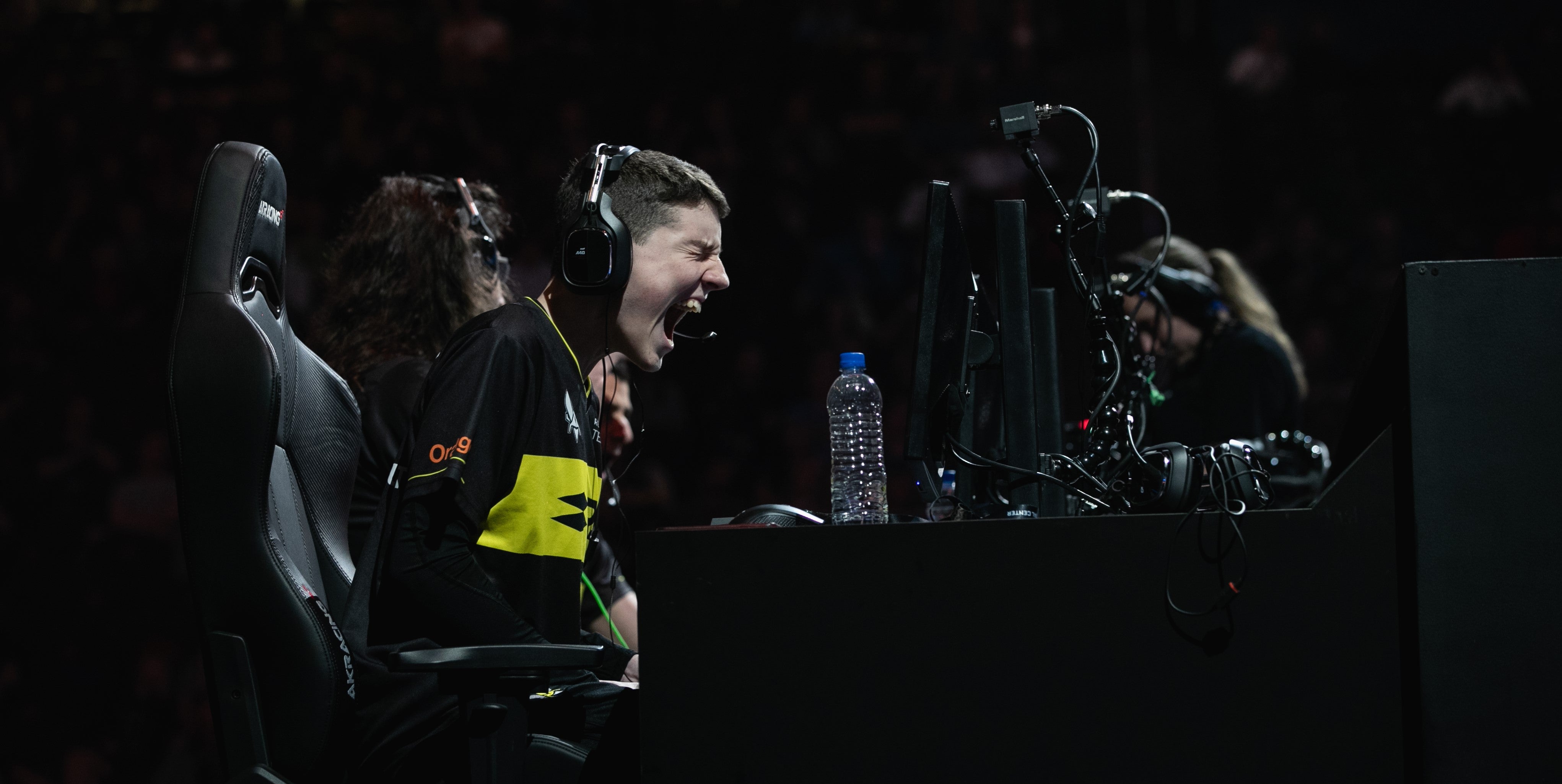 After what seemed like forever, Season 6 of the RLCS rolled around and Scrub Killa's patient wait to compete was finally over. The only question was, who would the Scottish prodigy sign with? On August 4, 2018, we got our answer. Renault Sport Team Vitality announced that they reached an agreement to sign Scrub Killa to replace Sandro "FreaKii" Holzwarth who had departed in July. It was a huge boon and a sign that Renault Vitality had their sights set on a superteam. With the expectations of greatness set, the pressure was now on Scrub Killa to deliver upon his—and Renault Vitality's—immense potential.
Unfortunately, Renault Vitality's Season 6 campaign got off to a less-than-ideal start. In the first two weeks of the season, Renault Vitality dropped back-to-back matches against mousesports and Fnatic. "I tend to cope with pressure well, but I didn't play close to my best in the first two series we played against mousesports and Fnatic," Scrub Kill recalls. I think the pressure and just joining RLCS got to me, but over time you get used to it."
While the season continued on, so did the struggles for Renault Vitality. The struggles turned into frustration, which soured the team atmosphere from hopeful to despondent. "We just didn't mesh as well as we wanted to as a team," Scrub Killa says. "I don't think there was a good atmosphere in the team which, personally, I think is essential to winning." Renault Vitality crossed the regular season finish line with a disappointing 3-4 match record. It was enough to get them into the European Regional Championship, but not enough to turn around the team's mentality.
In what was almost a predictable underperformance, Renault Vitality fell to PSG Esports (who Renault Vitality had swept in Week 3) in a 4-2 scoreline during the Regional Championship, knocking them out of World Championship contention. What began as a season with sky-high expectations ended up deteriorating before Renault Vitality could even hit the World Championship stage. It was a blow not only for Renault Vitality as a team but personally for Scrub Killa. "Not making LAN the first time was really devastating," he says. "Also letting the fans down was really embarrassing personally for me."
After Renault Vitality's failure to qualify for the World Championship, the winds of change were picking up. But what that change would eventually be was beyond anyone's expectations.
Becoming a Champion
The offseason between Season 6 and Season 7 was a wild one. Every day it seemed like a new roster move was underway and the landscape of both the North American and European RLCS was shifting dramatically. With that in mind, there was no move that shook the RLCS ecosystem quite like Alexandre "Kaydop" Courant departing from the once-dominant superteam, Dignitas. He instantly became the most sought after European player on the market. The convenient retirement of Philip "paschy90" Paschmeyer from Renault Vitality's roster opened the door for the opportunity to pursue Kaydop, one of the most prolific strikers in Rocket League Esports history.
On January 13, 2019 (about two weeks after paschy90's retirement), Renault Vitality announced that they'd won the Kaydop sweepstakes and inked him to a contract. The announcement set the RLCS abuzz with talks that this Renault Vitality squad may have the most talent of any roster ever assembled. It was a power move that sent waves through the ecosystem and it was a move that Scrub Killa couldn't have been happier with. "I felt like we could be the best in the world from the first scrim we played," he says. "We just had to prove it."
Prove it they did. After a bumpy start at the DreamHack Leipzig 2019 qualifiers, Renault Vitality engaged their boost. A second-place finish followed at DreamHack Leipzig. It proved the roster's quality, even with limited practice time before the event.
Next up was RLCS Season 7 League Play, where Renault Vitality vaporized any remaining doubts about their potential. They scorched the competition in League Play, racking up a dominant 6-1 record that was capped with a convincing 4-2 victory over FC Barcelona to take First Place at the European Regional Championship. Silencing the remaining skeptics was something that Scrub Killa relished.
"[It] felt really good proving the doubters wrong," Scrub Killa says. "One of the most satisfying feelings is proving people wrong that always doubt you that you can win."
After their tune-up at DreamHack Dallas, Scrub Killa and Renault Vitality turned their attention from regional dominance to the World Championship. For Scrub Killa, the expectations were World Championship or bust and the pressure was on for him to perform. The experience of being at the World Championship was unlike any tournament he had played in before. "It was insane, honestly, getting to meet lots of fans and actually play in the real thing which means 1000 times more than any other LAN to win," he recalls. The only thing left to do was show up and perform when it counted the most.
Renault Vitality's opening two days were less than reassuring. They limped through the Group Stage where they earned a 1-1 record with their lone win coming against Oceania's Ground Zero Gaming. Scrub Killa admits that their early performances did leave him a bit concerned. "Our play was pretty garbage against G2 on Day 2," he says. "But personally, I didn't change anything. Much of it was just on Kaydop and Fairy to pop off on Day 3, which they ended up doing."
As Scrub Killa said, Renault Vitality ended up eviscerating their opposition on Day 3 of the World Championship. It wasn't like they had an easy path to the Championship either. They had to get through NRG Esports and Cloud9 on their way to a date with G2 Esports in the Grand Final. "After we beat NRG Esports I knew we were gonna win, whoever won that series was gonna win RLCS," he says. "Especially after beating Cloud9, I just felt like the trophy was ours."
In the end, the trophy was theirs. After taking down G2 Esports in a 4-1 Grand Finals victory, the confetti fell, and Renault Vitality became well-earned World Champions. Not only that, but Scrub Killa's performance netted him another trophy that had eluded him during League Play: MVP. "It felt really amazing," he admits. "But for me, the MVP was just a cool medal. I don't really think I deserved it any more than my teammates did."
For many players, winning the World Championship is the endgame—the exclamation point to a career well played. Yet for Scrub Killa, this World Championship win represents just the beginning.
More to Prove
Scrub Killa views winning the World Championship as only the first chapter in a career he plans writing for many years to come. Based on his results so far, it's not far-fetched to believe that Scrub Killa has much more success to experience before he closes the curtains on his career. In fact, there's seemingly no end in sight for the young superstar. His trajectory is pointed skyward, with the only limits being how long he can keep his competitive spirit fueled.
The World Championship win was great, but he knows it's time to start putting in work to get even more accolades added to his resume. "People ask me if it felt surreal. Not really. It just felt like a massive relief," he explains. "But it hasn't really changed my attitude about the game and I'm not gonna stop playing because I have way more to prove."
The way Scrub Killa sees it, the clock is ticking and he's going to do everything he can to keep delivering performances that both he and his fans can be proud of. The expectations are higher than they've ever been for him, but he's confident that he's got what it takes to deliver on them. When he was asked about his future, he delivered a response that encapsulated his bravado, humor, and approach as a player perfectly. "Keep clapping scrubs," he responded when asked about what he thinks lies ahead. "And winning hopefully."

Want to keep up with Scrub Killa? Follow him on Twitter and make sure to tune in when he's live on Twitch!