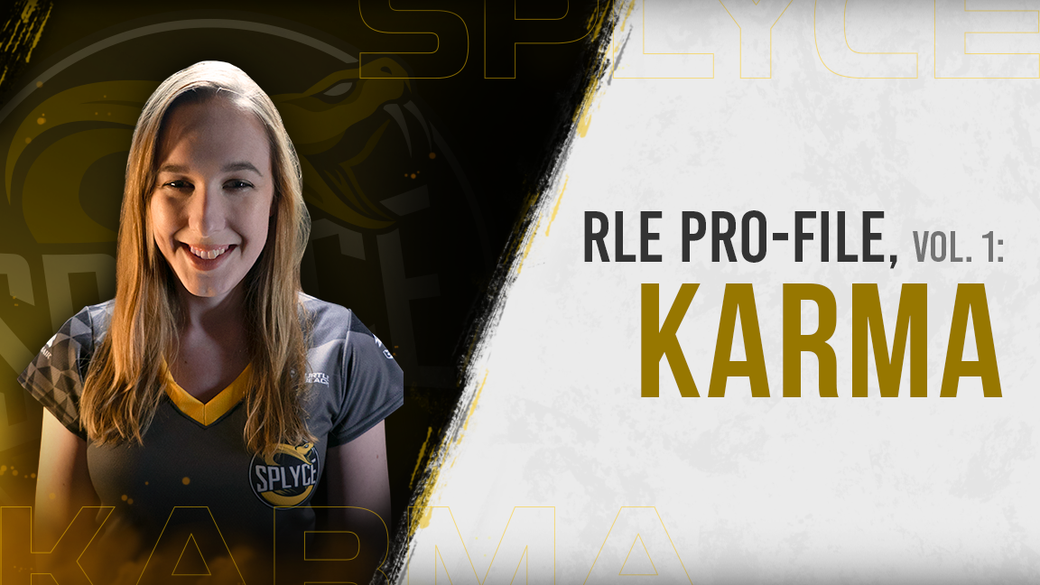 Rocket League can be the type of game that finds you even when you're not looking for it. For Jaime "Karma" Bickford, that moment came when she was attending a pre-med program in Boston, while streaming Hearthstone on the side. "I decided to switch to a game that my friend suggested I play at the time, called Rocket League." says Karma, "I was instantly hooked but I was hesitant to make the change."
It was a decision that she would think about deeply and eventually discuss with her family and close friends. They encouraged her to take the leap — and as fate would have it — it ended up being a choice that changed the course of her life.
Can't Stop, Won't Stop
Becoming a professional Rocket League player requires confidence, dedication, and a whole lot of skill — all of which Karma has in spades. But, the path to the Rocket League Championship Series (RLCS) isn't always a straightforward one. Sometimes the easiest option is to hang up the proverbial cleats and call it a career. While that may be the best call for some players, it wasn't an option that Karma ever considered. Instead, she used her missteps and missed opportunities as fuel for her competitive fire.
"That's my favorite thing to be told: 'You can't.'" says Karma, "Ironically, it just makes me want to do it more." Whether it's her inner-Bostonian or her competitive drive, Karma views adversity as an opportunity to grow and get better at her craft. She's been remarkably resilient throughout her career, but there's a component of her success that isn't often talked about: her unshakeable support system.
Before helping to secure Splyce's spot in the RLCS, Karma spent plenty of time 'on the bubble' of top-tier competitive play. It never shook her confidence in her abilities, but she credits at least part of that consistency to the support of those closest to her. "Dealing with setbacks and struggles all comes back to your teammates, close friends, and family," she explains. "You lean on them when times are hardest."
The support Karma has received from close friends and family isn't just limited to her professional career — it comes from her family's close bond.
Her Mom, Dad, and Nan (grandmother) have been her biggest supporters, whether that's in or out of game. "Those three are my main support. They've been there through all my battles with my health, my triumphs as an athlete growing up, and even though they were skeptical about my pursuit in video games, they've always encouraged me to follow my passion." It's that kind of unwavering love that's given Karma the green light to chase her dreams and eventually land herself a spot in the Rocket League Championship Series. With friends and a family that stand behind her no matter the pursuit, it's no wonder that she has the necessary confidence to climb the Rocket League ladder and quickly become one of the scene's most recognizable faces. She thrives in the spotlight, but what that spotlight brings can be both good and bad.
A Different Kind of Leader
Karma is, without a doubt, different than almost all of her contemporaries. She's a female in a male-dominated space. By virtue of being different, Karma's naturally observed more closely by the community, but it's never been something she shies away from. "It's an issue [women in esports] that I never really thought I'd address," Karma states, "But I've been interviewed and asked so much about it that I've taken on the topic with pride."
Karma quickly became the face of the issue for the Rocket League community. While it has given Karma a bigger platform to help build her personal brand, she wishes that it didn't come at the cost of overshadowing her teammates. She's a firm believer that anything Splyce accomplishes, they do it as a team and not as individuals.
"I feel for my teammates because I think the storyline overshadows some of their stories and great accomplishments. I want them to get their voice out there." Her share-the-wealth approach to relationships with those around her offers a glimpse into the leadership style she brings to the Splyce squad.
Karma's well known for her 'tough love' approach as a captain. It mirrors her own self-improvement strategies that begin and end with Karma as her own harshest critic. It hasn't always worked out but over time, Karma has learned to refine her leadership and she's found that nothing cuts tough love quite like humor.
"They all [NoseDude, JWismont, Jimmer] have different personalities, different goals; but what I find as a global way to bring people together is humor." says Karma, "I try and make everyone laugh and smile.That usually makes things a lot more fun and relaxed." The ability to constructively criticize her teammates, while also making time for jokes and relationship-building has turned Karma from a hardline leader to an approachable captain. She may focus many of her resources and attention on those around her, but that doesn't mean she doesn't also spend time charting her own course.
Now or Never
Karma knows that she's treading a path that very few people will ever have the opportunity to walk. "Rocket League has provided me with such life-changing experiences that I want to make sure that I fully enjoy it while I'm here," she says. "I'm so grateful and it's so overwhelming."
With the RLCS on the horizon, Karma knows that her time to shine has come. She's happy with her professional progress, but making the RLCS isn't where she wants her story to end. She has more chapters to write, so with any luck — and a bit of skill — this is just the beginning of a long career.
"My dream has always been to have my Nan attend a LAN event and see me play onstage," says Karma, "Bring my family and have them watch our team compete with the crowd cheering, the announcers, and just show them that their support actually turned into something."
Now, with the first step of RLCS qualification in her rearview mirror, Karma can turn her focus to tuning up her play in preparation for the gigantic step up in competition. It's not like Karma to back down from a challenge and that's not about to change even if she'll be playing against some of the most legendary names in Rocket League Esports. She's got her team, family, and her Boston-fueled confidence all on her side as she hits the pitch to prove herself once again.
It's time for Karma to show the world just what she's made of and it's an opportunity she's not about to let slip. When the rubber hits the road, one thing's for certain: she's here to bring home the wins. "I'm wired to want to compete, outwit, and beat someone else in a game," she says, "Anything other than that is just boring."

Want to connect with Karma or watch her play live? Follow her on Twitter and tune in to her Twitch channel to follow her journey in RLCS Season 7.