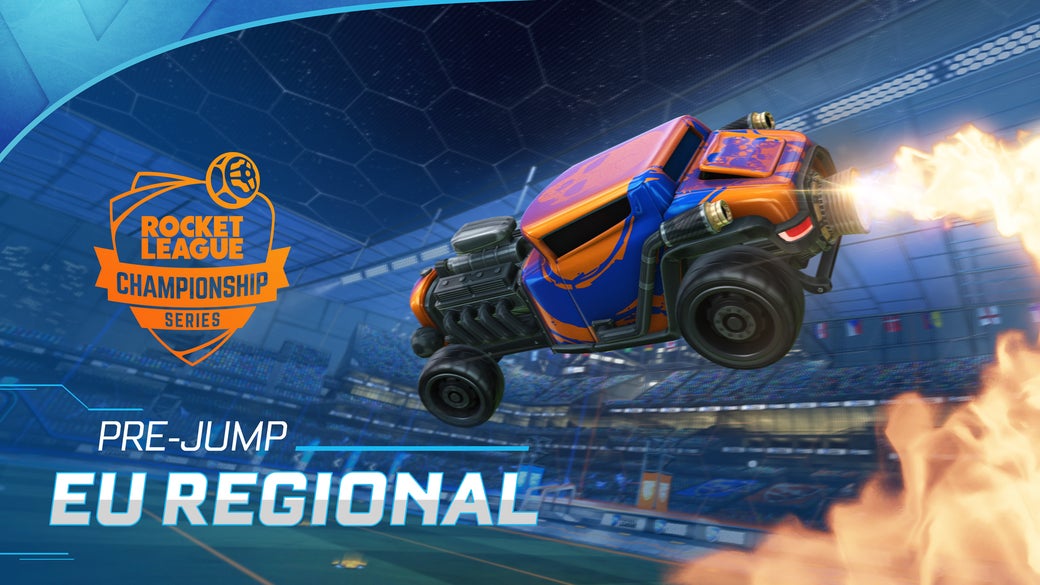 One weekend down in the Rocket League Championship Series (RLCS) X European Regional, and it sure was a doozy. In the span of two days, teams beat the odds, huge upsets were locked in, and the table was set for a weekend of high-stakes Rocket League Esports action.
If you missed the first weekend, or just want a refresher on what went down, let's get you caught up with the Pre-Jump action.
Upside Down
It's crazy how quickly the momentum can shift in professional Rocket League. One week you're riding high, and the next you're knocked out early in one of the biggest tournaments of the year. On Day 2 (Sunday), we bid adieu to Galaxy Racer, Barça Esports, Fadeaway, Team Singularity, Guild Esports, and the most shocking of them all, Top Blokes! That's right, the defending European Regional Champions, Top Blokes, were knocked out in the first round of the Lower Bracket. It was a stunning fall from grace for a team that was on top of European Rocket League just a few short weeks ago.
For all these teams, and Top Blokes in particular, these results sting. The poor showings come at the cost of points, prizing, and potential Regional Major qualification. For the viewers at home, it was an exciting start to the tournament, chock full of undeniably crazy upsets. For the teams on the receiving end of the L's though, it's time to go back to the drawing board and figure out just what the heck went wrong. It's a long wait until the Regional Major, and some of these teams might not even have a shot at the RLCS pitch again until after its conclusion. That's a lot of time to identify issues, fix them, and think.
At Long Last
Team Liquid's road to RLCS X relevancy has not been an easy one. After the organization made a huge splash by acquiring the trio of Francesco "kuxir97" Cinquemani, Emil "fruity" Moselund, and Jack "Speed" Packwood-Clarke, the team's weaknesses quickly became apparent, and it didn't take long for a change to occur. Ahead of the Winter Split, Team Liquid expended their sole roster move of the season by dropping kuxir97 in favor of the recently-available striker, Aldin "Ronaky" Hodzic. The results didn't change. Quips of "kuxir wasn't the problem!" filled Twitch chat any time that Team Liquid found themselves struggling—which was often. Team Liquid was loaded with talent, but the results simply weren't coming along as expected. That is, until this Regional Event.
They looked shaky in their first match, fighting their way through tilt for a 3-2 win over Fadeaway. The second match was their statement. The 3-0 evisceration of the defending Regional Champions, Top Blokes, catapulted Team Liquid to Day 3 with a spotless record. The road ahead looks manageable as well. A date with an unproven WOO squad awaits in the Upper Bracket Quarterfinals. If Team Liquid finds success there, it will put them well ahead of their other recent results. The road gets considerably tougher after the Quarterfinals, but for Team Liquid, this start is one of their best yet. For the sake of their fans (and, probably, their own sanities) it's time to put the pedal to the metal and make a deep run. This is the Team Liquid fans have been clamoring for, at long last.
Perfection
Last week, we discussed the new-look Dignitas and how 2021 might be shaping up to be their year. Well, they took Team Singularity to the cleaners. In a perfect sweep (no goals allowed throughout the series) Dignitas dispatched Team Singularity to the Lower Bracket where they would eventually be ousted from the tournament by Redemption. Dignitas didn't score a ton of goals (four over the course of three games) but their defense clamped down on a team filled with mechanical prowess and offensive firepower. It was an impressive display from Dignitas, who in their own right, have been building an offensive arsenal of their own with the additions of Joris "Joreuz" Robben and Jack "ApparentlyJack" Benton.
Perfect sweeping isn't very common in the RLCS, as Rocket League tends to be extremely fast paced, which shrinks the margin of error and punishes even the slightest misplays. Yet, Dignitas has managed to do it twice within a week. Their first victim was Guild Esports during RLCS: The Grid, and their second was, of course, Team Singularity last weekend. Dignitas feels like a team that's strapped themselves to a SpaceX rocket and are headed to the stars, but they face a true test in the Upper Bracket Quarterfinals in the form of a vengeful Team BDS. We could very well be witnessing a Grand Finals preview based on how both teams are performing. Arguably the best squads on the European continent are destined to meet early in the Upper Bracket in a test of fate. Who will come out on top? You'll have to tune in and find out.
Make sure to catch the finale of the European Regional this Saturday and Sunday starting at 8 a.m. PST (4 p.m. UTC) on Twitch and YouTube. Don't forget to follow us on Twitter to keep up with everything Rocket League Esports. We'll see you on game day!