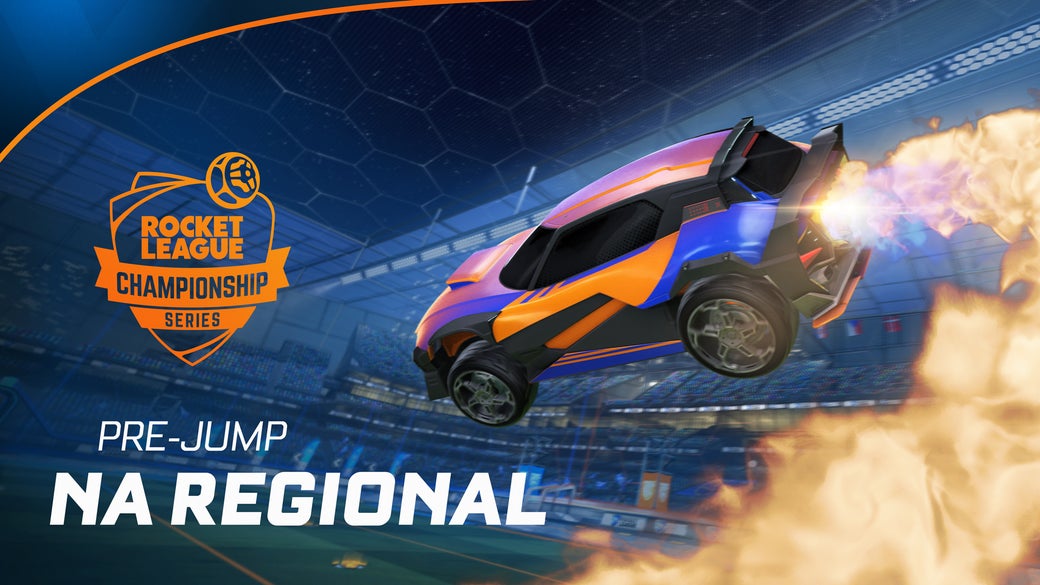 Well, all it took was two of the most grueling events ever made for Rocket League Esports, and we've already got our first back-to-back champions. Congratulations to Team BDS for taking their second-straight European Regional victory. With history already being made, it's time to tune up our cars and get ready for a huge weekend of North American Regional play.
If you missed the first North American Regional, or you just love Pre-Jumps, we've got the biggest storylines for you to check out ahead of this weekend's matches.
Preparing for Liftoff
If Team BDS is the raid boss of European Rocket League, then Spacestation Gaming is North America's Ragnaros. The powerhouse trio of Caden "Sypical" Pellegrin, Tshaka "Arsenal" Lateef Taylor Jr, and Slater "retals" Thomas took home the victory in the first North American Regional with a dominant performance throughout the entire tournament. If that wasn't enough for you, how about their first-place finishes in three of the five weeks of RLCS: The Grid? Who knows, maybe by this Thursday, they'll make it four. Spacestation's early-season form has been as close to immaculate as you can get. The late offseason addition of retals quickly catapulted Spacestation straight through the stratosphere and into the stars.
After winning so much, and so often, at the start of Rocket League Championship Series (RLCS) X, it could be argued that keeping the motivation to win might be tough. That might hold up if Team BDS didn't make a seriously solid case for being the top team in the world right now. That was a title that felt like it was Spacestation's just a few measly days ago. Now that Team BDS has planted their flag at the precipice of competitive Rocket League, it's now up to Spacestation to climb the mountain that is the second North American Regional and make their own case for being the best team on the planet. It'll take three days of hard-fought matches for them to do it, but if there was one team (other than Team BDS) that we'd expect to make it happen, well, it'd be Spacestation Gaming.
Bird Is the Word
Why do we continue to do it? No matter what form the roster takes, so long as they go by The Peeps, we simply have to stop sleeping on them. Sure, that saying might be played out, but the dang thing applies just about every time. Before the beginning of the first North American Regional, there were very few people pegging The Peeps as serious contenders. But, they once again proved everyone wrong. The Peeps not only made it to the Semifinals, but they also put up a huge fight against the eventual victors (Spacestation Gaming) in a tightly-contested and heartbreaking 3-4 defeat. It wasn't the way The Peeps wanted their tournament run to end, but it was a promising glimpse at their potential.
What'll be interesting is to see if The Peeps have that next gear that shifts them from challengers to legitimate contenders. It's one thing to push Spacestation to Game 7, it's another thing entirely to knock them out of Grand Finals contention. Having pop-off potential is great, but with the new format rewarding consistency over flashes in a pan, The Peeps need to prove themselves over multiple events if they want to put their names at the top of North American Rocket League. The first step was reminding everyone just how dangerous they can be, now it's time for The Peeps to prove that they can go off—consistently.
United We Fall?
If you're an eUnited fan, you've got to be scratching your head right about now. The team seemingly upgraded their roster over the offseason, eventually signing young, upcoming star Michael "WondaMike" Santoriello. Yet, their performances haven't felt much like an upgrade at all. In some ways, it feels like it's been a step backwards so far. None of their finishes from The Grid inspire much confidence, and their most recent finish of dead last is straight-up alarming. They didn't fare much better at the first North American Regional, either. They won their first two matches against beatable opponents, before dropping three straight games to Spacestation Gaming, Charlotte Phoenix, and the Kansas City Pioneers.
Luckily for eUnited, it's a long season and they still have time to improve and figure out where they're going wrong. They want to be wary of taking too long though, each Regional that they spend tinkering instead of winning puts their season and shot at the World Championship further at risk. There's no doubt that the tools for success are in eUnited's toolbox, they've just got to figure out how to use them. Colby "hockser" James and Jackson "ayjacks" Carter need to start leveraging their top-flight experience in high-pressure situations if they want to see a change in results. This could also help guide Wondamike as he continues to figure out where he fits on the eUnited squad. The catch is that time's always ticking, and RLCS X doesn't get any easier from here.
Don't miss this weekend's North American Regional action on Saturday and Sunday! You can catch it all on Twitch and YouTube starting at 10:30 a.m. PDT (5:30 p.m. UTC) both days. Be sure to follow us on Twitter to keep up with all things Rocket League Esports. We'll see you this weekend!