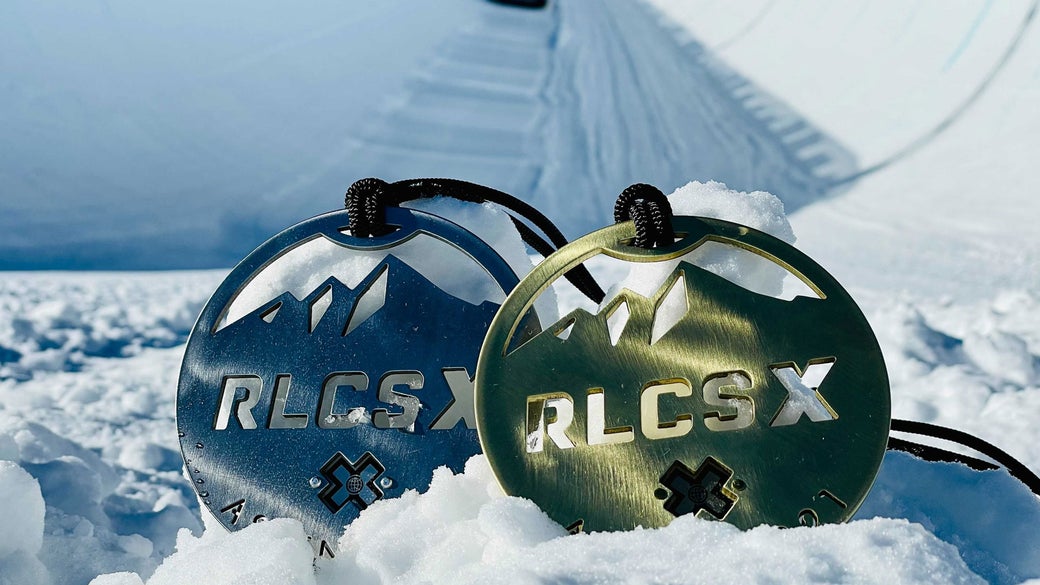 One weekend down of the RLCS X Games: North American Regional and one more to go! The stakes are only getting higher as only twelve teams remain in the running to earn the title of RLCS X Games Champions and those sweet, sweet RLCS X Games medals.
Like last week's Pre-Jump we're going to focus on the sickest, most gravity-defying plays we saw last weekend. Let's half flip our way into it!
Snow Way!
If there's been a standout player on The Peeps so far during Rocket League Championship Series (RLCS) X, it'd have to be Austin "AYYJAYY" Aebi. His fluid mechanics and creative approach to offensive Rocket League has made him one of the most potent strikers in North America. That skill and creative mindset were on full display last weekend in Game 1 of The Peeps' series against Ghost Gaming in the Lower Bracket. As if the nine goal thrashing wasn't enough, AYYJAYY added insult to injury with one of the highlights of the tournament. Off the kickoff, AYYJAYY played the ball up the sidewall, controlled the ball off the wall, flipped into it to bounce it off the ceiling past two defenders and tap it in for the goal.
You might look at the clip above and think: "Heck, that's a once in a lifetime shot!" Yet, those dazzling displays are becoming the expectation for The Peeps' star playmaker. The bracket only gets more difficult from here though, and The Peeps are already down to their final life in the tournament. That means AYYJAYY's high-flying heroics will be all the more needed if The Peeps are going to make a serious run at picking up those RLCS X Games medals. But, if his beautiful play against Ghost Gaming is any indication, AYYJAYY is primed and ready for an explosive performance.
Signed, Sealed, Delivered
Last week, we talked about how insanely good Justin "jstn." Morales is at Rocket League. And, of course, you see that in the clip above, but what you also see is how nutty his teammate Garrett "GarrettG" Gordon is as well. Their team, NRG Esports, has constantly staked their claim as one of the top teams in the world, and the play above is another reminder at just how dangerous they can be. In one of the most crisp plays of the weekend, GarrettG lofts a pass to jstn. who has already pre-jumped off the side wall, and jstn. proceeds to drop a dime to GarrettG who rockets the ball off the crossbar and back down into his car. The ball explodes into shards of ice and NRG Esports would march to a decisive 3-0 victory.
Like most team sports, Rocket League squads can only get so far off the talent of a single player, but in the case of NRG Esports, any player of that trio has incredible pop off potential. And as evidenced above, they're at their most dangerous when they get in sync, link up, and put away ridiculous shots. As an opponent, you have to respect that any one on NRG Esports could dice you up with the flick of a joystick, and that makes defending them much more difficult. NRG Esports has an attackable match up with the Pittsburgh Knights to kick off their weekend, and if they can pick up momentum there, it'll be one heck of a fight to stop them.
Clinical Sypical
In a world dominated by those who seemingly have too much to say, Caden "Sypical" Pellegrin is an anomaly. A player of remarkably few words, Sypical lets his play on the pitch speak for him. In the above clip, the odds were stacked so high against Sypical that you'd have to get a 50-foot ladder just to see over them. Firstly, he absorbs a physical shot from a defender challenging him on the wall. Next, he's got a defender that seemingly has him read from a mile off. But, Sypical does Sypical things, toying with his opponent's mind, faking a hit, then diving onto the ball to beat the third—and final—defender who was rushing back to net. Really, you should rewind the tape and watch again, because this play is just flat out ridiculous.
Because of Sypical's stoic silence, it can sometimes be easy to let his skill slip our collective minds, but then he reminds us just how lethal he truly is. When you couple that with the fact that he's often running offense in tandem alongside Tshaka "Arsenal" Lateef Taylor Jr and Slater "Retals" Thomas, you've got a recipe for outplays and offensive fireworks. They're heavy favorites going into their Upper Bracket match against the Susquehanna Soniqs, but the sledding only gets tougher from there. Sypical and Spacestation will look to get back to their winning ways, beginning with taking home the RLCS X Games gold medals. If Sypical keeps up his current form, it may be a bad idea to bet against them.
Make sure to tune in this Saturday and Sunday at 10 a.m. PT (6 p.m. UTC) on Twitch, YouTube, and the ESPN app for the epic conclusion of the RLCS X Games. Don't forget to follow us on Twitter to keep up to date on all things Rocket League Esports. We'll see you this weekend as we find out who earns the RLCS X Games medals!