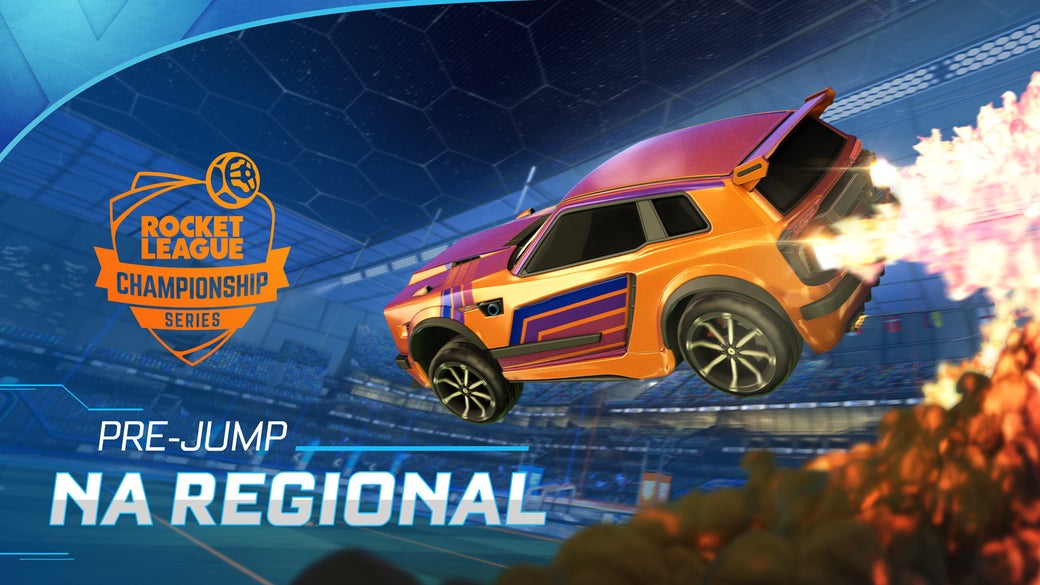 Get hype! The RLCS X Games: North American Regional kicks off this weekend. To get things started, we're going to do the Pre-Jump a bit differently this week. Instead of focusing on different stories to watch, we're going to take a look at some of the most mechanical and flashy players that you'll see on the pitch during the RLCS X Games.
Without further ado, let's flip reset our way into it.
Justin "jstn." Morales
If you know anything about North American Rocket League you know that jstn. is one of the most insane players on the planet. And if you don't know anything about North American Rocket League, don't worry, you'll know jstn.'s name soon enough. The longtime NRG Esports striker is the proud owner of some of the most iconic plays in Rocket League history. His zero-second goal in the Grand Finals of the Season 5 Rocket League World Championship is the most famous shot ever made on Champion's Field. Tack that onto his World Championship-winning shot in RLCS Season 8 and you've got a recipe for an icon.
Outside of his clutch gene in big time games, jstn. does much, much more. Whether it's hitting triple taps off the backboard or dicing up the opposing defense on the dribble, jstn.'s arsenal isn't one to be messed with. His defense isn't anything to scoff at either. It's much easier to defend when you know the best mechanics to score like the back of your hand. At times, jstn. can seem downright clairvoyant with how he approaches Rocket League. A day-in and day-out all-star, jstn. represents the value of having mechanics and the game sense to match. Whether he's in a "slump" or not this weekend doesn't matter, he'll show up.
Tshaka "Arsenal" Lateef Taylor Jr
One word comes to mind when watching Arsenal play: aggression. If there was ever a player that embodied aggression in car form, it'd be Spacestation Gaming's perennial superstar. Rarely do you get to see a player so effortlessly combine lethal demolition play with strikingly crisp mechanics. Whether he's coming off the ceiling looking to easily beat all three defenders, or taking out an opposing player in a flash of fire and car parts, the result is always the same—Boom.
After getting his start on The Peeps, Arsenal quickly established himself as one of the premier offensive minds in the game of Rocket League. His simultaneous mastery of bruising physical play and triple-pirouette-level mechanics has made him one of the most feared strikers in North America, if not the world. His mastery of the game isn't limited to just the RLCS pitch either. He's also proven himself a formidable opponent in 1v1 Duels, taking part in Johnnyboi's Salt Mine Underground, and destroying his competition Carson "Forky" Howard in the process. Even with all that past success, Spacestation hasn't taken home the gold since the Fall Split North American Regional Major, and Arsenal will be looking to change that as he and his squad hit the pitch with RLCS X Games medals on the line.
Robert "Comm" Kyser
It's no secret that Version1 hasn't lived up to the massive expectations placed on their shoulders by fans and analysts alike. But, ever since they added Comm to the roster, their fortunes have begun to shift. After competing for two seasons in the Rival Series, Comm started to make a name for himself as some sort of magical mechanics wizard. His ability to outplay defenders caught the attention of Version1's Jesus "gimmick" Parra and Kyle "Torment" Storer. They brought him in for tryouts and he made an immediate impact on the roster.
Seemingly always able to deftly dance around the first defender, Comm opened up a new version of Version1's offense. It wasn't an instant fix, but he's given Version1 an edge they didn't have before. Comm's gifted abilities on offense have made the team a real threat in North American Rocket League. Comm has helped lift Version1 to two top-four finishes in the last two weeks of RLCS: The Grid (a league composed of many of the best teams in North America). There is no doubt that Comm brings the offensive firepower that Version1 was desperately lacking in the Fall Split. And if Comm can keep making plays like this, the rest of North American Rocket League better watch out, because they might just get styled on.
Tune in this Saturday and Sunday at 10 a.m. PST (6 p.m. UTC) on Twitch, YouTube and the ESPN App to catch the RLCS X Games live! Don't forget to follow us on Twitter to keep up with everything Rocket League Esports. We'll see you on game day!