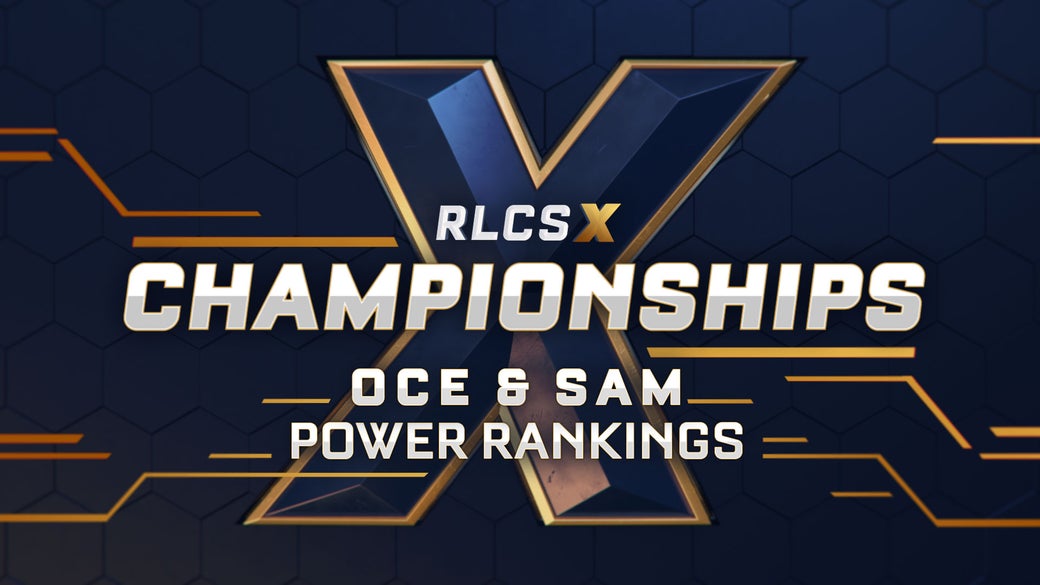 We're just over a week away from the best teams in Oceania and South America facing off to become the Rocket League Championship Series (RLCS) X Champions of their regions! With only two teams remaining in each region, we talked to our casters and analysts to get their take on each team's chances to win. The overall panel includes: David "Yumi Cheeseman" Lane, Jake "Jake" Edwards, Abner "Chamako09" Custodio Gonzalez, Miguel "Dex" Montoya, Joey "Jorby" Ahrens, Randy "Gibbs" Gibbons, John "Johnnyboi" MacDonald, and Michael "Achieves" Williams.
Let's check out their predictions below.
Oceania: Ground Zero Gaming vs. Cringe Society
The casters and analysts first rated Ground Zero Gaming and Cringe Society's chances of winning in their "Best-of Set" match up. The answers were… decidedly one sided.
Ground Zero Gaming (94% overall):
Yumi Cheeseman: 95%
Jake: 90%
Gibbs: 85%
Johnnyboi: 100%
Achieves: 100%
Cringe Society (6% overall):
Yumi Cheeseman: 5%
Jake: 10%
Gibbs: 15%
Johnnyboi: 0%
Achieves: 0%
The landslide in favor of Ground Zero Gaming isn't without reason, though. As Yumi Cheeseman explains, "In the time of them both having new rosters, Ground Zero has won 13 series to Cringe Society's zero." Yet, he thinks the long break between the end of the regular season and the RLCS X Championships might be enough to tip the scales, "There is a chance in the 6-7 weeks break that there could be a big change." Jake shares a similar sentiment to Yumi Cheeseman, but still thinks that Ground Zero Gaming is the clear favorite, "Ground Zero have dominated Cringe Society all season... Cringe has had time to prepare but it's hard to give them more than a 10% chance."
Johnnyboi had a much more blunt assessment of the match up, "If it was just one Best-of-7 I would put the percentages closer, but it's going to be impossible for Cringe Society to beat Ground Zero Gaming two times." The numbers bear out the bleak assessment from Johnnyboi, but Achieves' response was the most straightforward of all, "What else do I need to say other than they're [Ground Zero Gaming] clearly the better team?"
South America: True Neutral vs. FURIA
Shifting the focus to South America, our casters and analysts were a bit more split with this match up. While True Neutral remains the favorite, FURIA presents a compelling underdog case and has a realistic chance at chasing the upset.
True Neutral (68% overall):
Chamako: 60%
Dex: 60%
Gibbs: 70%
Johnnyboi: 60%
Jorby: 90%
FURIA (32% overall)
Chamako: 40%
Dex: 40%
Gibbs: 30%
Johnnyboi: 40%
Jorby: 10%
For Chamako, True Neutral's true advantage lies in their overall game plan execution. It's less about a mismatch of skill and more about True Neutral's approach to the game as a whole. "True Neutral plays a bit faster, a bit more aggressive in offense… Both teams are about equal on defense," Chamako says, "But I mainly give the edge to True Neutral because they've been great at game plan execution." Dex shares a similar sentiment, stating that the difference between the two teams will come down to True Neutral's mid-game adaptability. "FURIA is a team that plays smart, and that could favor them in the long run," he explains, "But True Neutral has been more consistent, and have better capabilities to change strategies and playstyle in the middle of a game."
The outlier, Jorby, has much more faith in True Neutral's ability to dominate when the pressure's on. His 90% stands out as the highest rating among his peers by 20%. He believes that even when FURIA have taken down True Neutral, it's often short-lived and followed up by True Neutral righting the ship. "Even when FURIA do end up beating True Neutral, like in Prime Series 2, True Neutral come back to take the tournament from them," he says, "The gap between the two is not shortening, it is widening in True Neutral's favor."
What are your thoughts? Who do you think is going to take home the wins? Follow us and let us know on Twitter. Be sure to tune in at 2 p.m. PT (9 p.m. UTC) on Saturday, June 19th for the Oceanic and South American RLCS X Championships Grand Finals on Twitch and YouTube. We'll see you then!