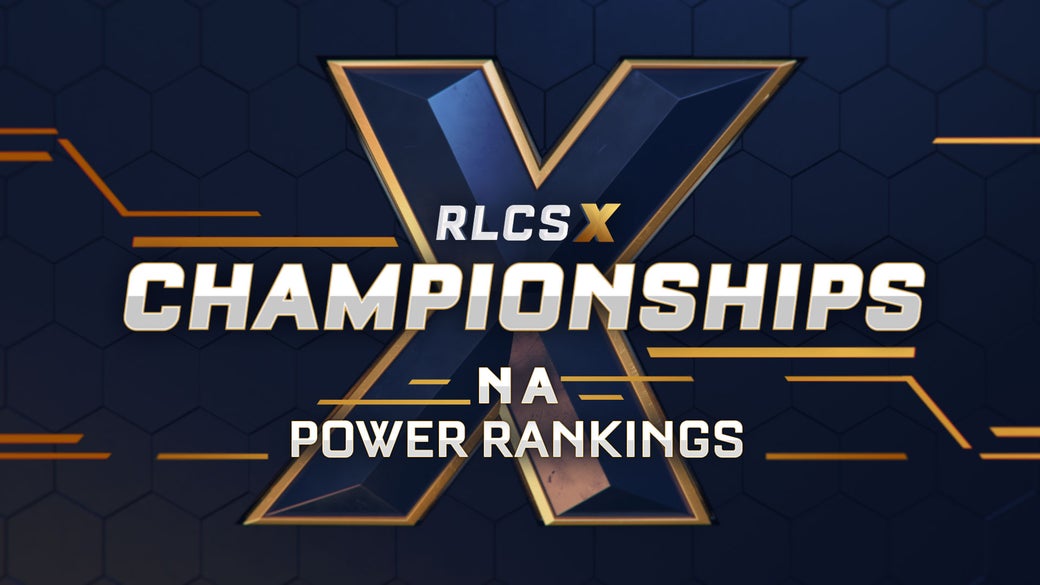 We're back with the third and final installment of the Rocket League Championships Series (RLCS) X Championships Power Rankings. This time, casters and analysts break down and rate the six qualified teams for the North American RLCS X Championship. The panel this time around includes Randy "Gibbs" Gibbons, John "Johnnyboi" MacDonald, Michael "Achieves" Williams, and Joey "Jorby" Ahrens.
Let's check out how they ranked the teams!
#6 - FaZe Clan (6 average overall)
Gibbs: 6
Johnnyboi: 6
Achieves: 6
Jorby: 6
It's hard to argue with FaZe Clan's placement. While the team has shown sparks of incredible brilliance, often thanks to dazzling plays from Austin "AYYJAYY" Aebi, they haven't been able to string it together over a long period of time. They've broken into the top four a total of four times during the RLCS X season, but have yet to make an appearance in the Grand Finals of any RLCS X event. Every team at the North American RLCS X Championship has appeared in the Grand Finals and four of the five have taken the top prize at least once. FaZe's dubious absence from that list is concerning heading into the North American RLCS X Championship.
"FaZe did a nice job squeaking into the Championships. But that is exactly why they get ranked as the weakest team here," explains Achieves, "FaZe is absolutely the team with the biggest hill to climb here."
#5 - G2 Esports (4.25 average overall)
Gibbs: 5
Johnnyboi: 5
Achieves: 3
Jorby: 4
G2 Esports has a new pep in their step thanks to breakout performances from rookie Andres "dreaz" Jordan. After Dillon "Rizzo" Rizzo retired, hopes weren't high for G2 Esports, but dreaz has proven that he's more than capable of not only playing in the RLCS, but also filling the shoes of the legendary Rizzo.
It also helps that Jacob "JKnaps" Knapman and Reed "Chicago" Wilen already made up a potent one-two offensive punch before dreaz arrived on the scene. Now, with dreaz's focus on mechanical outplays, the one-two punch has now turned into an offensive hydra. There are still holes in G2 Esports' overall play, but as one of the hottest teams coming into the North American RLCS X Championship, they're bound to make things interesting.
"G2 finally made their first Grand Final at the [Spring Split] Major. While their side of the bracket was a bit lighter, it still shows that they are improving with dreaz," says Gibbs. "They could be a threat in this tournament."
#4 - Rogue (4 average overall)
Gibbs: 3
Johnnyboi: 4
Achieves: 4
Jorby: 5
Over the last few months, Rogue has morphed into one of the most dangerous teams in North American Rocket League. Led by stellar play from Jason "Firstkiller" Corral, Rogue has scooped up two Regional Event wins throughout the RLCS X season. They regularly spar with—and beat—the other top teams in North America. That's not something you could've said about the Rogue from season's past. Sure, they had a small run at the Season 7 Rocket League World Championship, but that was nothing like what they've been able to accomplish this season. But, even with the newfound success, they still find themselves pinned as the fourth strongest in the region heading into the North American RLCS X Championship.
"Rogue are still a team I expect to play well at this point, but after their meteoric rise to the top of NA they've cooled back off. They need to have a strong showing at the Championship as there is no more room for slow starts, it's the best teams here." explains Achieves, "Show up."
#3 - Spacestation Gaming (3.75 average overall)
Gibbs: 4
Johnnyboi: 3
Achieves: 5
Jorby: 3
Spacestation Gaming's stratospheric potential lies in the stars, while their lows lie somewhere down below the Earth's crust. The squad doesn't lack confidence or swagger, but rather the consistency to put that confidence together with play on the pitch. Their showing at the North American Spring Major wasn't exactly inspiring, even when the roster was at full strength (Slater "Retals" Thomas served a suspension on Day 1). The thing about Spacestation Gaming, is that at any moment they can turn on the afterburners and scorch the competition. Whether or not that happens at the North American RLCS X Championship is anyone's guess, but the talent and pop off potential of this team is simply too much to ignore.
"Seems they'll be right where they want to be, with everyone doubting them again, which seems to consistently be where they do their best work," says Achieves. Gibbs puts it simply: "Retals believes they are the best but they have to show it more consistently."
#2 - Team Envy (2 average overall)
Gibbs: 2
Johnnyboi: 2
Achieves: 2
Jorby: 2
As one of the consistently top performing teams in North America, it's hard to think of any other team at the number two spot other than Team Envy. With four Regional Event wins under their belt, they've cemented themselves as a bonafide threat in every tournament they're in. The one major thing to evade them during the RLCS X season is a win at a Major. They'll be looking to rectify that by taking home the win at the North American RLCS X Championship. Team Envy is led by Pierre "Turbopolsa" Silfver, who has won a remarkable 50% of the Rocket League World Championships that have taken place so far. While this isn't a World Championship, it's another chance for Turbopolsa to notch another big time win and prove that he's truly the Rocket League G.O.A.T.
Achieves breaks it down: "Envy still has to be a top contender, the only reason they didn't go further [in the Spring Major] is they got paired against the eventual major winners in NRG Esports. Don't sleep on Envy, it was a mistake that we made as analysts during the entirety of the Fall and Winter Splits."
#1 - NRG Esports (1 average overall)
Gibbs: 1
Johnnyboi: 1
Achieves: 1
Jorby: 1
NRG Esports was built to be a championship-level team and they've proven over and over that they're undoubtedly that caliber of team. Their most recent dub was collected a few weeks ago at the North American Spring Major, where they tore through Team Envy, Rogue, and G2 Esports on their way to back-to-back Major victories. Their penchant for delivering in the clutch and when the spotlight is shining the brightest, makes NRG Esports an early favorite to win the whole thing. Thanks to their performance over the RLCS X season, they won't need to hit the pitch until the Semifinals, meaning they've got plenty of time to observe the competition and prepare for whatever opponent comes their way. NRG Esports is by no means a lock, but given their track record and the team's immense amount of talent, it's difficult to bet against them.
Johnnyboi feels like North America is predictable and that means NRG Esports is coming out on top. "North America has been the most predictable region this season in terms of results and I expect the Championships matchups will all go according to seeding," he says. Jorby believes that because of NRG Esports' recent performance, they're the team to fear. "NRG gets the nod on power rankings by not only sweeping Envy [in the Spring Major], but winning the whole Major convincingly after. They are the most dangerous Championship team."
What do you think? What are your power rankings? Be sure to let us know on Twitter. Tune in to the RLCS X Championships beginning on June 15th at 8 a.m. PDT (3 p.m. UTC) on Twitch and YouTube. We'll see you then!