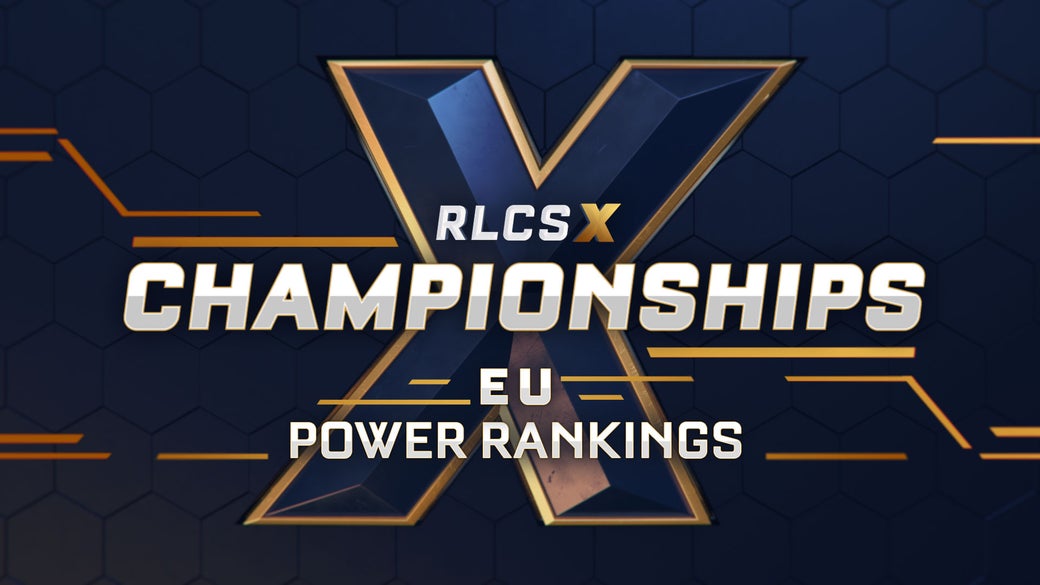 With a week until we kick off the Rocket League Championship Series (RLCS) X Championships, we sat down with analysts and casters to get their take on the European region and rank the teams from 1 through 6, based on where they think they will place. For this edition, we've got the following panel: Randy "Gibbs" Gibbons, John "Johnnyboi" MacDonald, Callum "Shogun" Keir, Emile "Cole" Cole, Alex "Stumpy" Knight.
Let's dive into the European Power Rankings!
#6 - Top Blokes (5.8 average overall)
Gibbs: 6
Johnnyboi: 6
Shogun: 5
Cole: 6
Stumpy: 6
Out of our five panelists, only one (Shogun) didn't rate Top Blokes a six. And it's hard to argue against the overall consensus. Top Blokes have been on an uninspiring run heading into RLCS X Championships. In their last two RLCS X events, they placed 9th-12th Place and 5th-8th Place. For the 3rd Place team in Europe in overall points, those two results are simply unacceptable and that factored deeply into their power ranking.
"They could utterly flop or be incredible on the day," says Stumpy, "They're top three for a reason but a weaker finish to the season puts them bottom of the list." His fellow caster Cole was a bit more to the point, "A side on the slide," he says, "I wouldn't back them against any of these teams on current form."
#5 - Team Queso (4.6 average overall)
Gibbs: 5
Johnnyboi: 5
Shogun: 4
Cole: 4
Stumpy: 5
This team's anything but cheesy and Team Queso truly is Europe's biggest wildcard coming into the European RLCS X Championship. The squad's roller coaster of a season is nearly at an end, but if history's anything to go by, there are plenty of twists and turns yet to come. In a fitting microcosm of their season, their biggest success came during European Spring Split Regional Event #2 where they took home the win in a 4-3 Grand Finals victory, yet they weren't able to replicate that success at European Spring Split Regional Event #3 and the European Spring Split Major, placing 5th-8th in both heading into the RLCS X Championships.
"Queso's season has been up and down, but oh man, THE CEILING ON THESE GUYS," says Gibbs, "If they play at their best they are a true threat to BDS, but will we see that form is the question." Shogun mirrors Gibbs' thoughts, and puts shortly and bluntly: "Europe's chaos roster is impossible to place."
Tied for #3 - Solary (3.4 average overall)
Gibbs: 2
Johnnyboi: 3
Shogun: 3
Cole: 5
Stumpy: 4
Solary's presence at the European RLCS X Championship is a testament to perseverance. After a disastrous start to the season, the squad turned a complete 180 to qualify for the European RLCS X Championship. With Maello "AztraL" Ernst playing out of his mind, Solary is a legitimate threat coming into the final leg of the RLCS X season. Couple that with Thibault "Chausette45" Grzesiak beginning to find his top-flight form, and you've got a recipe for some serious fireworks. They'll have their hands full with a Round 1 matchup against Team Queso, but if they can outlast Europe's most swingy team, they've got a chance to do real damage.
Gibbs, in particular, is optimistic about Victor "Ferra" Francal's ability to shotcall his team to victory. "Solary finished the year strong," he says, "With Ferra getting time to plan for opponents rather than playing back-to-back teams, they could be deadly." Cole thinks that the team might rely a bit too much on AztraL flipping into carry mode, but still has decent confidence about the team heading into a high-stakes week. "Over-reliant on Aztral but when he's that good, you can't blame them," he states, "Chausette's confidence will be a big factor for them."
Tied for #3 - Team Vitality (3.4 average overall)
Gibbs: 4
Johnnyboi: 2
Shogun: 6
Cole: 2
Stumpy: 3
Team Vitality hasn't quite looked like themselves during the Spring Split, and while it's difficult to gauge exactly how well they'll do, it's hard to understate how much talent and experience this roster has. So, while they may seem down and out, fans and analysts alike are hanging on to the hope that Team Vitality can turn things around and deliver a big surprise during the European RLCS X Championship. They head into the tournament as the second overall seed in Europe, so it's not like Team Vitality isn't good enough to hang, but they'll need a spark to help them burn through the tough competition in the Semifinals and beyond.
"Maybe I'm an old romantic," Cole reminisces, "But I still see Vitality as the second best team in Europe. They need to find some magic here though." Gibbs is less romantic, but still sees some glimmers of hope for the former best team in Europe: "Vitality has slumped all Spring, it's hard to rate them this low because of what Championship form could look like for the veterans, but the Spring slump was too much for me to put them higher."
#2 - Guild Esports (2.8 average overall)
Gibbs: 3
Johnnyboi: 4
Shogun: 2
Cole: 3
Stumpy: 2
Nothing's quite as motivating in sports as having a chip on your shoulder. Guild Esports have looked like one of the only teams that can somewhat consistently crack the Team BDS code. After nearly a full season of tinkering with the roster and play style, it looks like Guild are hitting their stride at the perfect time. Rated by the panel as the second-best team coming into the European RLCS X Championship, Guild has a lot to prove. It'd be the proverbial exclamation point on their season to take down Team BDS and whoever else gets in their way when it matters most.
"Guild have looked like the only team recently that can beat BDS consistently," explains Stumpy, "They are currently on an upswing and have a point to prove." Cole is equally impressed with Guild's recent track record against Team BDS, but remains slightly concerned with their consistency. "They are peaking at the right time," he says "They've beaten BDS twice recently and should've beaten them in the Major before an old-school Guild throw."
#1 - Team BDS (1 average overall)
Come on. Did you really think it'd be anybody else? Here, take some quotes from the panel about how great Team BDS have been all season long.
Johnnyboi's heavy-hitting analysis holds no punches, "BDS is obvious." Meanwhile, Gibbs offers deep insight into just how dominant Team BDS has been, "Is BDS playing? Well then we got ourselves a winner!"
What are your thoughts? Who do you think is going to win it all? Follow us and let us know on Twitter. Be sure to tune in at 8 a.m. PDT (3 p.m. UTC) on Tuesday, June 15th for the start of the European RLCS X Championships Grand Finals on Twitch and YouTube. We'll see you then!