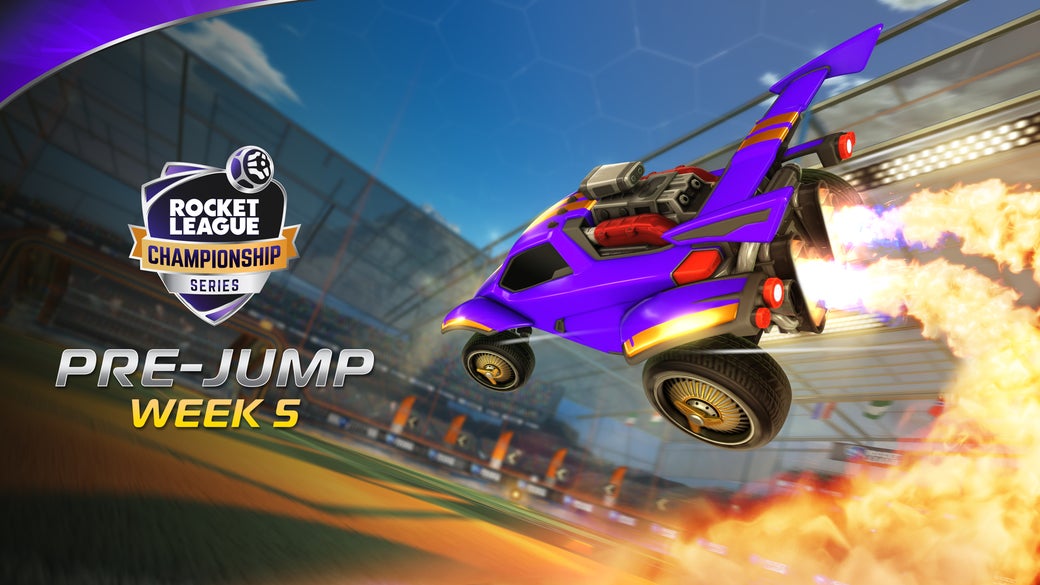 Is it really already Week 5? Well, with four weeks of Rocket League Championship Series (RLCS) in the books, we're down to one last week. Last week was full of surprises, insane plays, and some of the biggest upsets of the year.
But that's enough of the intro, let's get you caught up on some big storylines from last week so you'll be ready to rock and roll for the final weekend of RLCS League Play!
No Longer Ghosting Us
It took them four weeks, but Ghost Gaming finally showed us what type of Rocket League play they're capable of. Not only that, but they rocketed up the standings to fifth place and put themselves in prime position to fight for a top-six spot and a shot at the newly-revamped Regional Playoffs.
Through the first few weeks of the season, Ghost Gaming had almost every issue you could conjure up. Trust issues? Oh yeah. Lapses in the defensive half? Yep. Low striking accuracy? An unfortunate checkmark. But by the time Week 4 rolled around, Ghost Gaming looked like an entirely new roster. They started the week with a surprising 3-2 upset win over Spacestation Gaming. With the momentum behind them, Ghost steamrolled Rogue, locking in another upset and catapulting themselves out of a relegation fight and into a battle for playoff position.
As the newest member of the roster, Braxton "Allushin" Lagarec was the main target of criticism around the web as Ghost looked on track to crash into the Promotion Tournament. Yet, he was the spark that seemed to be igniting every, single play for Ghost. His accurate shooting, creative passing, and solid defense helped propel Ghost to a clutch 2-0 week. The icing on the cake was Allushin earning Player-of-the-Week honors for all of his heroics throughout the day. Ghost isn't quite out of the woods yet, but they're in control of their destiny as they clash with Evil Geniuses in their League Play finale. It goes to show just how much every game matters, and if Ghost can build on their Week 4 performance, they should be able to close out League Play with a bang.
Make It a Triple
After the departure of Jack "Speed" Packwood-Clarke, things were admittedly looking bleak for Triple Trouble. Tasked with finding a replacement on a short turnaround, they ended up recruiting Andy "Kassio" Landais as their third man. At the start of the season, there was understandable skepticism about the move and whether or not Triple Trouble had the time to get their synergy up to snuff.
The team's first few weeks were a mixed bag of results, and they had a record of 2-2 coming into Week 4. With tough on-paper matchups with Renault Sport Team Vitality and Dignitas on deck, it looked like they could easily end up 2-4. But that's when Triple Trouble flipped the script and defied expectations. They started off their day by taking down previously undefeated European titans, Renault Vitality with a dominant 3-1 performance. Triple Trouble followed up that effort with a razor-close 3-2 win over Dignitas. Locking in their spot in Season 8 while putting themselves in a great position to compete for a high seed heading into Regional Playoffs. It was a huge weekend for them that was capped off by their prolific striker, Aldin "Ronaky" Hodzic, earning European Player-of-the-Week honors.
This is a spot that nobody expected Triple Trouble to be in, but it's quickly becoming one of the biggest underdog stories of the year. With one more week of League Play left, Triple Trouble has a great shot at locking in their spot to compete at the Regional Playoffs and the opportunity to earn a World Championship berth. At this point, it might be time to start believing Triple Trouble is the real deal.
A Stratospheric Difference
If you looked up the definition of "wildcard," you might just find Spacestation Gaming in there as a reference for proper usage. There may not be a team in the North American RLCS with more unpredictable performances. In the first match of their double-header day, Spacestation took a shocking 2-3 loss to the new-look Ghost Gaming. It was a puzzling loss that put a huge dent in their Regional Playoff hopes, especially with Cloud9 on the horizon later in the day.
But boy were we in for a serious surprise. In a shocking upset, Spacestation became the first team to take down a member of the 'Big 3' as they dismantled Cloud9 in a seemingly unlikely 3-1 victory. It was a crazy result that was made even crazier when using their performance against Ghost as the context for expectations heading into the match.

It served to highlight a couple of things. Firstly, Spacestation is wildly inconsistent. Being a fan of this squad must feel like riding the most insane roller coaster of all-time. Secondly, Spacestation is one of the deadliest teams in North America when they're in rhythm. It's a point that even Cloud9 players were making on Twitter after the match. If Spacestation can find a way to play up to their potential on a more consistent basis, they could be one of the biggest surprises—and threats—during the Regional Playoffs and perhaps even the World Championship.
Make or Break
In one of the most unlikely stories of the year, Dignitas' slide has continued into Week 4. After a convincing win in Week 3, it looked like the squad was back on track and ironing out their issues. That turned out to not be the case as Triple Trouble's win over Dignitas turned their season from bad to borderline disastrous.
As it sits right now, Dignitas holds on to sixth place just outside the relegation zone (seventh and eighth place). With Week 5 on tap, Dignitas has two pivotal matches that will determine their fate. The first is a tough assignment against TSM who will, no doubt, be looking to correct their poor form after a 3-1 loss to PSG Esports. After that, The Bricks, who are fighting with Dignitas to stay out of the Promotion Tournament, will be waiting. It's a week that can end in triumph or tragedy for Dignitas. There's no room for failure and their second, third, and fourth chances have all been used up. Dignitas find themselves, unbelievably, in a do-or-die scenario. It'll either be heartbreak or one massive sigh of relief.
Which is it going to be?
This. Is. It.
Those are a few of the many storylines heading into the fifth—and final—week of League Play. Some dreams will come true, others will evaporate. It all comes down to this and there's never been more pressure. It's the biggest season yet, and this is where eventual champions begin to forge their legacies.
Tune in for the new RLCS Pre-Show that airs a half hour before matches start. The Pre-Show for North American RLCS starts at 11:30 a.m. PDT (6:30 p.m. UTC) on Saturday, and at 8:30 a.m. PDT (3:30 p.m. UTC) for the European RLCS on Sunday. Remember that you can earn new Fan Rewards by watching the stream live on Twitch.

If you've ever wanted to see RLCS action live, on June 21-23 you can watch the best teams in the world face off at the Prudential Center in Newark, New Jersey for their shot at the title of World Champion. You can grab your Rocket League World Championship tickets here. We'll see you there!