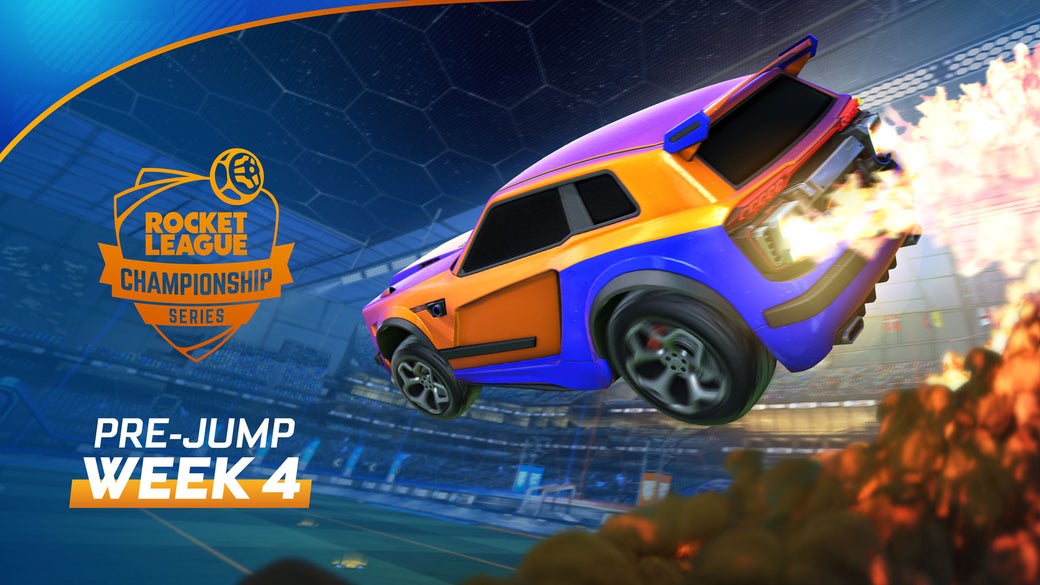 Another week of Rocket League Championship Series (RLCS) action is done and dusted, and we've got a ton to talk about. The reigning World Champs finally got taken down, Veloce is back to proving people wrong, and Renault Vitality seems like they're really starting to click.
With so much going on, let's cut to the chase and catch you up on the storylines you need to know heading into Week 4.
Down They Go
It had to happen eventually, right? The reigning World Champions, NRG Esports, were taken down 2-3 in the final match of the day on Saturday by Spacestation Gaming. The defeat included a monster 6-1 trouncing in Game 5, where Spacestation definitively threw their names in the ring for North America's top team. While it is only one loss, it prompted both Garrett "GarrettG" Gordon and Pierre "Turbopolsa" Silfver to take to Twitter and talk about the match. GarrettG even went as far as to say that based on past results, Spacestation is "clearly the better team right now." Whether that turns out to be true remains to be seen, but the victory was a reminder of just how dangerous Spacestation Gaming can be.
The win was keyed by Alexandre "AxB" Bellemare, who was viewed as the team's weakest link in the offseason. He's proven multiple times over the course of Season 9 that he not only belongs on this roster, but that he can run the show if he needs to. That's when Spacestation seems to be at their best. While the offensive chops of Caden "Sypical" Pellegrin and Tshaka "Arsenal" Lateef Taylor Jr. have never been in question, they become even better when AxB can carry the load and help his teammates calm down. It's a look that we've seen from Spacestation a couple of times this year, and they employed it again to take down NRG Esports. If this is what the battle for the top of North America looks like, sign us up for another nine seasons of it.
Keep Doubting
After watching Veloce exceed expectations for two seasons, we've got to ask ourselves how many wins it will take to uproot them from the 'underdogs' category. Sure, they don't have the sexiest play style. It's largely devoid of huge flashes of brilliance and rather relies on consistent play throughout the course of a series. The latter got them a huge 3-2 win over Team Reciprocity in Week 3. The series felt like a heavyweight slugfest, but in the end, Veloce landed the knockout haymaker with a 3-0 victory in Game 5. It showed, once more, that Veloce is here to stay and that their style of Rocket League works.
It works especially well when Andy "Kassio" Landais plays as well as he did. We've talked in the past about how he acts as an anchor for the teams he's on, and we've even gone as far to call him a kingmaker. He lived up to that moniker this weekend, propelling his team to victory and picking up the honor of European Player of the Day in the process. Much like the aforementioned AxB, Kassio is the type of player that inspires better play in those around him when he's performing well. While Spacestation definitely has the flash, Veloce and Kassio stick to the efficient and effective. That approach took Veloce to the World Championship last season, and if things keep up, it could be the same song and dance in Season 9.
Living Up to Potential
After a shaky 1-1 start, Renault Vitality came under heavy scrutiny for dropping Kyle "Scrub Killa" Robertson and picking up Yanis "Alpha54" Champenois. They came into Week 3 with immense pressure on their shoulders as they took on two matches against Team Endpoint and Barça. By the end of the day, they had two more wins in their collective pockets and proved to the world why they made the move they did. They took an expected 3-1 win over Endpoint and then followed that up with an extremely solid 3-1 win over a revitalized Barça squad. It was a weekend that Renault Vitality desperately needed to quiet the doubters and firmly establish themselves as one of the best teams in Europe.
While the wins were great, it was the more cohesive team chemistry that caught the eyes of analysts and viewers around the globe. It was obvious that when Alpha54 made the move to Renault Vitality, it was going to require a huge mindset and gameplay shift from the young superstar. Gone are the days of Alpha54 solo-carrying his teams to victory. In are the days of working together with Rocket League Esports legends Victor "Fairy Peak!" Locquet and Alexandre "Kaydop" Courant.
In the first couple of weeks, there were glaring miscommunications and on-field struggles that were plaguing the newly assembled roster. But in Week 3, Renault Vitality proved to everyone that they're well on their way to hammering out their issues and becoming an international threat. Alpha54 looked much more comfortable with his on-the-field role, while Kaydop and Fairy Peak! brought the consistency and clutch plays they've become so well-known for. There's still a long way to go in League Play, but if Renault Vitality keeps on this trajectory, the World Championship Grand Finals could be within realistic reach.
Make sure to tune in on Twitch and YouTube on Saturday for the North American RLCS at 11:30 a.m. PT (7:30 p.m. UTC) and Sunday for the European RLCS at 8:30 a.m. PT (4:30 p.m. UTC). Don't forget to follow us on Twitter for everything Rocket League Esports. We'll see you on game day!