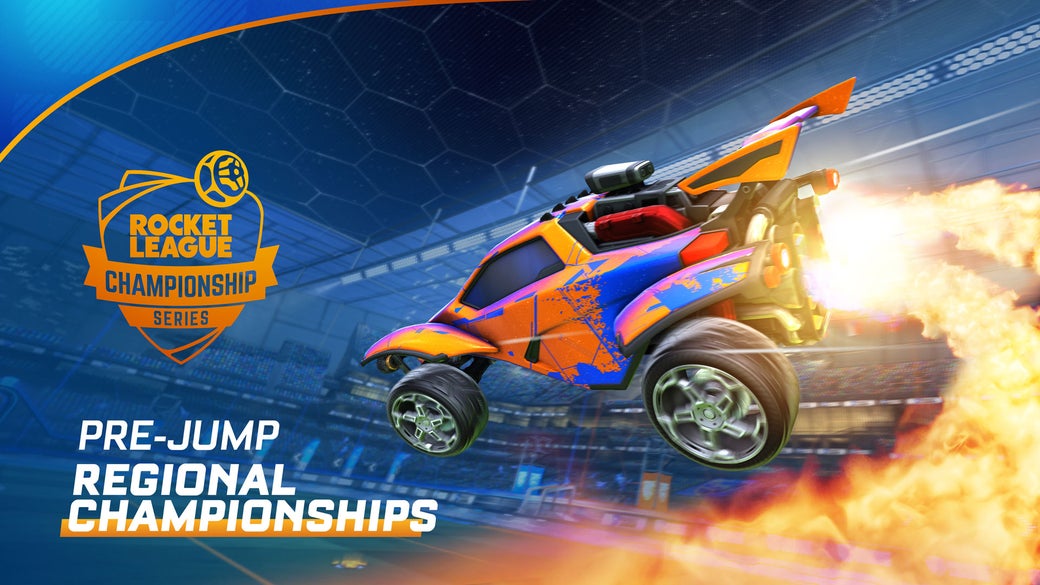 Just like that, League Play for Rocket League Championship Series (RLCS) Season 9 has come to an end. That means that this weekend we look forward to crowning North American and European Regional Champions as the end of RLCS Season 9 for both regions. With more prize money than ever on the line, these are the most impactful Regional Championships we've ever held!
With that being said, let's take a look at some of the biggest storylines heading into a high-stakes weekend.
Danger from Below
In both North America and Europe, the teams battling through the first couple rounds of the Lower Bracket are lethal and capable of taking down any team in any given series. Cloud9 has turned on the afterburners to finish their season as they ride a four-game win streak into the North American Regional Championship. They've dispatched teams like NRG Esports, Susquehanna Soniqs, and Ghost Gaming (their first Regional Championship match up) on their way to punching their Regional Championship tickets. Seemingly reaching their Season 6 Championship form just in time for Regionals, they're a team that nobody wants to see on the docket with this much money on the line. If they ace their initial test against Ghost Gaming, it might just be time for another incredible Lower Bracket run for Cloud9.
Meanwhile, across the Atlantic in Europe, Veloce Esports and Barça have proven they belong among the top teams in Europe. Whether it's the calm, cool, and collected play of Veloce (let's not talk about that crazy series with Renault Vitality), or the dangerous playmaking ability of Barça, there's no shortage of danger coming from Europe's Lower Bracket. What makes it even more dangerous, is how different both teams play. If you find yourself in the Lower Bracket Quarterfinals you're prepping for two astronomically different play styles. It's a position nobody wants to find themselves in, especially with so much riding on a victory. Regardless of the victor between Veloce and Barça, it's bound to be a brawl for survival in the Lower Bracket.
A Second Chance
The Susquehanna Soniqs had a couple of weeks that they'd like to wipe from their memories. First, it was a razor-close 2-3 loss to Cloud9 in Week 6. Then it was a disastrous outing against G2 Esports in Week 7 that saw the Soniqs give up a perfect series (the Soniqs scored zero goals). Yet, their opponents in their opening match of the North American Regional Championship, NRG Esports, have also seen better days. The defending World Champions have dropped two of their last three matches. The first loss was a 3-0 trouncing at the hands of Cloud9, then a 2-3 slip up against Ghost Gaming. So, while the Soniqs may be on a downswing, NRG Esports are pretty much in the same boat.
This opens the door for the Soniqs to exact revenge for their 2-3 loss to NRG Esports to open their season. They've already shaken up the North American RLCS landscape by outperforming everyone's expectations by making the Regional Championship. Now, they've got a chance to send another message to the entire league by taking down NRG Esports. It's not going to be an easy task, even with NRG Esports' recent results taken into account, but it would be a result for the history books – rookie roster in their first RLCS season together tripping up the defending World Champions when it matters the most. It may not be a likely scenario, but this is the type of fuel a hungry Soniqs team has fed off of all season long. Win and prove yourself yet again, lose and fulfill expectations. If the Soniqs want to shine, there's no better time than now.
Bouncing Back
For Team Reciprocity and mousesports, this was a "prove it" season. In the case of Team Reciprocity, it was time to show that they still belonged in the upper pantheon of European Rocket League even after a disastrous performance at the Season 8 World Championship in Madrid, Spain. For mousesports, it was proving that with Kyle "Scrub Killa" Robertson on the team, they were ready to break into European Rocket League royalty. Yet, how their stories unfolded was anything but expected.
Reciprocity started the season by limping to a 2-2 record that made fans feel that perhaps underperformance was the new normal for a roster known for defying the odds. But just as woe settled in, Reciprocity kicked it into high gear, winning four of their last five matches to secure a solid Third Place finish. It was as if something clicked mid-season and the team let the results speak for themselves. Meanwhile, mousesports had a 4-3 match record heading into the final week of League Play and their performances seemed to be ticking upwards. Then the unthinkable happened, as the roster parted ways with Scrub Killa and brought on their substitute Ario "arju" Berdin. As it turned out, arju was the super sub the team needed to secure themselves a massive 2-0 week and a Fourth Place finish in League Play.
Both rosters have bounced back from hardships this season wonderfully, and they've both been awarded an extra life in the Regional Championship because of it. Their resilience will be tested once again as they hit the pitch against others who count themselves among Europe's top Rocket League teams. But, as both squads have proven, they've got more than enough grit to hang with anyone, and on the right day, they might just win it all.
Make sure to tune in this weekend on Twitch and YouTube at 11:30 a.m. PDT (6:30 p.m. UTC) on Saturday for the North American Regional Championship and on Sunday at 8:30 a.m. PDT (3:30 p.m. UTC) for the European Regional Championship. They're our biggest Regional Championships ever, so you don't want to miss it. See you then!