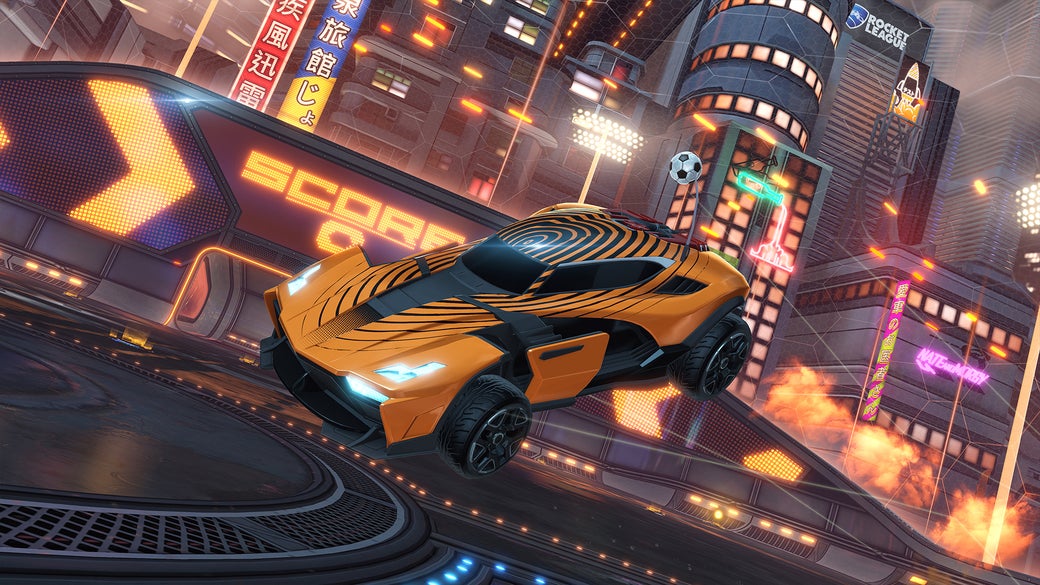 Once the offseason hits, it's time for teams to make moves as they continue to tinker, swap, and sign their way to better rosters, and consequently, a better shot at the Season 8 Rocket League World Championship trophy. Over the last few months, the landscape of the North American Rocket League Championship Series (RLCS) has shifted significantly.
As a result, it can be quite tough to keep track of all of the roster moves that have taken place. That's why we caught up with Isaac "Turtle" App, Randy "Gibbs" Gibbons, and Caleb "WavePunk" Simmons to help break down everything and get their expert opinions on what each move could mean for the North American region during Season 8!
NRG Esports
Departing ?: Jayson "Fireburner" Nunez
Arriving ?: Pierre "Turbopolsa" Silfver
Let's just get this one out of the way. This move was an absolute bombshell that took all of Rocket League Esports by storm. After Fireburner called it quits following his final tournament at DreamHack Valencia, it was on NRG Esports to find someone who could replace the consistency that he brought to the squad. Often referred to as the "90/10 god," because of how commanding his midfield challenges were, replacing Fireburner was not going to be an easy task.
In what became the second cross-region transfer in Rocket League Esports history, NRG Esports swooped in to sign the three-time World Champion, Turbopolsa. It was a signal flare sent to the rest of the RLCS that NRG Esports have their sights set squarely on the crown. "Turbo easily makes NRG Esports a favorite for Worlds. Turbo brings so much experience and clutch playmaking ability that very few players possess," says Turtle. "Garrett 'GarrettG' Gordon and Justin 'jstn.' Morales have what it takes to make it to the Grand Finals, and Turbo has what it takes to win the Grand Finals."
That positive sentiment is one that WavePunk shares. In fact, he views this move as the defining move in Rocket League Esports. "Replacing muscle memory like Fireburner's isn't practical, but replacing one legend with another is a pretty solid backup plan. Turbopolsa has a track record of winning when surrounded by powerhouse players and GarrettG and jstn. have only continued to become stronger," observes WavePunk. "I'd say Turbopolsa to NRG is the highest-profile roster change ever in the history of Rocket League."
With a Rocket League Summit trophy already in their cabinet, NRG Esports look poised to make a serious run during League Play and beyond.
Spacestation Gaming
Departing ?: Matthew "Satthew" Ackermann
Arriving ?: Tshaka "Arsenal" Lateef Taylor Jr.
When news broke that Spacestation Gaming had dropped Satthew, the reaction was shock and disbelief. The roster was on the cusp of World Championship qualification but dropped the ball during the Regional Championship. It was nothing that couldn't be fixed for next season, as it was Spacestation Gaming's first go-around in the RLCS. That's not what Caden "Sypical" Pellegrin and Alexandre "AxB" Bellemare felt though. They believed they could go out and find a third that could bring their team to the next level. Their pick? Up-and-coming star, Arsenal, who fought his way to the RLCS through the Rival Series with The Peeps.
WavePunk isn't exactly sold on the move, even with the raw skill that Arsenal brings to the table. "It's difficult to gauge the impact Arsenal will have on Spacestation," he says. "Arsenal's rookie season is stacked, he will need to synergize quickly with his team if they hope to make it to the playoffs."
Turtle makes a more optimistic assessment, viewing Arsenal as a clear-cut upgrade over Satthew. "Before Montreal, I would have said no. However, after seeing his dribbling skills and brutal demo plays I can confidently say that Arsenal is in fact an upgrade over Satthew," he says. "He also seems to be a great in-game leader for Spacestation Gaming with some of the best communication skills (according to other players). I truly believe that Spacestation Gaming has one of the best chances to break into the Top 4 for Season 8."
While the jury is hung on Arsenal, his offensive prowess should be more than enough to make him a player to keep tabs on throughout Season 8.
The Peeps
Departing ?: Tshaka "Arsenal" Lateef Taylor Jr.
Arriving ?: Nick "mist" Costello
There were initial worries about how much of an upgrade mist would realistically be over Arsenal, but those doubts were quickly erased with The Peeps' miraculous victory at DreamHack Montreal. In a masterclass of underdog determination, mist and The Peeps tore through their opposition on their way to some of the biggest upsets in DreamHack⁠—and Rocket League Esports⁠—history. It was a run you had to see to believe. If seeing is believing, The Peeps have become a legitimate RLCS threat overnight.
"If you don't like The Peeps, you don't have a heart. It's one of the best underdog stories we've ever seen play out at DH Montreal and every player on the team was a part of it," says WavePunk. "Any doubts anyone had about mist were silenced when The Peeps beat the reigning World Champs and the World's Runners Up and lifted that trophy. This team is immediately in the spotlight. If you can win a DreamHack, you can win anything."
Gibbs echoes that positivity, even comparing mist to rising stars of seasons past. "mist is one of those players that is looking like he could be the next jstn. or Reed 'Chicago' Wilen. He was turning heads with his ability in the Rival Series," says Gibbs. "After that improbable Dreamhack win, mist seems to be fitting in just fine in that ruthless offense."
It's been a wild ride for mist and The Peeps throughout their short partnership. If they continue on their current trajectory, things could get even crazier come Season 8.
Birds and the Beez
Departing ?: Nick "mist" Costello
Arriving ?: Jackson "Ayjacks" Carter
After the departure of mist, Birds and the Beez founds themselves in an awkward position. Their (arguably) strongest player just left to join The Peeps and they were forced to find a third to fill his shoes ahead of their first season in the RLCS. To say that's a daunting task is quite an understatement. The squad ended up choosing Ayjacks, and so far the results haven't been half bad. Ayjacks matches what they were looking to replace: speed, aggression, and a keen sense of how to play on the offensive half of the pitch. Yet, with the small sample size, there's still a lot of unknowns about how he'll fit in with the team when the pressure gets turned up to RLCS levels.
"Ayjacks finally has his chance at the RLCS and is coming into the season as the darkhorse pickup in my opinion," says Turtle. "Most people's gaze isn't on him which should hopefully fuel him all the more to make his mark on this season of League Play."
WavePunk shares the cautiously optimistic tone of Turtle in his assessment and admits that he'll have to see how Ayjacks plays during League Play before he can confidently make a call on whether or not it was the right pickup. "Ayjacks landed the dream of gaining an RLCS starting position without having to play the Promotion Tournament. The newcomer seems to have fit in pretty well on the Birds and The Beez," says WavePunk. "RLCS is an entirely unique sort of pressure, and this is a team that has never been tested on this level. This is the chance of a lifetime for a true rookie on a team of rookies. I will be watching closely to see how he and the rest of Birds and the Beez hold up to the pressure."
It's up to Ayjacks to prove he's got the mettle to hang with the best players on the planet in the RLCS. Whether he can deliver or not is a question that is up in the air. As the old saying goes, only time will tell.

What do you think of the North American roster moves? Let us know on Twitter using #RLCS8. Don't forget to join us on Twitch on October 5 at 12 p.m. PDT / 7 p.m. UTC as we kick off Season 8 League Play. We'll see you there!