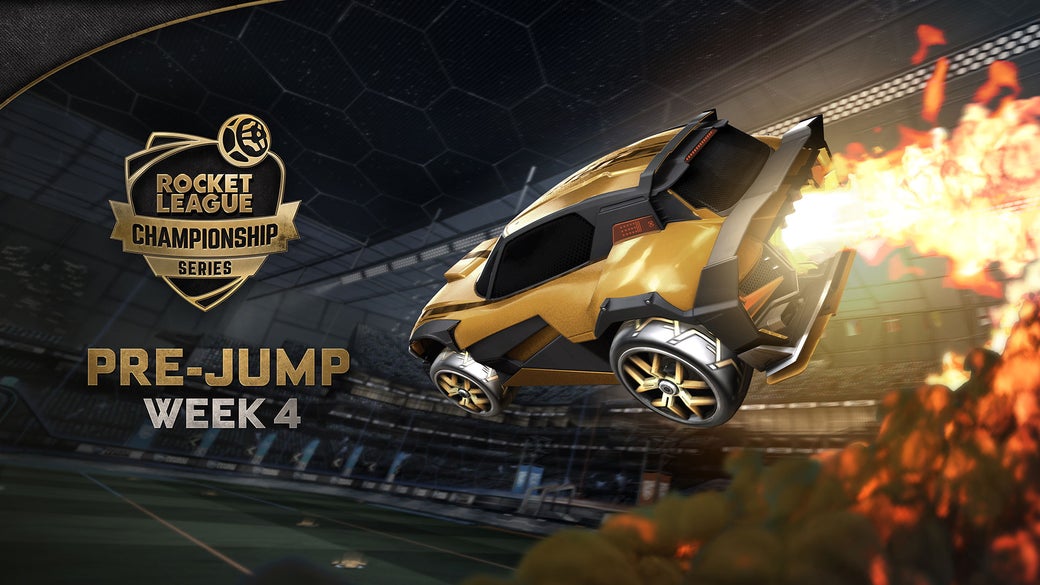 Another week has come and gone in what may go down as the most unpredictable season of the Rocket League Championship Series (RLCS) ever. With Week 5 looming, some Regional Championship dreams will be realized while others will be crushed. As the stakes continue to rise, we're here to get you caught up ahead of the League Play finales for North America and Europe.
Do or Die
If you said that Cloud9 would be 1-4 heading into Week 5 of the North American RLCS, you probably would have been laughed out of the room for your definitely impossible prediction. Yet, the impossible has become the reality. Cloud9 has one win to its name that they earned all the way back in Week 1 with a 3-0 sweep over Ghost Gaming. Cloud9 is in an unprecedented slump and rests dangerously close to having to fight out of the Promotion Tournament as opposed to competing for a chance for a spot at the Season 8 Rocket League World Championship.
As strange as it sounds, Cloud9's 0-3 defeat at the hands of NRG Esports showed off promising signs that the Cloud9 of old was trying to break through their slump. Jesus "Gimmick" Parra flashed the midfield aggression that's made him a menace on the pitch for seasons. That, in turn, led to a more threatening offense, even if it didn't fully materialize throughout the match. Even so, Cloud9 has undoubtedly looked flat for the past three weeks, but if they can continue to build back up to the speed and aggression that made them such a formidable opponent in Seasons past, then they have a chance for a last-second turnaround. The once-dominant trio has Rogue and G2 Esports on tap in Week 5, both of whom have looked beatable throughout the course of Season 8. Cloud9 has one final shot to turn this season around from the brink of disaster. As the old saying goes: It's do or die.
A Lot of Speed
Do you know who's in First Place in the European RLCS? Renault Vitality? Team Reciprocity? If those were your guesses, we're sorry to report that you're wrong. After four weeks of League Play, mousesports currently sits atop the standings, sporting a 4-1 match record that could just have easily been 5-0 or 1-4. Out of their five matches played, four of them have gone all five games, and three of them have been reverse sweeps (two wins and one loss). To say that mousesports has toyed with fate is a massive understatement.
As such, the squad often walks a fine line between brilliance and catastrophe. Their hot and cold nature has led to some of the most thrilling matches of the Season, yet that excitement doesn't exactly build confidence in the team's ability to play consistently. With that being said, mousesports has managed to win when it matters—in Game 5. On top of that, they locked in their first clean sweep of the year against Dignitas to close out their fourth week in dominating fashion. Perhaps it's a sign of more consistency to come, or maybe mousesports will continue to thrill us with Game 5 heroics. Their fate is in their hands heading into Week 5. They've got two tough matches on the docket as dates with Veloce and Team Reciprocity round out mousesports' run through League Play. Win and stay on top, lose and all heck breaks loose in the European RLCS. Either way, mousesports' Week 5 is sure to be full of fireworks.
To The Stars
When you look at Spacestation Gaming's results coming into Season 8, it's no wonder that expectations were low. The squad simply wasn't getting quality results and that overall shakiness led to widespread skepticism about the team's ability to perform consistently at an RLCS level. After an uninspiring 0-2 start to the season (dropping series to NRG Esports and Birds) it looked like the preseason skepticism was well-deserved. But, by the end of Week 4, Spacestation blasted off for three wins, bringing their overall record to a competitive 3-2. Their wins included a thrilling 3-2 upset victory over Cloud9, another five-game nailbiter win against Ghost Gaming, and a convincing 3-0 victory over Rogue.
As the weeks have gone on, Spacestation Gaming's form has continued to improve. The offensive pressure generated by Tshaka "Arsenal" Lateef Taylor Jr and Caden "Sypical" Pellegrin has become downright stifling for opponents. Their aggression coupled with pure mechanical ability has created a potent two-headed attack that's proven capable of breaking down the strongest of defenses. They've got two challenging matches in Week 5 against G2 Esports and the Pittsburgh Knights, but if they can ace at least one of those tests, they'll be in a great position to make a run at a spot in the Season 8 World Championship.

Don't miss Week 5 of League Play this weekend! Tune in to Twitch or YouTube at 11:30 a.m. PDT (6:30 p.m. UTC) on Saturday and 8:30 a.m. PST (3:30 p.m. UTC) on Sunday to catch all of the action. Also, don't forget to grab your tickets to the Season 8 World Championship at Palacio Vistalegre in Madrid, Spain on December 13-15. It's your chance to see the top teams in the world compete for their shot at the title of World Champions. We'll see you there!