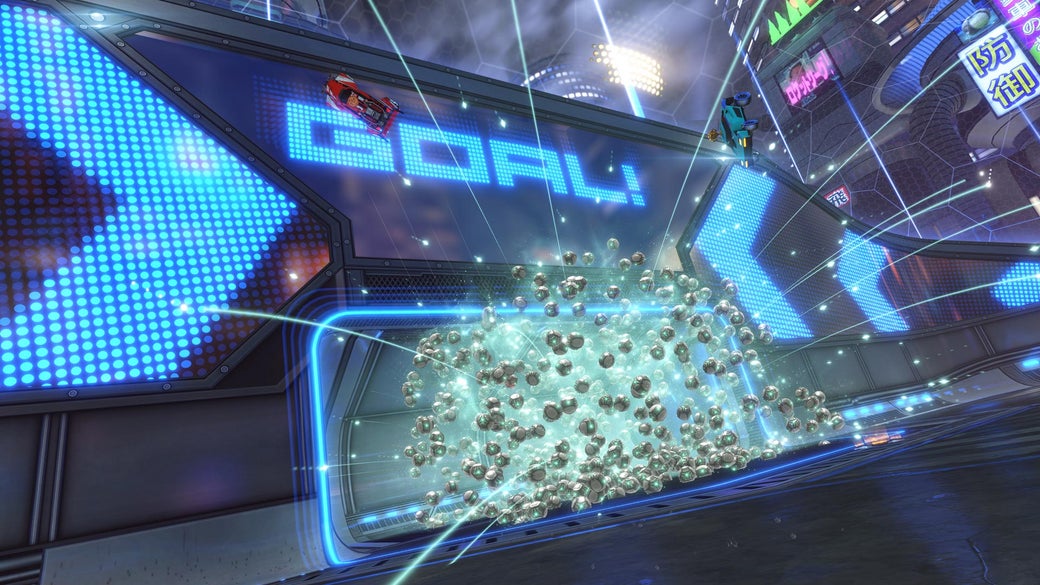 Season 5 of the Rocket League Championship Series (RLCS) is in full swing and the competition is ramping up quickly! We've seen three weeks of the best Rocket League players in the world vying for a spot in the Regional Championship, but with only two weeks of League Play remaining, it's time to take a look at both regions and see where they stand.
NORTH AMERICA
NRG ON FIRE
One of the most surprising moves in the off-season was Jstn leaving Out of Style to join the North American powerhouse, NRG Esports. Many people (including teammate GarrettG) were concerned about Jstn's experience playing at the highest level in the RLCS, but any doubt was quickly mitigated when NRG began Week 1 with a convincing 2-0 record, beating both Jstn's previous team Out of Style and Ghost Gaming. In the following weeks, they made quick work of taking down Counter Logic Gaming, Rogue, and even G2 Esports, who many consider one of the strongest teams in North America. At this point NRG is 5-0, a record which is extremely impressive in a region where every single team is as stacked as the last.
GHASTLY STRUGGLES
Ghost Gaming came into Season 5 with high hopes, adding the extremely-consistent Matt (previously with Rogue) to their roster. Unfortunately, they have one of the toughest schedules in the league and started Week 1 with a loss in both of their matches. Fans of the team expected them to bounce back in Weeks 2 and 3, but Ghost continued to struggle despite putting in a solid effort. After three weeks of grueling matches, Ghost Gaming is currently sitting at 1-5 with only one match left for League Play. They'll face off against Counter Logic Gaming in Week 4, in a tough series that will determine both teams' future of staying in the RLCS, or facing the Promotion Tournament in May.
BIG WEEKS AHEAD
Since Cloud9 and NRG are the only remaining undefeated teams in the region, their quest to claim 'Top 2' is a foregone conclusion. The #3 and #4 slots, however, are much harder to determine. G2 Esports, Evil Geniuses, and Rogue are all viable candidates and the coming weeks will show which team truly deserves to be in the 'Top 4.' Heartbreak is inevitable for one of these teams, with fans anxiously waiting to see how the next couple of weeks play out.
EUROPE
RENAULT VITALITY SOARS
Under a brand new organization, Paschy90, FreaKii, and FairyPeak! are revitalized and showing teams in the EU RLCS what it means to be the best. FairyPeak! is performing just as expected, absolutely dismantling teams with his clinical play style and being the rock that Renault Vitality needs in high pressure situations. After shutting out teams consistently in Weeks 1 and 2, this trio enjoyed a bye in Week 3, where they could sit back and take notes while sitting comfortably at the top of the standings. Still, Gale Force Esports is looking stronger than ever and finished Week 3 with a 3-0 record. This ties Renault Vitality's record, and both teams are certainly looking forward to finally facing each other for the last match of EU League Play in Week 5. That one's going to be a nail-biter!
PSG'S ROCKY START
PSG began League Play with a 1-1 record, despite fans expecting them to be one of the favorites in the region after success at DreamHack Leipzig. Week 2 was the same story, with PSG barely edging out a win against FlipSid3 Tactics and losing to Renault Vitality soon after. Week 3 was very important for them as they faced off against Gale Force Esports who many believe are the best team in Europe. The match resulted in a 3-1 in GFE's favor, a result although not surprising has huge implications for PSG's run for the Regional Championship. With a bye in Week 4, PSG will get a chance to rethink their strategy and bring their all in Week 5, where they face off against both compLexity Gaming and Fnatic.
EU PARITY
Europe has always been known for having some of the most consistent Rocket League teams in the world, and this season is no different. Though Renault Vitality and Gale Force are undefeated, only one team (exceL) has more than three losses in the rest of the region. These next two weeks are sure to be filled with some of the most important matches we've seen yet. Anything can happen in Weeks 4 and 5, and every single match matters more than the last for each team. Be sure to tune in or risk missing out on some of the most intense Rocket League you've ever seen!
As we close in on the final two weeks of RLCS League Play, be sure to catch another great weekend of RLCS action this Saturday and Sunday! See you there!
NA RLCS - Saturday at 12pm PT

EU RLCS - Sunday at 9am PT