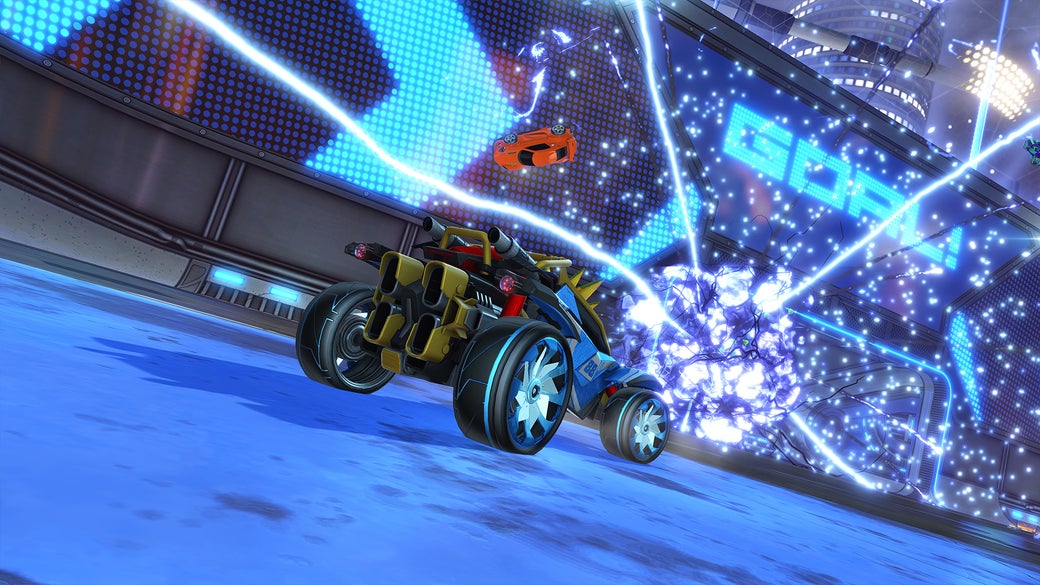 After five intense weeks of League Play the Rocket League Championship Series (RLCS) is heading into the Regional Championship this weekend! That means that the top four teams from each respective region (North America and Europe) will book their tickets to the World Championship for the chance to write themselves into Rocket League Esports history.
With so much at stake, it'll be up to the players to step up and deliver plays that'll send their teams to the World Championship. With that being said, we're going to take a look at some of the players that could have a huge impact on the pitch as they battle for a spot in Newark, New Jersey. We presented Isaac "Turtle" App, Adam "Lawler" Thornton, and Randy "Gibbs" Gibbons with a list of players and got their expert opinions on why—or why not—those players will make the difference this weekend.
Let's dive right in.
Braxton "Allushin" Lagarec
Allushin went from struggling to savior seemingly overnight. When Ghost's backs were against the wall, Allushin delivered when it mattered the most. His playmaking helped propel Ghost Gaming out of last place and straight into the Regional Championships. The question is whether he can sustain those types of performances heading into what is sure to be a long, tough road this weekend.
"Allushin needs to keep making these unreal individual plays if they [Ghost Gaming] want to have a chance at making LAN," says Turtle. "If he can keep creating such great opportunities, Ghost will be a scary team during playoffs." That's a sentiment that Lawler shares because he believes that Ghost Gaming's overall performance is closely tied to Allushin's ability to create chances on the offensive end of the pitch. "With no 'extra life,' having a strong start is important to gain your footing," he says. "Allushin could be a big proponent of that [if he's] initiating with quick challenges. If he applies early pressure to force issues, it could lead to solid goal scoring opportunities for Ghost."
It seems that Allushin might just be the key to Ghost Gaming's success this weekend. His ability to press on the offensive end, coupled with his increasing synergy with his teammates might be just enough to get them a spot at the World Championship. There are no guarantees though, and Allushin will have to deliver if Ghost Gaming wants to pull off what seemed impossible just a couple of weeks ago.
Caden "Sypical" Pellegrin
Sypical is quite simply one of the most mechanically gifted players to come out of the Rival Series in quite some time. When he's on fire, he's one of the most terrifyingly lethal strikers in the North American RLCS. The flip side of that coin is that when he's off, he's as cold as ice. That up-and-down style of play could end up being exacerbated by the pressure that comes with being a rookie in some of the biggest games of his life.
"Being a rookie will put a ton of pressure on you," says Gibbs. "Every player's dream is to make the World Championship and if you have never been there before there will always be that 'nerves hurdle' when you are trying to clinch a spot." Lawler echoed a lot of the same feelings, but also thinks that the pressure can act as a launch pad if Sypical harnesses it correctly. "Living up to expectations can always be difficult… Many rookies come in trying to prove something, that them being here isn't a fluke. This can cause extra pressure despite it being self-induced," says Lawler. "That extra pressure, if used correctly, can be used to propel yourself to the next level."

Sypical has a chance to prove that he belongs not only in the RLCS, but in the discussion as one of the best up-and-coming strikers in Rocket League Esports. That's a ton of added pressure, but if he's all he seems to be, he should show up and be able to deliver a spectacular show at the Regional Championship. Sypical and Spacestation Gaming have already overachieved by making it this far. Now it's time for them to once again silence the doubters and compete for a spot at the Season 7 World Championship.
Kyle "Torment" Storer
You might be thinking to yourself, "Of course we're going to keep an eye on the reigning MVP from the Season 6 World Championship. Why wouldn't we?" That's a fair point, but Torments here because he and Cloud9 are on a three-game skid heading into the Regional Championship and they haven't quite looked like their former selves over that time span. Yet, both Turtle and Lawler are confident that Torment will not only be in form this weekend, but that Cloud9 will be representatives of North America at the World Championship.
"I completely think that Torment will bring back the play we saw at the Season 6 World Championship. They [Cloud9] aren't really in a huge slump, I think people just had huge expectations for them not to drop a game," explains Turtle. "Torment has a great mental game and rarely seems to get thrown off. This small underperformance won't get to him at all." While Lawler's also confident in Torment and Cloud9, he's not as certain we'll ever see Torment perform at 'Season 6 LAN levels' again. "I'm not sure if we'll ever see that level of play again. Cloud9 did something special that day, and in dominant fashion," he says. "I'm pretty confident Cloud9 will be a tough one to beat, whether it is Torment leading the charge or not. I guarantee they will be one of the four teams representing North America at the World Championship."
Torment and the rest of the Cloud9 squad will no doubt be practicing hard to get back into peak form. This is the time of year that fans and analysts expect Torment to step up his game and it'll be up to him to live up to those expectations.
Victor "Ferra" Francal
Ferra took his game to the next level this season and nearly led PSG Esports to a Top 2 finish in the European RLCS. It was a fitting return-to-form for a player that many felt hadn't been playing up to his potential. His return to prominence featured pinpoint accurate striking and reliable playmaking that turned PSG Esports from a 'bubble Top 4 team' to a legitimate, top-tier threat in Europe. But even with his reignited play, Ferra continues to fly under a lot of fans' radars and that's something that he'll continue to try and change at the Regional Championship.
"Ferra is a bit underrated simply because we don't get to see the things he does outside of Rocket League for his team," explains Gibbs. "The great leadership he shows has allowed PSG to make it to two straight World Championships and on the verge of one more." Turtle echoes Gibbs' opinion that Ferra's leadership doesn't get talked about enough. "He's a talented player on and off the pitch. To me, he seems like the leader of PSG, and the one who is commanding PSG to victory," says Turtle. "I think Ferra is a huge factor to PSG's chances at making worlds. With his leadership presence and huge history of experience, Ferra will be the game changer during playoffs for PSG."

PSG Esports will rely not only on Ferra's offensive resurgence but also his ability to lead their squad through what is sure to be a tough Regional Championship. He's done it all before, so for Ferra it'll likely be just another day in the office. Yet it's undeniable that this is a golden chance to prove to the world that it's time to stop overlooking him. If Ferra's white-hot form continues, he should have no problem taking over at the Regional Championship.
Otto "Metsanauris" Kaipiainen
To say that TSM's second half of the season didn't go to plan would be putting it lightly. After Metsanauris popped off against Team Vitality (even though it was a 1-3 loss), it looked like TSM was ticking in the right direction. But as it turned out, TSM would go on to lose their remaining three matches, including back-to-back 1-3 losses to bottom-half squads Dignitas and The Bricks. It wasn't promising at all, but if Metsanauris can recapture some of his Week-3 magic, TSM might still have a shot to make it to the World Championship.
"If Metsanauris can get some of those solo plays we saw in Week 3 it will be a huge morale boost for TSM," says Gibbs. "All TSM really needs is a few extra goals to go their way and they can lock it down on defense to not give up the lead." Lawler agrees, but also believes that Metsanauris needs some help from his teammates if TSM wants to stand any chance of punching their tickets to Newark. "When Metsanauris came to the squad, he relieved pressure off Jordan "EyeIgnite" Stellon and it turned TSM into a powerhouse that was supported by two stellar veterans," he says. "Unfortunately I've only seen glimpses this season and even when Metsanauris is playing at his peak, TSM was barely staying competitive with Vitality. Someone needs to help the guy out."
Metsanauris has the firepower to help TSM compete at the Regional Championship, but he's going to need a helping hand from his teammates if they want to stand a realistic shot at the World Championship. TSM has no extra lives, so Metsanauris and company will have to come out swinging because, at this point, it's do or die.
Aldin "Ronaky" Hodzic
Ronaky came into the RLCS as a rookie and helped lead Triple Trouble to a 4-3 record and 4th place overall. It's a huge accomplishment, especially considering that this is the first time that Ronaky has ever hit the RLCS pitch. His consistency, level-headedness, and midfield pressure gave Triple Trouble the tools they needed to open up their attack and deliver expectation-defying performances. It didn't always pan out with a win, but there's no denying that Ronaky is the fuel for the Triple Trouble engine.
"To set up Triple Trouble for success Ronaky has to lead the way in the midfield and keep pushing the ball through their opponent's defense," says Turtle. "Maintaining pressure, starving opponents, and allowing Tadpole to come through with these incredible double touches is what will lead Triple Trouble to success!" Lawler has been equally impressed with Ronaky's solid play over the course of the season, and he believes that his consistency has freed up his teammates to elevate their level of play as well. "He's come in as a rookie this season and performed well despite the competition he's up against. Instilling a certain level of confidence in your teammates can be invaluable, especially with the team's efforts giving them a 'second life' in the new Page Playoff format," explains Lawler. "Give your teammates something they can rely on. Having that trust in a teammate makes things reactionary and removes hesitation which is killer in this level of play."
Ronaky has a chance to build on what has already been a phenomenal rookie effort. If he can help book Triple Trouble a spot in Newark, it'll just be the icing on his Season 7 cake.
It all comes down to this. Every team has fought to get to this moment. Now it's time for them to seize their spot at the Season 7 World Championship—or go down swinging.
Be sure to tune in for the RLCS Pre-Show at 11:30 a.m. PDT (6:30 p.m. UTC) on Saturday for the North American RLCS and at 8:30 a.m. PDT (3:30 p.m. UTC) for the European RLCS. The streams will be live on both Twitch and YouTube!

Want to see RLCS action live and in-person? Be sure to grab your tickets to the Season 7 World Championship that'll be hosted at the Prudential Center in Newark, New Jersey on June 21-23! Don't miss your opportunity to see the best teams in the world compete for the title of World Champion. We'll see you there!