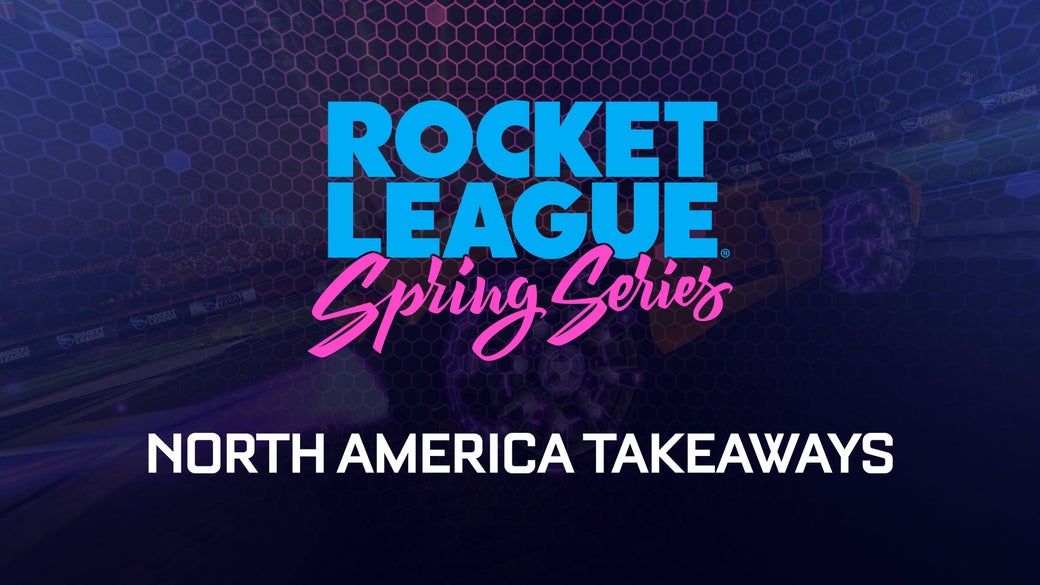 We just wrapped up the North American Rocket League Spring Series and there is a whole bunch to take in. Newly assembled rosters showed sparks of brilliance, North American powerhouses delivered, and on Sunday we crowned a champion in front of thousands of viewers.
We've got some of the biggest takeaways from the weekend, so let's dive into what you need to know!
Undisputed
There can be no more questions. G2 Esports is the best team in North America—and perhaps the world. Their run through the North American Spring Series bracket was a dominant one. G2 Esports dropped a mere three games on their way to the Spring Series title. This included a 4-0 demolishing of NRG Esports in the Grand Finals. As expected, the offense was driven by Jacob "JKnaps" Knapman and Reed "Chicago" Wilen, while Dillon "Rizzo" Rizzo slotted in nicely to anchor the team and bring a level of consistency they wouldn't have without him.
In what has become an absolutely stunning return to form, G2 Esports has gone from the Promotion Tournament in Season 8, to winning both the Rocket League Championship Series (RLCS) Season 9 North American Regional Championship and the North American Spring Series back to back. Their level of dominance in 2020 has been nothing short of astounding and it seems that the squad is continuing to pick up steam with their potent offensive play style. Yes, NRG Esports may be reigning World Champions, but there's no doubt that G2 Esports is the North American team to beat for the foreseeable future.
Congratulations to G2 Esports on their North American Spring Series victory and we look forward to seeing more of what this roster has to offer in the future!
A Blip On the Radar?
For NRG Esports, the last few months have been a bit up and down—at least in the context of the astronomical standards they set for themselves. In the RLCS Season 9 Regional Championship NRG Esports fell 3-4 to G2 Esports for a Third/Fourth Place finish, which they then followed up with a Second Place effort in the North American Spring Series. On the surface, these are results that other teams would kill to have. But for the defending World Champions, it's been middling. All three of their losses between the Regional Championship and the Spring Series came at the hands of G2 Esports. That may seem like a good sign—considering that G2 Esports is at the top of their game right now—but it's a far cry from where NRG Esports was just a few months ago.
It's not that NRG Esports are necessarily performing badly, but they most certainly don't seem to have that same spark that propelled them to a World Championship last December. They're still hanging with the best teams in North America, but we all know that there's another gear this squad has that they just can't seem to shift into right now. There's little doubt that they'll bounce back and find their World Championship form, it's more a question of when it'll happen. With a hungry G2 Esports team assuming the North American throne for now, NRG Esports will need to work out the kinks and prove that they can knock off these challengers to reassume their spot atop North American Rocket League. For now though, it's G2 Esports' world and NRG Esports is just living in it.
A Bright Future
Coming into the North American Spring Series, the Rogue roster had a bit of an interesting issue on their hands due to some offhand comments made public. But if those comments had any influence on team chemistry, that didn't show over the weekend. In fact, it was quite the opposite, as Rogue's revamped roster tore through the Lower Bracket after taking an initial loss to G2 Esports in the Upper Bracket. Rogue's trip through the Lower Bracket included a win over 72 Pin Connector, and then huge victories over Pittsburgh Knights and Spacestation Gaming before being taken down by NRG Esports in the Lower Bracket Finals.
It was a massive showing for a team that is still working their newest player, Leonardo "Turinturo," Wilson, into their rotation. His creativity on offense and mechanical prowess have opened up attacking opportunities for both Jason "firstkiller" Corral and Cameron "Kronovi" Bills that have resulted in a more explosive play style. It was an exciting new look that nearly nobody was expecting from a team that squeaked into the North American Spring Series thanks to a second-chance opportunity afforded to them by the disqualification of Jamal Jabary. Rogue's sizzling new approach could end up being a flash in the pan, but fans around the world sincerely hope it's not, because it sure was fun to watch!
Please join us in once again congratulating our North American Spring Series Champions, G2 Esports. GG WP!
Make sure to tune in this weekend for the Oceanic Rocket League Spring Series on Twitch and YouTube on Friday, May 1 at 6:30 p.m. PDT (1:30 a.m. UTC) as teams battle for their cut of $50,000. We'll see you then!