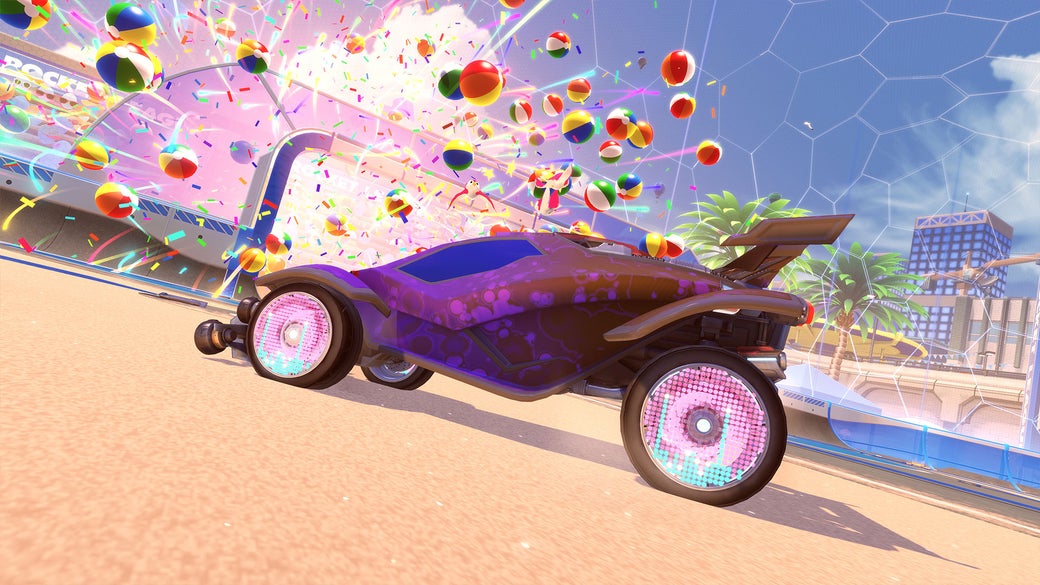 Season 8 of the North American Rocket League Championship Series (RLCS) has been one of the wildest ones of all-time. Unpredictable performances, unbelievable upsets, and unlikely heroes all played their part in the Season 8 roller coaster. With League Play officially wrapped, it's time for North America to take the final step toward the World Championship.
There's a lot to unpack before we dive into the competition this weekend. So, let's get right into it.
Spacing Out
One of the most surprising turnarounds of Season 8 has to be the comeback story of Spacestation Gaming. Their early performances were questionable, and that showed in their 0-2 record to start the season. Then, they squared off against Cloud9 in Week 3 and that's when it happened—the spark that ignited a firestorm of offense. In what was one of the best series of the season, Spacestation took down Cloud9 in a thrilling Game-5 overtime. It was a victory that marked the turning point in what was shaping up to be a forgettable season.
From there, Spacestation Gaming couldn't be stopped. The two-headed attack from Caden "Sypical" Pellegrin and Tshaka "Arsenal" Lateef Taylor Jr. was an unstoppable force that easily destroyed any so-called immovable object. Sypical, in particular, was an absolute hurricane of offensive and defensive prowess. He's been known as someone who devotes countless hours to perfecting his craft and he cashed in on those hours to propel his team straight into the Season 8 World Championship. Yes, the specter of last season's monumental Regional Championship collapse looms over Spacestation Gaming, but it's important to remember that this isn't the same Spacestation, and now they've got nothing to lose but seeding.
They're primed to make a deep run in the Regional Championship and continue to prove that their white-hot form isn't fleeting—it's here to stay. Watch out, Madrid.
A Crack In the Armor
Coming into Week 4, the Pittsburgh Knights looked like one of the strongest teams in the North American RLCS. Then a loss to the then-perfect NRG Esports rocked the boat, and just a couple of series later the Pittsburgh Knights barely hung on for a 3-2 win over Birds. It felt like a one-two punch to the confidence of a team that, up until that point, wore their brash confidence on their sleeves.
Even with those two shaky series, the Pittsburgh Knights had their fate in their hands in Week 5 when they hit the pitch against Spacestation Gaming. Unfortunately for the Knights, a Top Two spot in the North American RLCS wasn't meant to be. In a dominant 3-0 demolition, Spacestation Gaming made the Pittsburgh Knights look a bit more like squires, as Spacestation unleashed an unrelenting offensive salvo, outshooting the Knights 22-11 in Games 2 and 3. It was a wake-up call for the Pittsburgh Knights, who now have some time to go over the film and figure out what went wrong.
Here's the thing: They're still a strong team no matter what recent results tell us. If they can adjust their playstyle when their bump-heavy aggression isn't working, they should be just fine. The trio has two tries to punch their tickets to Madrid. If they can find the swagger that made them so formidable in Weeks 1-3, they can give anyone in North America a run for their money.
Not Again, Right?
It feels like we're experiencing deja vu. Rogue once again started the season flat and uninspired, but now they're looking like one of the biggest threats in North America. It's some sort of magic trick, right? No, it's not. Rogue is at it again, this time taking down Cloud9 and NRG Esports on the way to a last-minute rally for a Regional Championship spot. When Rogue did this exact song and dance last season, they ended up in the Top Four at the World Championship.
There's no denying that Rogue is looking like the hottest team (except for maybe Spacestation Gaming) coming into the Regional Championship. The odds are stacked against them though, as they'll have to run through the Lower Bracket in order to get a coveted spot in Madrid. It's not even close to out of the question though. After all, they did the same thing last season. It's like there's a Rogue-specific script that this trio has to follow each season. Even with the uncanny similarity to last season, it's just flat-out wild how much of a turnaround Rogue has exhibited. They went from what looked like a bottom-two finish to a shot at Madrid. That type of swing is what makes Rocket League Esports so exciting season after season.
If Rogue can keep the ball rolling through the Regional Championship and get to Madrid, all bets are off. We've all seen what happens when Nicholas "Wonder" Blackerby hits the World Championship stage. No matter what, this Rogue team will be fun to watch this weekend.

Want to catch the North American Regional Championship this weekend? Tune in on either Twitch or YouTube on Saturday at 11:30 a.m. PST (7:30 p.m. UTC). In addition, the European Regional Championship will be live on Sunday at 8:30 a.m. PST (4:30 p.m. UTC). Don't miss your chance to catch some of the best teams in the world compete for spots at the World Championship. We'll see you then!