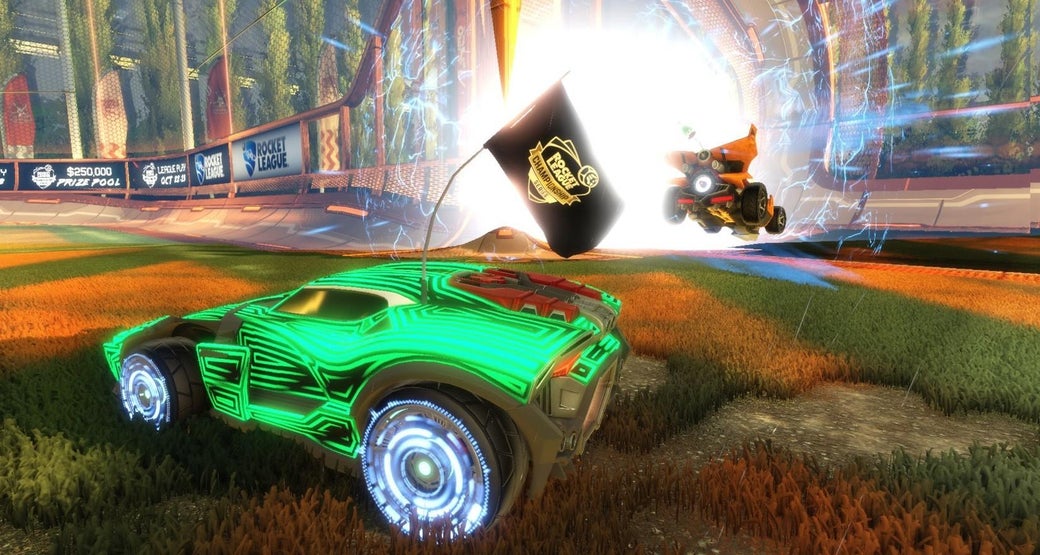 They say all good things are worth waiting for, and the special Thursday broadcast of the Rocket League Championship Series (RLCS) did not disappoint! It all capped off with Gale Force Esports (GFE) vs Renault Vitality in an epic five game series. I thoroughly enjoyed when ViolentPanda scored that clutch goal in game five to seal the deal! It was the perfect end to the hectic European season and should only get better heading into the Regional Championship. In North America my Match of the Week was the Regional Championship Finals; but since GFE already took down the opponents they are likely to play in the finals, I'm doing something a bit different. I am going to do my projected semi-final match where the winner will play GFE in the finals.
Matchup of the Day: compLexity vs Renault Vitality (April 22nd, 12:00 PM PDT)
Renault Vitality doesn't have an easy match to make Worlds this week and facing-off against the Dreamhack Leipzig Champions, PSG Esports, is their first test. Vitality should be able to pull past PSG and move on to the Semi-Finals to face compLexity. This will setup one of the most anticipated rematches so far this season. In Week 1, these teams played one of the best series of League Play that ended on a Game 5 OT winner from Freakii. If we get anywhere close to as good of a series as Week 1 we are in for a treat.
compLexity's offense all starts with al0t. al0t is playing his best Rocket League to date and continues to evolve the "cherry picker" role for his team. al0t finished third in Goals Per Game (GPG) in the EU region at .97, a new career high for him. The most impressive thing about al0t's offense is not the sheer number, but how he is doing it. Not only is he scoring, he is also disrupting the back line, leading the stat categories in Demos For/ Demos Against by a huge margin. The uniqueness of al0t's play can really throw off teams that are used to a more standard style of play. Aided by Mognus and Metsanauris on the defensive side, this team looks ready to make a stand today.
Renault Vitality has been led by Freakii this entire season. When Shogun and myself ranked the players in Europe we both had Freakii down in the bottom five players; we couldn't have been more wrong. Freakii kept Vitality in the running for Top 2 early on in the season as he waited for Fairy Peak and Paschy to warm up. His offensive positioning has really helped create better and more diverse scoring opportunities for Vitality this season. His teammate Paschy's adaptability has kept him competitive in Rocket League even when other pros thought he would eventually fade away. One of the smartest players and best captains in Rocket League history, Paschy has had another stellar season so far. We also can't talk about Vitality without mentioning one of the best players in the world, Fairy Peak! The threat of Fairy dominating the pitch is always there, and compLexity knows it. He has had a quiet but solid season and no one wants to be up against Fairy in a close series. Renault Vitality is an extremely well rounded team that has seen a lot of success in the offseason and continued it through Season 5.

Prediction: Renault Vitality (4-3)
Renault Vitality will come into this match with a chip on their shoulder after narrowly missing the #2 seed on Thursday. Vitality generally plays with a passive 3rd man when the other two are attacking and that could be the difference in this matchup. If the 3rd man has enough boost and can cut off passes to al0t before the play develops, Vitality will win the series. compLexity will get some highlight worthy plays, but as long as Vitality limits the easier goals they should win by a narrow margin. Both of these teams are so good and I think whoever wins this match has a great chance against the reigning champions, Gale Force Esports, in the Grand Final.
Join us today as we crown the European Champion and find out who is going to represent Europe at the World Championship! Don't miss any of the action starting at 9:00 AM PDT on www.twitch.tv/rocketleague!