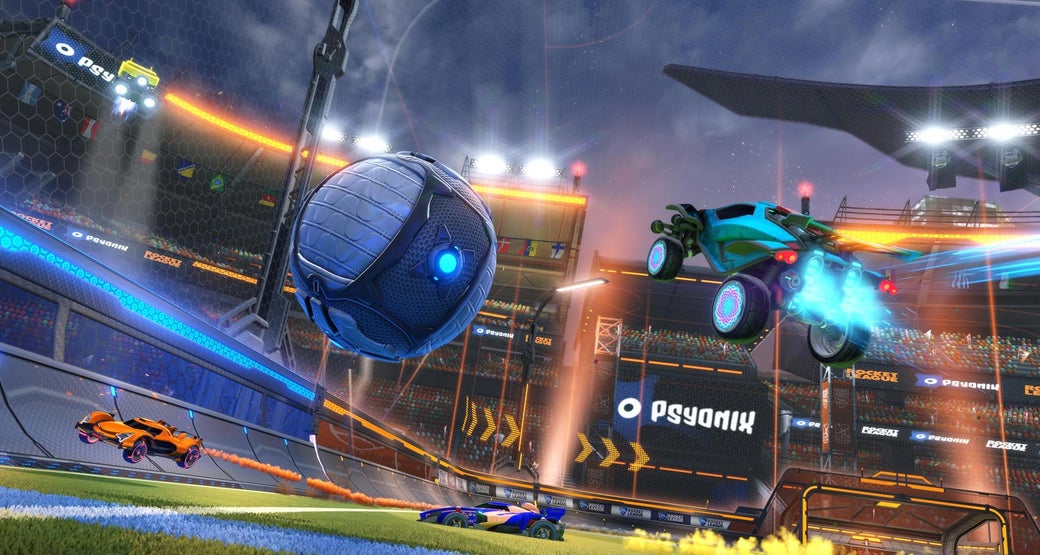 Welcome back to the Rocket League Championship Series North American bracket! Though last week's Match of the Week had rustier gameplay than expected, my pick was on point! G2 narrowly escaped Evil Geniuses in Game 5 overtime to snag the win! With some marquee matchups still coming up, it's not going to get any easier for G2 from here. And now, for my best NA match this week...
NRG Esports vs G2 Esports (March 31st, 5:00 PM PDT)
The age-old rivalry between NRG and G2 continues! Over time, the teams have changed but the one constant has been Fireburner versus Kronovi. They used to be teammates way back in the SARPBC days under the team name Kings of Urban, which Fireburner continued to use into Rocket League. Historically, Fireburner's squads have had a slight edge over Kronovi's teams, winning 4 Matches to 3, as well as 19 games to Kro's 15. Kronovi still has one thing over Fireburner, however, and that is the RLCS World Championship title! Both teams want a World Championship run this season and a big win in this match for an inside shot at 'Top 2' for the season.
G2 has only played a single match so far in Season 5 and honestly it wasn't their prettiest. All three players looked a bit out-of-form but they managed to squeak out a win in a Game 5 overtime. Rizzo wanted to make it clear that there is no better player in decider games than him. Since RLCS Season 2, Rizzo has a staggering 18-5 record in decider games in RLCS and Majors. Rizzo led the team with 5 goals in their first series, a stark departure from the last two Grand Finals at Dreamhack Leipzig and ELEAGUE where he scored only 2 Goals in 14 games. If Rizzo keeps up the offense and Jknaps and Kronovi return to form, G2 CAN be the best team in North America.
NRG fans had better be ready to bring some white picket fences to the World Championships because NRG is all about the "D-FENCE" once again! After an RLCS record-breaking Season 3 defense at 1.16 Goals Against Per Game (GAPG), NRG slipped up in Season 4 but with the new addition of Jstn, they are once again on pace to break the defensive record. Currently sitting at 1.15 GAPG with the help of a dominant four game performance against CLG where they only allowed one goal. NRG likes to suffocate teams with pressure and eventually find the back of the net. Shots-on-net are the name of the game for NRG, leading in Shots For, and boasting the lowest Shots Against. Overall, they have an impressive +50 shot differential.
My only gripe with NRG is that their Shooting Percentage hasn't been there in Season 5, sitting at only 24%. If NRG keeps teams close they tend to lose the game; so far this season they are 2-4 in one goal games. More accurate shooting should lead to some big blowouts for NRG throughout the season.
Gibb's Prediction: NRG Esports (3-1)
G2's struggles will continue this week against a dominant defense like NRG. I expect NRG to control the midfield with Fireburner and GarrettG. This should set up situations where G2 is likely to double-commit and make defensive mistakes. If that happens, then I expect Jstn should able to clean up easily. Rest assured Kronovi fans, if G2 can fix the issues they had last week they have a very good chance to win this series. G2 tends to be very readable at times with their passes, they have to mix up some solo plays down the field, instead of always looking for the pass. If they continue to telegraph passes like they did against Evil Geniuses, NRG will eat them alive. This is a battle of two of the 'Big 3' in NA, with major implications on 'Top 2' seeding. I am very excited to see how this plays out!
It's going to be an exciting weekend of Rocket League for North America. The 'Big 3' (G2, NRG, C9) in North America are all playing two matches each! Don't miss it on www.twitch.tv/rocketleague starting today at 12:00 PM PDT!