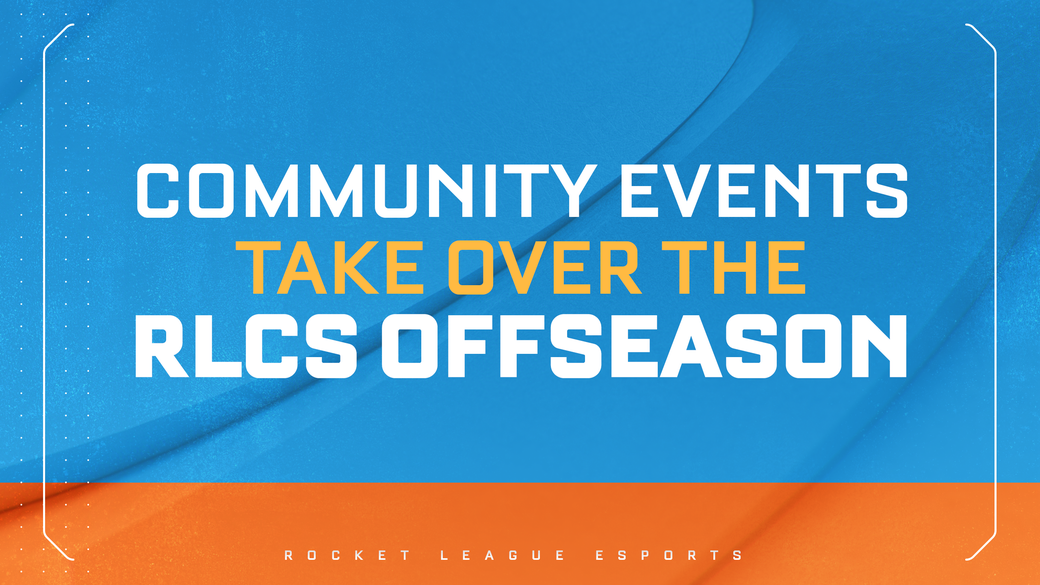 It's been just over a month since we crowned Team Vitality the Rocket League World Champions in Düsseldorf, Germany. We'd like to extend a huge thank you to our fans and community around the world for an amazing end to the 2022-23 Rocket League Championship Series (RLCS) Season.
In the coming months, we'll have more information on the 2024 return of the RLCS. Before then, let's jump into all the Rocket League Esports tournaments and competitions you can expect coming up!
CRL Returns for the Fall Semester
In case you missed the announcement blog, Collegiate Rocket League (CRL) is back for the 2023 Fall Semester! The Fall Semester will feature 32 teams: 16 from the Eastern Conference and 16 from the Western Conference. League Play kicks off on October 9 and runs through November 10, and the Fall Championship will take place from November 17 to 19. Registration is open now, and will close on September 21 for Qualifier 1, and September 28 for Qualifier 2.

For further details, check out the Fall Semester Primer here.
Community Tournaments
In the upcoming months, there will be tons of ways to compete in and watch tournaments hosted by community organizations and members that you all know and love. Every tournament will feature a fully open way to qualify, so make sure to sign up—you might just find yourself on the pitch against some of the best Rocket League players in the world.
Check out the list below for what tournaments you can expect to see and participate in:
Salt Mine 3
Organizer: Chalked Cast
Organizer Links: Johnnyboi's Twitter
Format: 1v1 (North America, South America, Europe, MENA)
Tournament Info: The Salt Mine returns for its third and biggest iteration! Presented and organized by Chalked Cast, Salt Mine 3 will feature two, twelve-player 1v1 tournaments. One will be played on US-East servers (North American and South American players), while the other will be played on European servers (European, Middle East, and North African players). For more information, be sure to check in on the links above.
The Draw: Season 2
Organizer: Rizzo and Jamesbot
Organizer Links: Rizzo's Twitter, Jamesbot's Twitter
Format: 3v3 (North America)
Tournament Info: The Draw is back for a second season! Run by Rizzo and Jamesbot, The Draw is a series of tournaments that pits top RLCS teams against rising competitors in North America. The Draw Season 2 will include four events with a prize pool of $14,000 each, and all events will have Open Qualifiers and a Main Event. For more information on how to sign up, see the links above.
Star Chasers Showdown
Organizer: Raidiant
Organizer Links: Raidiant Website, Raidiant Twitter
Format: 3v3 (North America and Europe)
Tournament Info: Raidiant is back with another event for women's Rocket League! The Star Chasers Showdown will showcase the brightest up-and-coming stars from the North American and European Women's scenes in a showdown containing open registration, a Main Event, and a $30,000 prize pool. If you want to sign up or learn more about the tournament, check out the links above.
The Gauntlet
Organizer: Rocket League Oceania (RLO)
Organizer Links: RLO Twitter
Format: 3v3 (OCE)
Tournament Info: Oceania, this one's for you. The Gauntlet, a community staple, is a tournament series for Oceania where teams earn points and prizes throughout a series of weekly Single-Elimination brackets. There'll be open qualifiers and six weeks of a regular Gauntlet season leading up to a Top 8 Finals with $30,000 on the line! For more information, check out the links above.
Regional Rumble
Organizer: APL Esports
Organizer Links: Asia Pro League Twitter
Format: 3v3 (MENA, APAC, SSA)
Tournament Info: The Asia Pro League is putting on a series of 15 smaller tournaments across APAC, MENA, and SSA with a total prize pool of $24,000. These tournaments will feed into three larger tournaments where all three regions will compete for their share of an additional $50,000! To find out more, read the links above.
Bandits on Wheels: Fall Showdown
Organizer: Tactical Banditry
Organizer Links: Tactical Banditry Twitter
Format: 3v3 (North America)
Tournament Info: North America, listen up! Tactical Banditry will be putting on six events from October through December with $7,000 per event on the line. Each of these events will have Open Qualifiers that lead to a 16-team Main Event. For more information, be sure to go to Tactical Banditry's Twitter, linked above.
Rocket Street LATAM Championship 2023
Organizer: Rocket Street
Organizer Links: Rocket Street Twitter, Rocket Street Website
Format: 3v3 (LATAM)
Tournament Info: The Rocket Street Latam Championship is back once again! Breaking up Latin America into three regions: Brazil, LATAM North, and LATAM South, each region will compete across three separate events. The best teams of each region will enter one last stage to claim the title of LATAM Champion!
Flip and Spin
Organizer: Webedia
Organizer Links: Webedia Twitter
Format: 3v3 (Europe)
Tournament Info: Flip and Spin begins with two Open Qualifiers, with the winner of each qualifying for the Main Event. The Main Event will feature eight total teams (two from the Qualifiers and six directly invited) battling in a Single-Elimination Bracket, live and on LAN at Paris Games Week!
The Rendez-Vous
Organizer: Rocket Baguette
Organizer Links: Rocket Baguette Twitter
Format: 3v3 (Europe)
Tournament Info: The Rendez-Vous is a series of 14 online weeklies that happen from September 21 to December 21. The format is simple: all the teams play in a giant Single-Elimination Bracket, and each weekly tournament has a prize pool of $2,100!
See You On the Pitch!
Now's the time to assemble your squad, sign up for some Open Qualifiers, and compete for prizing against some of the best Rocket League players on the planet.
Make sure to follow @RLEsports on Twitter and Instagram to keep up to date on everything Rocket League Esports. Good luck, and have fun!