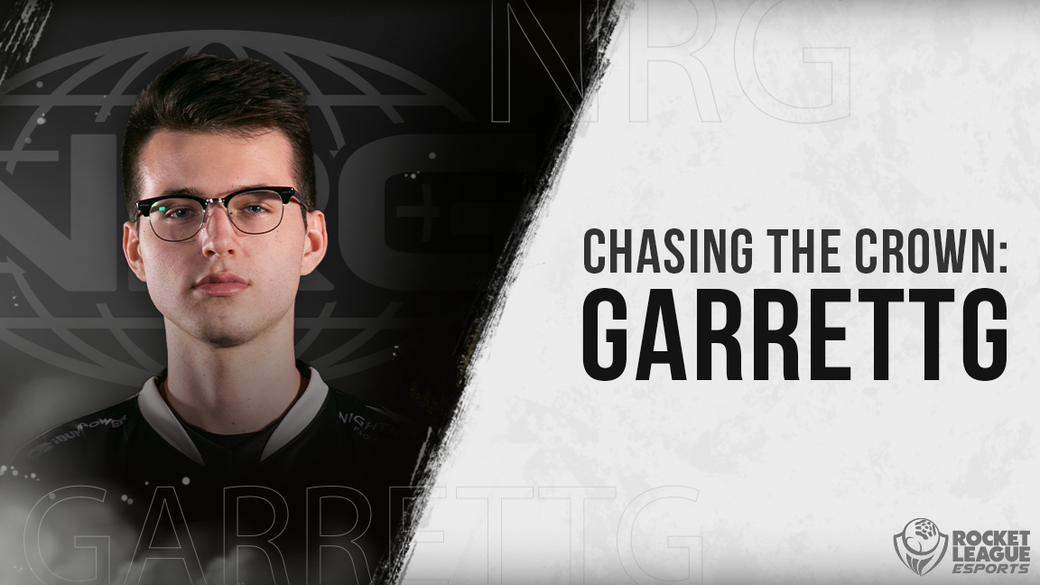 It was a beautiful, breezy day in London, England. The day was June 10, 2018 and it was the final day of the Season 5 Rocket League World Championship. Inside the Copper Box Arena, Garrett "GarrettG" Gordon just put the finishing touches on Game 6 of the Grand Finals with a zero-second goal that sent the series into a deciding Game 7. His team, NRG Esports, was fending off a tenacious Dignitas squad that was looking to take their second-straight World Championship title. The stadium was electric. It was an all-or-nothing game, and the fate of both teams would be decided in one final game of Rocket League.
Chants of "One more game!" rang through the arena. The noise level was so loud that you could feel it reverberating through the stage. GarrettG stayed focused. The only thing that took his eyes off his screen was a bottle of water that he took one final sip from before hitting Champion's Field. A thunderous Viking Clap broke out from the crowd that felt as though they rattled the entire venue—except GarrettG. He looked calm, focused, and ready to win a World Championship.
The timer counted down and Alexandre "Kaydop" Courant and Justin "jstn." Morales raced towards the ball to kick off Game 7. jstn. quickly scored, punishing the Dignitas defense for being out of position. The Europeans fired back with a goal of their own from Jos "ViolentPanda" van Meurs. As the seconds ticked by, the tension in the arena was palpable. With 2:25 left on the clock, jstn. pushed the ball upfield, he scanned to his right and saw a defender to beat with GarrettG waiting in the midfield. ViolentPanda's challenge wasn't enough, and with laser-accurate precision GarrettG rifled a shot right under the crossbar to give NRG Esports the lead.
It wasn't long before Dignitas would respond with an offensive onslaught capped by a goal from Pierre "Turbopolsa" Silfver, evening the score. With time trickling away, it looked like going to overtime was a foregone conclusion, but with four seconds on the clock, Turbopolsa scored, giving Dignitas a late 3-2 lead. At that moment, with thousands of fans screaming around them, all hope must have felt lost. With the dream of a World Championship fading, GarrettG and his team geared up for kickoff and held out for a miracle.
In what has become the defining moment of Rocket League Esports, NRG Esports kept the ball in the air with no time left and jstn. soared through the air and struck true with the miracle they needed. The ball rocketed towards the goal and the teal and pink of the Atomizer Goal Explosion blasted onto screens around the world. In the arena, Callum "Shogun" Keir's call of "THIS IS ROCKET LEAGUE!" rang out and the crowd erupted into a fervor that could give any sporting event on the planet a run for its money. jstn. held his head in his hands, unsure what he was living was real life. But GarrettG, sitting right beside him, stayed completely focused, with one of the biggest esports moments unfolding all around him.
NRG Esports only had seconds to recuperate their composure before overtime. This was it, the moment they'd all been dreaming of. Could this be their time—their first ever World Championship?
After a midfield challenge, Jayson "Fireburner" Nunez was tracking the ball towards the wall. GarrettG was also tracking the ball, ready to make a routine clear to take pressure off of his team's defense. As GarrettG turned right for the clear, the unthinkable happened. Sparks flew as their cars collided. Sensing blood in the water, Turbopolsa flicked the ball towards goal. Both Fireburner and GarrettG rushed back towards goal, but it was too little too late. With only 22 seconds having gone by in overtime, NRG Esports' World Championship dreams were dashed. Celebrations began for Dignitas, but for NRG Esports, it was a crushing moment. GarrettG sat, hands folded in front of his face, staring into what must've felt like nothingness. It was all over.
"I think I just went into complete shock when Turbo scored that goal, we all put 100% of ourselves into that series," says GarrettG. "It is like dreaming about being able to do something for years, grinding countless hours just to get the chance, and then being hit in the face right when you are about to reach it." GarrettG was shattered. He held it together in front of the fans, but once he got backstage his composure didn't last long. It felt like he was on the cusp of greatness, only to be cut down at the final moment. That feeling is impossible to compartmentalize on the spot, and it was at that moment, GarrettG broke down. "I wasn't even off the stage when Dignitas raised the trophy and I heard the crowd go absolutely crazy for them, I was devastated," he recalls. "I am a pretty emotionally private person, but at that moment I couldn't care less, I walked back into the player's lounge and cried in front of everyone."
As a parent, Ryan Gordon has watched her son at the highest of highs and the lowest of lows. For her, watching Garrett lose on the Season 5 World Championship stage in front of thousands was a test of her fortitude as a parent. "It hurts even thinking about it. Knowing how close he was to winning made it even harder," she says. "That was a super hard moment for us all. I remember telling him how proud I was of how he handled himself after such a public and emotional loss."
Watching from the stands, unable to comfort someone you've spent your whole life investing in is an experience only a few parents can relate to. Especially in a sport like Rocket League, where every failure is on display for thousands of fans around the world to see. You can't hide, and as a parent, that's what can make it so difficult to watch. "It's gut-wrenching! I cry every time," Ryan admits. "I know how much he wants to win and how hard he is on himself. I always text him immediately and try to get backstage as soon as possible to check on him."
As the confetti fell in the Copper Box Arena, GarrettG sat backstage and cried. A day that had started with promise ended in a complete disaster. GarrettG tried to shake that terrible feeling from his mind, but he found that losses like that aren't easily erased from memory. "That loss stuck with me for a while, I tried to act like it didn't but in reality, I was messed up mentally for the rest of the year," he admits. "Getting second, I think, put a mental block in our heads, especially when it came to LAN finals with that roster going forward."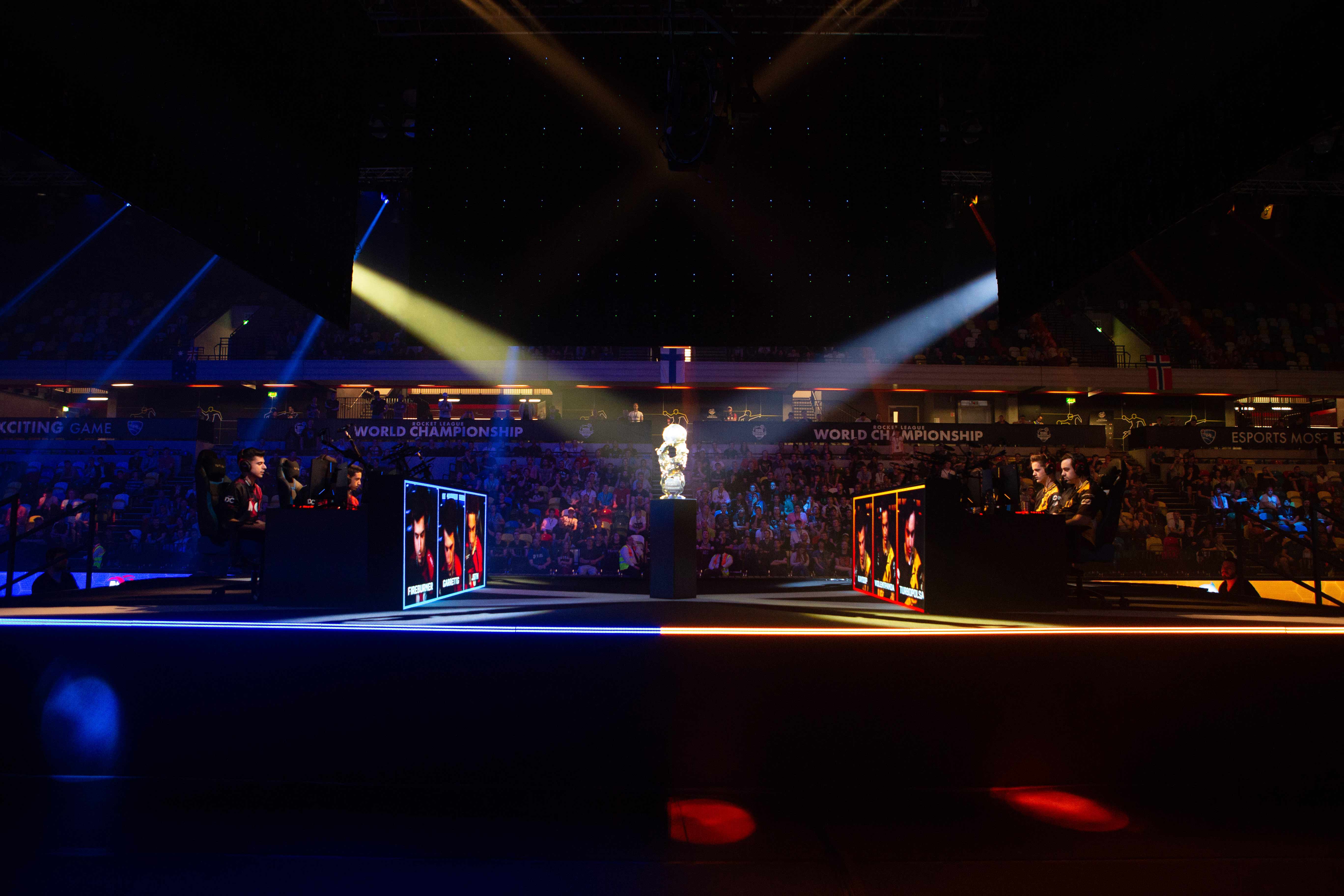 Time has passed since that heartbreaking loss in Season 5. Yet, the specter of that moment followed GarrettG into Season 6. In fact, it followed the entire NRG Esports team. It got so hard that GarrettG had to weigh whether or not leaving the team would be better for his future. "Season 6 was probably one of the hardest seasons I've experienced. We had a lot of issues as a team, especially when it came to practice and motivation. That season was pretty hard as well because I felt like a great player, but as a team we just weren't together mentally and in game," explains GarrettG. "For a while after that season I was contemplating a change, but I made the right decision in staying."
Season 7 was better from a team mentality perspective, but when you run into the hottest team on the planet in the Quarterfinals (Renault Vitality) there's not much to be done other than to hit the pitch and play your best. While NRG Esports performed admirably, the soon-to-be Season 7 World Champions were quite simply too much to handle. "I was actually talking to Fireburner recently about Season 7, and we were joking and saying in hindsight we should have just lost to the South American team. We wouldn't have had to play the best team in quarters [laughs]," says GarrettG. "In all seriousness, every loss is just as hard as the last. Individually, I was in a rut for a little after that tournament but I think I bounced back pretty quick."
There's one word that often describes what multiple losses like that do to someone—discourage. It's hard to keep taking haymakers to the chin and want to step back into the ring, yet that's exactly what GarrettG has done. He's following a blueprint that's been laid out over thousands of years of competition spanning across countless sports: using losses as a lesson, rather than letting them draining your will to fight. They're lessons that GarrettG has learned the hard way, but they're invaluable at the top level of any serious competition. "I am a lot stronger mentally. I don't know if its a good thing to be good at losing, but in the past I would get quite toxic about losses and get pretty angry, especially in the first couple of seasons," he admits. "Nowadays I am a lot more mature about it and can go right into just talking to the team about what went wrong which is super important for improving and keeping the morale up. Sometimes you have no control over the outcome of a match, but you definitely have control of how you act about it."
Since Season 7, things have continued to change for GarrettG. His longtime teammate, Fireburner, called it a career, leaving an open spot on the NRG Esports roster. In what became one of the biggest roster moves in Rocket League Esports history, Pierre "Turbopolsa" Silfver left Europe to join NRG Esports and form one of the strongest teams in the world. In addition, at the age of 18, GarrettG moved out to live with his new teammate. "It's pretty chill honestly [living with Garrett], we've known eachother since almost the very beginning of RLCS and now we are living together, that's pretty crazy if you ask me," says Turbopolsa. "It's nice going out and grabbing something to eat or go to the movies after a quick win with the team, Garrett being one of the nicest guys you will ever meet doesn't make it worse."
For GarrettG, moving out was just a natural part of growing up. It's the next step on the very unique path he's walked. "Leaving my family for the first time was definitely hard, but it's something I really wanted to experience," says GarrettG. "I like having my own space and having Turbo around is just a funny bonus [laughter]."
Ryan is as proud of her son as ever as he continues to grow and mature as a person, but that doesn't make him flying from the nest any easier. That's especially true when GarrettG has always been such an integral part of how the family operates. "It's so hard just knowing he isn't in the next room anymore," admits Ryan. "We also have a two-year-old and I miss watching the two of them spend time together each day. Garrett is an awesome big brother and he is Chandler's favorite person!"
With all of the changes on and off the pitch, it would be hard to blame GarrettG for losing focus on the prize he's been chasing for so long. Yet, NRG Esports continues to be the best team in North America. Fresh off a sweep of the Pittsburgh Knights in the Regional Championship Grand Finals, NRG Esports are the clear team to beat in North America, and perhaps, the world. They're positioned to make a serious run at the Season 8 Rocket League World Championship. "The biggest difference I feel going into Season 8 is that we are just a completely different roster with Turbo, especially on LAN," says GarrettG. "His confidence is super infectious, and I feel that will benefit us a lot at the World Championship."
Time's ticking down until the Season 8 World Championship in Madrid and GarrettG is once more on the cusp of greatness.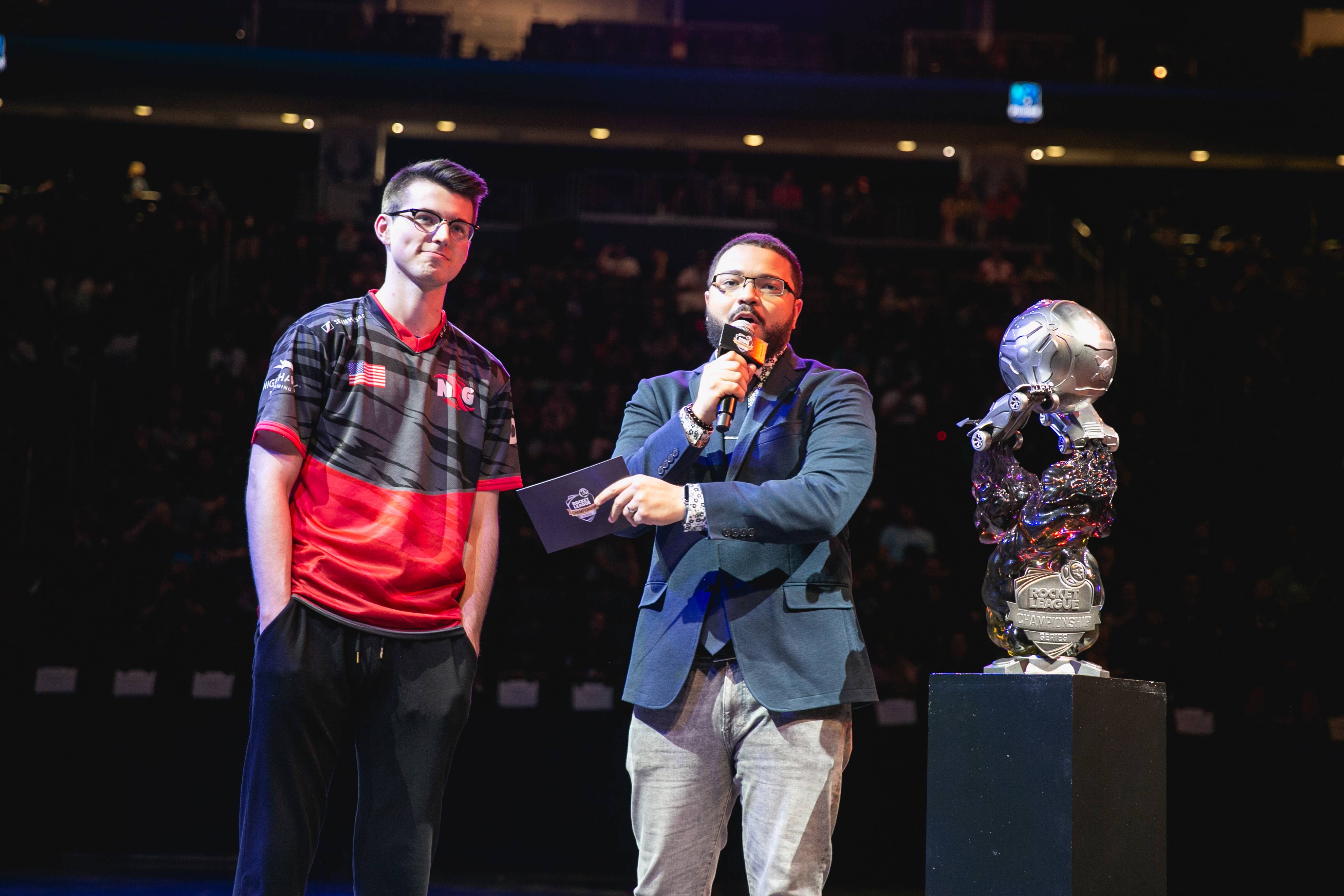 GarrettG's story of loss, and the ensuing pain that chased him relentlessly afterwards is heartbreaking, except in one facet—he gets to try again. GarrettG has the chance to rewrite his story. He can pick up the pen and add another chapter, one that ends better than the last.
While GarrettG can't fully rectify that loss, he's most certainly benefited from it. Learning how to lose and how to recover has made him mature as a team leader. The people closest to him have seen it with their own eyes. "This was Garrett's dream and it's been an amazing experience for him, and also for us as his parents," says Ryan. "He started traveling the world at fifteen years old, gained friends across the globe, knows how to manage his business and finances, gained the confidence to stand on stage in front of thousands, and also has given us some pretty incredible experiences as a family." GarrettG has touched more lives than most could hope to in a lifetime. He's learned how to turn losses into triumphs and transform them into something positive.
As a competitor, GarrettG wants nothing more than to finally be on the other side of a defining World Championship moment. He wants to experience the rush and joy of becoming a World Champion. It's a beast he will chase until he can slay it for good. "I just want to be remembered as one of the best and a World Champion," he says. "It's something I have to earn but I'm motivated, hopefully one day I'll be there."
He has the chance to fight for that feeling in Madrid. It's an opportunity he's poured his life out for, and a dream that he's woken too many times from, only to feel the burning sting of defeat and disappointment. He wants more than anything to make this season his own, to finally lift the trophy, to finally get the best of defeat.
Ryan thinks about what it would be like in the moment. "I would cry! And scream! And cry some more," she says. "I will more than likely embarrass myself and charge onto the stage as fast as possible to get to him! It will be one of the most rewarding moments that we've all been waiting on!"
For GarrettG, it will be a moment of joy, and perhaps most importantly, relief. After fighting for years to lift the trophy, it would be an experience that would be career-defining. He dreams about it often, and lets it be the driving force that moves him forward. It makes him go out there and put it all on the line over and over in front of thousands of people. The dream of becoming victorious, the dream that finally puts his past nightmares to rest.
"I think about how it would be to win Worlds all the time. The confetti, the trophy, the medals, everything. I think about it all," he says. All of the hard work validated, the tears dried, and the potential all finally realized in one strike of the ball. Somewhere out there, GarrettG is running that moment through his mind over and over and there's only one conclusion he can reach: "It would easily be the happiest moment of my life."