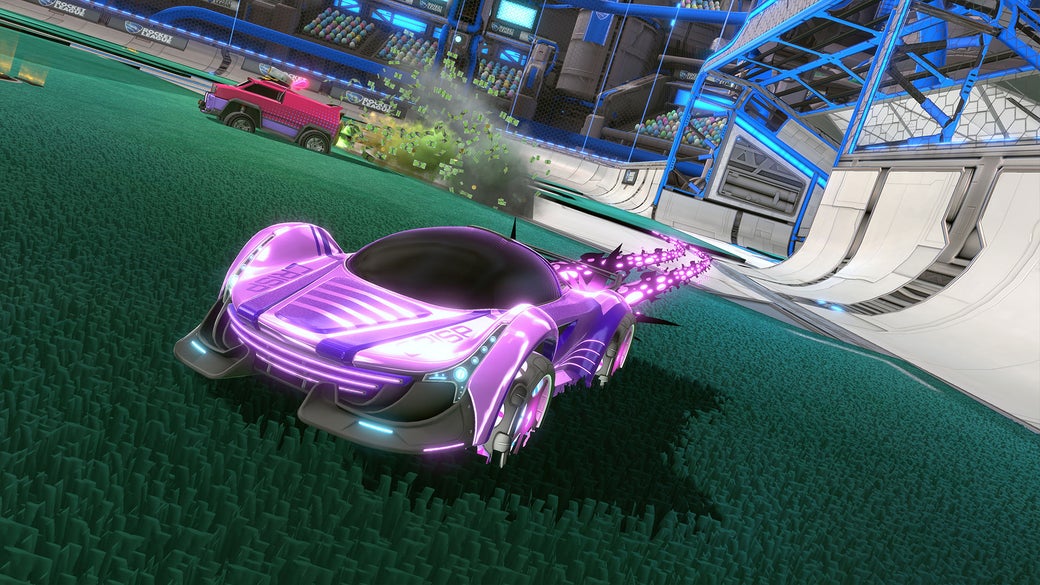 Despite a slow start to the season, Spacestation Gaming has finally hit their stride going into the final week of Rocket League Championship Series (RLCS) League Play. With a strong lineup of teams this season, the poor performance and 0-2 record in the first two weeks of play had many fans questioning if the team could contend for a spot in the Season 8 Rocket League World Championship. Since then, the roster has proven that they deserve a spot just as much as any other team. Now, they're coming into Week 5 on a three-series win streak that includes notable wins over last season's World Championship contenders Cloud9 and Rogue.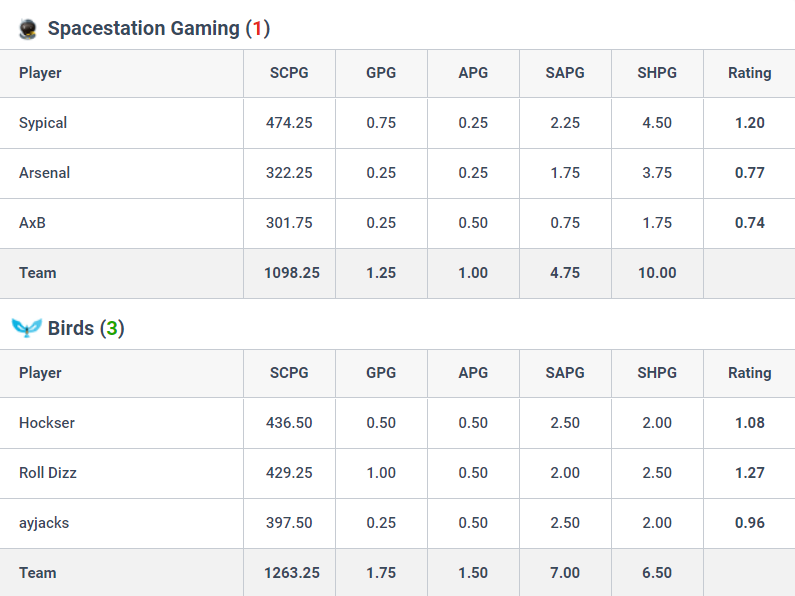 Spacestation Gaming had the toughest season-opening matchup of any team, as they faced off against the North American powerhouse, NRG Esports. That predictable first loss of the season was excusable as Spacestation was the clear underdog. However, Spacestation's loss to the newly-promoted Birds was quite a surprise, especially considering the low expectation of Birds coming into the season. The matchup could have gone either way, as goals came at a premium in an incredibly low-scoring series. Unfortunately for Spacestation Gaming, they couldn't generate the offense they needed and found themselves saddled with a second-straight loss to open their season.

Perhaps the most interesting part of the League Play format is seeing how teams with poor starts are able to overcome their mistakes and adapt going forward to bring themselves into Regional Championship contention. Spacestation Gaming had a lot to prove going into Week 3 and they definitely came prepared. The stats of each player increased nearly across the board, especially Caden "Sypical" Pellegrin who found the explosive offense he's become known for. The Spacestation striker more than doubled his goals per game from 0.50 to 1.08 on a sweltering 40% shooting percentage. By the end of Week 4, Sypical rose to become a top shooter in the North American RLCS and led his team to three-straight victories in Weeks 3 and 4.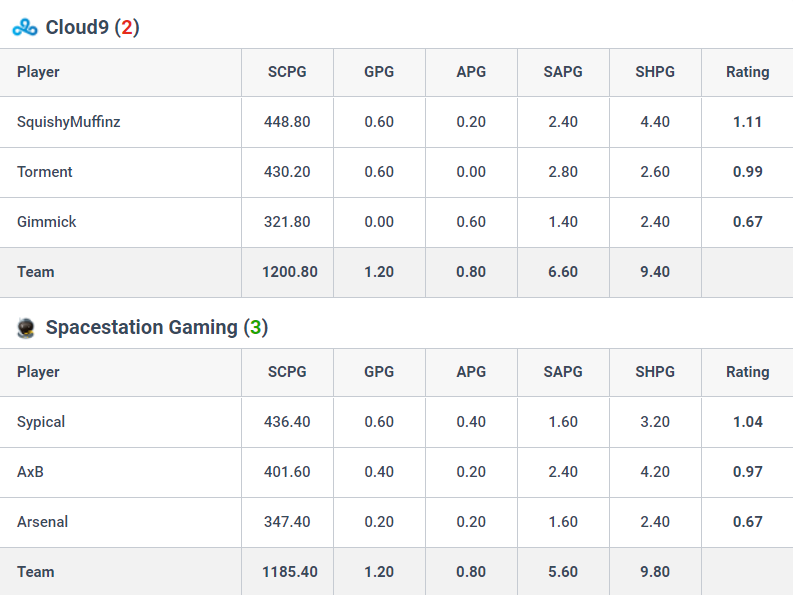 Spacestation Gaming found their first win of the season against Cloud9 for the second season in a row. This matchup proved to be a nailbiter with an incredibly close scoreline. Spacestation Gaming took the first two games of the series by a single goal each before Cloud9 woke up and challenged them with two wins of their own, raising the potential of a reverse sweep. Both teams battled hard for the win as Game 5 was capped with a 5-minute overtime. Spacestation Gaming let out a collective sigh of relief as Sypical bagged the match-winner while also totaling a ludicrous 83% goal participation in the series.
Fans may have had some déjà vu last weekend as Spacestation Gaming decided to repeat that exact scenario once more against Ghost Gaming. The reverse sweep attempt by Ghost Gaming was halted once again in overtime of Game 5, as Alexandre "AxB" Bellemarescored the clincher this time around. Sypical was still the star of the show though, averaging a goal per game throughout the series with 63% overall goal participation.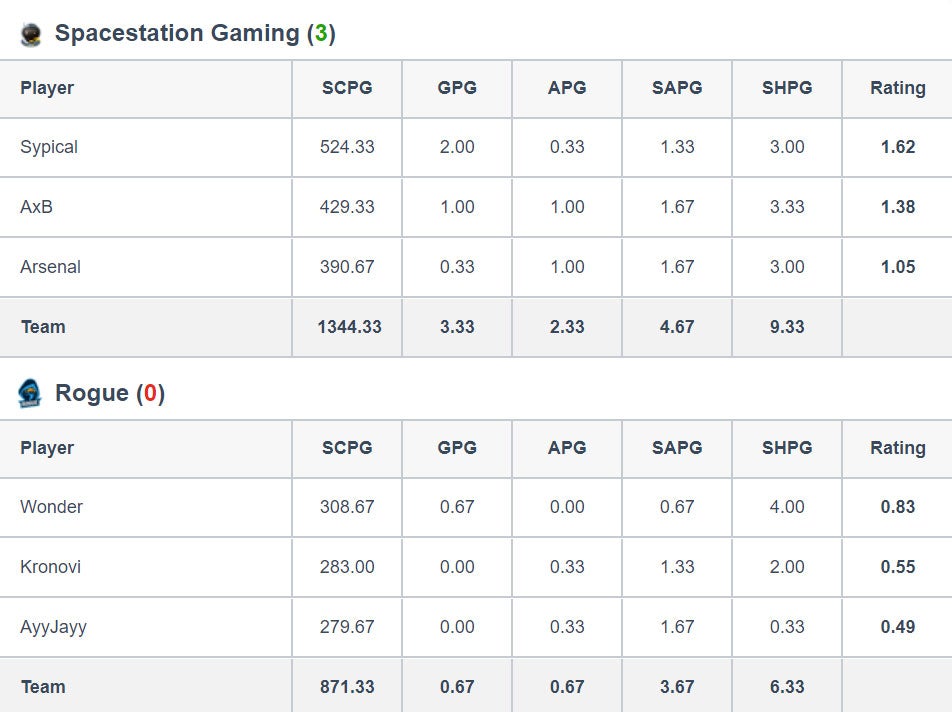 If there were any doubts about Sypical's ability to produce on offense, he put them to rest with his incredible performance against Rogue. Averaging two whole goals per game, Sypical led Spacestation Gaming to a quick sweep over the Season 7 World Championship Semifinalists. The entire Spacestation Gaming roster had an incredible defensive performance as well, keeping both Cameron "Kronovi" Bills and Austin "AyyJayy" Aebi from scoring a single goal throughout the entire series.
While Sypical may be the statistical leader for Spacestation Gaming, it's his teammates that unlock his ability to play at his full potential. Over the first two weeks, Sypical didn't have the freedom or creativity on the offensive end that we saw in the latter weeks. Both Tshaka "Arsenal" Lateef Taylor Jr and AxB made the necessary changes to their game in order to help Sypical find his offensive groove. With one more week to go, Spacestation Gaming is looking stronger than ever and they'll be looking to capitalize by locking in their spot at the Regional Championship.

Want to see how Spacestation Gaming does in Week 5? Be sure to tune in on Twitch and YouTube on Saturday at 11:30 a.m. PDT (6:30 p.m. UTC) for the North American RLCS and on Sunday at 8:30 a.m. PST (3:30 p.m. UTC) for the European RLCS. We'll see you then!