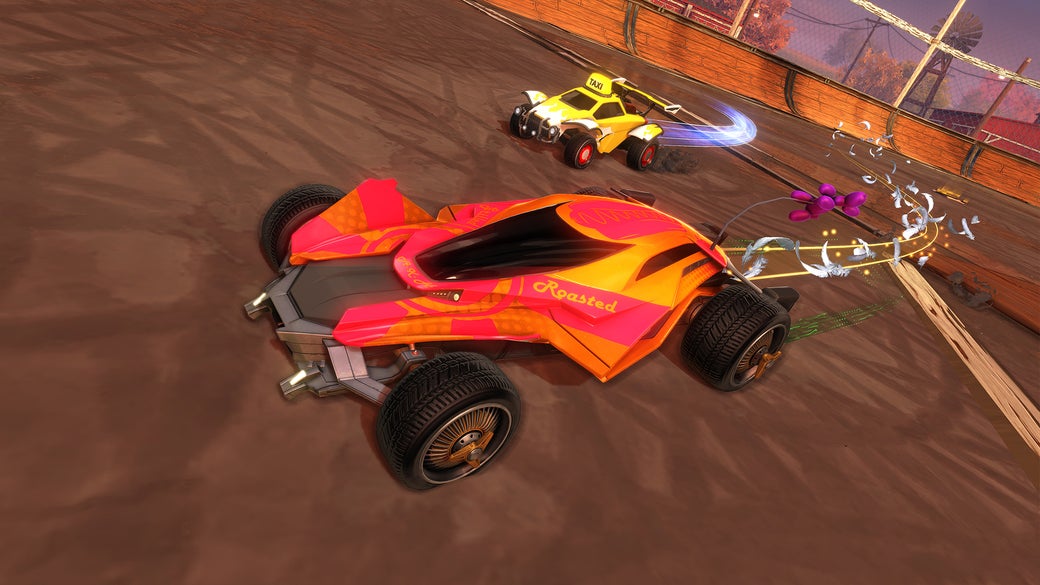 Last season's North American Rocket League Championship Series (RLCS) Champions, NRG Esports, are once again off to a hot start as the only undefeated North American team going into Week 3. Despite long-time member Jayson "Fireburner" Nunez opting for retirement during the offseason, NRG Esports have found swift wins against Spacestation Gaming, Birds, and G2 Esports throughout the first two weeks of competition. The roster change has gone much smoother than anyone could have anticipated, as NRG Esports continues to show off their skills. It feels almost as if the roster had gone unchanged since their undefeated season. With a 3-0 record and only having dropped a single game thus far, NRG Esports feel like they're on a warpath to another undefeated League Play record.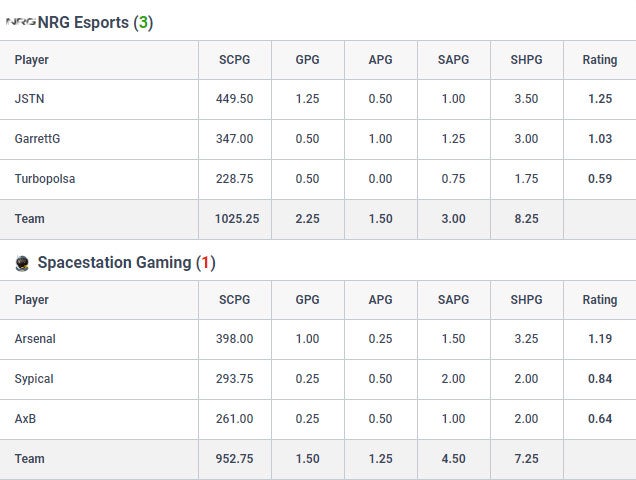 Match 1: NRG Esports vs. Spacestation Gaming
It's hard to deny just how good of a player Justin "jstn." Morales is. Last season, he finished League Play in the top three of four of the major stat categories. Take a look at how impressive the numbers are for yourself:
Goals per game: 1.00 (2nd in the league)

Assists per game: 0.74 (3rd in the league)

Saves per game: 2.15 (1st in the league)

Shooting percentage: 33.75% (1st in the league)
This feat of efficiency, quality, and pure skill earned him a deserved North American League Play MVP award. Through the first two weeks of Season 8 League Play, the superstar has given us no reason to think that he's anywhere near being "in a slump." During the season opener against Spacestation Gaming, jstn. led NRG Esports to their first win of the season, averaging an incredible 1.25 goals per game, and even netted a hat trick in Game 3 of the series. Despite dropping their lone game of the season against Spacestation Gaming, NRG Esports, and especially jstn., looked incredibly strong and they continued that performance into Week 2.
Match 2: NRG Esports vs. Birds
jstn. was definitely the star for NRG during Week 1 and his dominating form held strong in NRG Esports' match against Birds in Week 2. The reigning North American MVP started off with a bang, scoring his second hat trick of the season in Game 1. The trio was easily able to secure the series in a sweep with Garrett "GarrettG" Gordon and Pierre "Turbopolsa" Silfver finding their groove as it progressed. Turbopolsa looked like he was feeling more and more comfortable on the pitch in Week 2 with every passing second, and this was especially true in the second matchup of the day.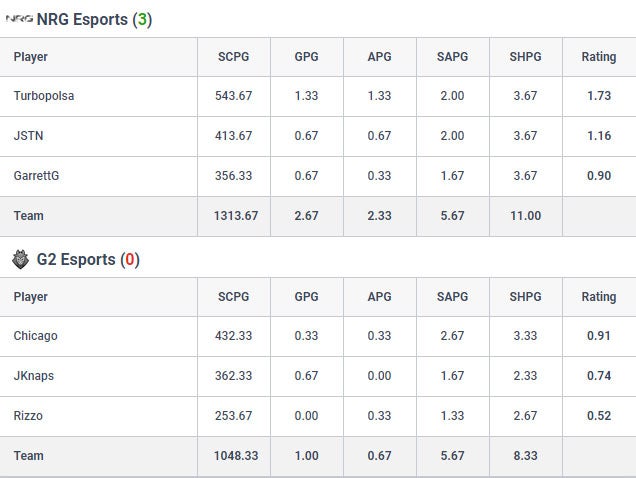 Match 3: NRG Esports vs. G2 Esports
The end of Week 2 saw two of "The Big Three" face-off as NRG Esports clashed with G2 Esports in the final match of the day. Fans were expecting a tense, back-and-forth series as the two titans faced off. However, Turbopolsa had different plans. The European veteran showed why he's a three-time Rocket League World Champion with an unbelievable performance throughout the series, averaging 1.33 goals per game and 1.33 assists per game. He even had an insane 100% goal participation, scoring four of the team's eight goals and dishing to his teammates in the remaining four. Thanks to his clinical performance, NRG Esports was able to quickly shut down G2 Esports and secure a dominant 3-0 win to close out Week 2.
If there were any doubts about how Turbopolsa would perform in North America, he silenced them with a masterful showing in Week 2. All eyes are on NRG Esports as their roster continues to mature and as their synergy on the pitch continues to improve. At this rate, they might just become the deadliest team on the planet.

It'll be exciting to see who will be able to challenge these juggernauts, so be sure to tune in and watch the RLCS this weekend! Matches will be streamed live on Twitch and YouTube with Saturday's show beginning at 11:30 a.m. PDT (6:30 p.m. UTC) and Sunday's show beginning at 8:30 a.m. PDT (3:30 p.m. UTC). Don't miss out on all the Week 3 action as teams battle for their spots in the Regional Championships. We'll see you on game day!