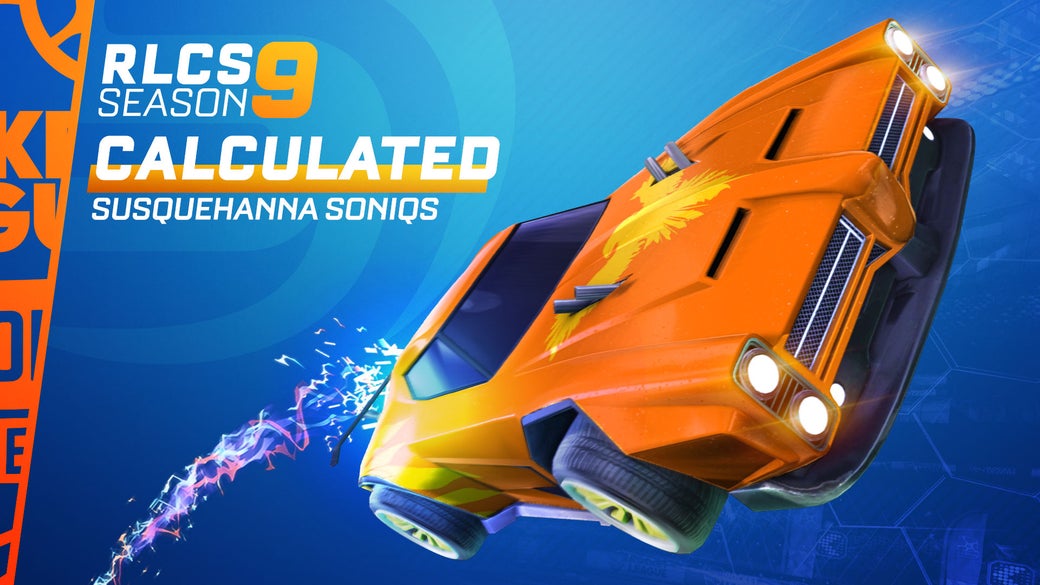 In what has truly become a revelation to behold, the Susquehanna Soniqs have beaten the odds to secure a top-two spot heading into the final two weeks of the North American Rocket League Championship Series (RLCS).After being placed tenth in the North American power rankings at the start of the season by fellow professionals, expectations for the unassuming Rival Series promotees were as low as could be.
The team was built from the ground up a mere seven months ago under the Afterthought name and had an impressive run through the Rival Series to qualify for the RLCS. Their success was not unprecedented however, as their run is one we've become familiar with since the successes of teams like Savage! and Bread. Yet, in a startling turn of events they have taken RLCS Season 9 by storm, defeating three separate World Championship attendees from last season and taking the defending World Champs to a fifth game.
These unforeseen accomplishments have quickly pushed the Soniqs to the forefront of North American Rocket League conversation.
Getting Results
Despite earning a 5-1 record so far this season, Susquehanna Soniqs haven't been a dominant team during play. They don't control possession or apply constant pressure to an opponent's net like their best rival, G2 Esports. Instead, Soniqs prefer to absorb pressure in their defensive half and counterattack. They've conceded 9.58 shots a game on average this season, only second to eUnited's 9.62 shots conceded in the North American RLCS.
Generally, they are able to soak up pressure better than most, averaging 5.88 saves per game, again second only to eUnited. This combined with only conceding 1.65 goals per game, makes their defense a key to their overall strategy. Soniqs are also able to use their demolition-focused playstyle to poke holes in the opposition's defense. The Soniqs specifically rely on Chris "Dappur" Mendoza's 1.31 demolitions a game to relieve pressure and increase Soniq's ability to counter. This creates offensive opportunities but also can give the Soniqs defense a much-needed break.
Soniqs are able to do this without a heavy reliance on large boost pads. They collect only 53.04 capsules per game, placing tenth in the North American RLCS in this category. This is a whole 6.54 boost pads fewer than the ninth placed team Spacestation Gaming. Dappur is especially efficient at offsetting this loss in boost through his pathing across small pads, picking up 74.81 per game allowing him to support his less efficient teammates.
Matthew "Satthew" Ackermann and Dappur combine this with an excellent ground game and close control that can inspire breakouts, counters, and game-winning goals in key moments. Meanwhile, Nathan "Shock" Frommelt capitalizes on his squad's limited opportunities by being a clinical finisher with a blistering shooting percentage of 34.38% (second in North America). This killer instinct seems to be a team-wide trait however, as their ability to clutch up has become a hallmark of their success.
In several key moments this season, Susquehanna Soniqs have proven to be more than able compared to other more experienced squads. They've won 100% of their overtime games, winning five overtimes across six series. During these five overtimes Shock has never failed to score the final goal to secure the victory. Additionally, he's also been responsible for two game-winning or tying goals in the final minute of a match. It seems that the 'clutch gene' runs deep in Shock's blood.
The Soniqs also have a solid 66.6% win percentage in Game 5, winning two of the three they've played, losing only to NRG. Perhaps just as important is their ability to hold onto a lead. Across the 15 games where Soniqs have scored the opening goal, they've never failed to win and were only taken to overtime four times. However, Soniqs do struggle to come from behind with only an 18.18% win rate after conceding the first goal in a game, which could spell their downfall if they continue to concede so many shots on net.
Undoubtedly, the Susquehanna Soniqs have been one of the biggest surprises of the season. Built around a trio of underestimated players pursuing redemption, they have shown gritty determination and a strong team spirit that enables them to win in key moments. Shock is clearly one of the most exciting rookie talents of 2020, and if he keeps playing well, he'll be in the conversation for MVP at the end of the season. Satthew has shown he knows how to build a winning roster and continues to play a key utility role on the team. Dappur's rejuvenation ties everything up with a neat bow and his story proves that no matter how many seasons you spend in the wilderness, a determined player can always find their way back.
Whether this form is sustainable has yet to be seen because you cannot always rely on your clutch factor to win you series. But if the Soniqs can continue to take leads and keep opponents from finding the back of the net, they'll be a formidable team for seasons to come. As an exciting momentum-based team, Susquehanna Soniqs have shown that you should never judge a book by its cover.
Don't forget to tune in today at 11:30 a.m. PT (6:30 p.m. UTC) for the North American RLCS Pre-Show and tomorrow at 8:30 a.m. (3:30 p.m. UTC) for the European RLCS Pre-Show. Make sure to follow us on Twitter for all things Rocket League Esports. We'll see you there!