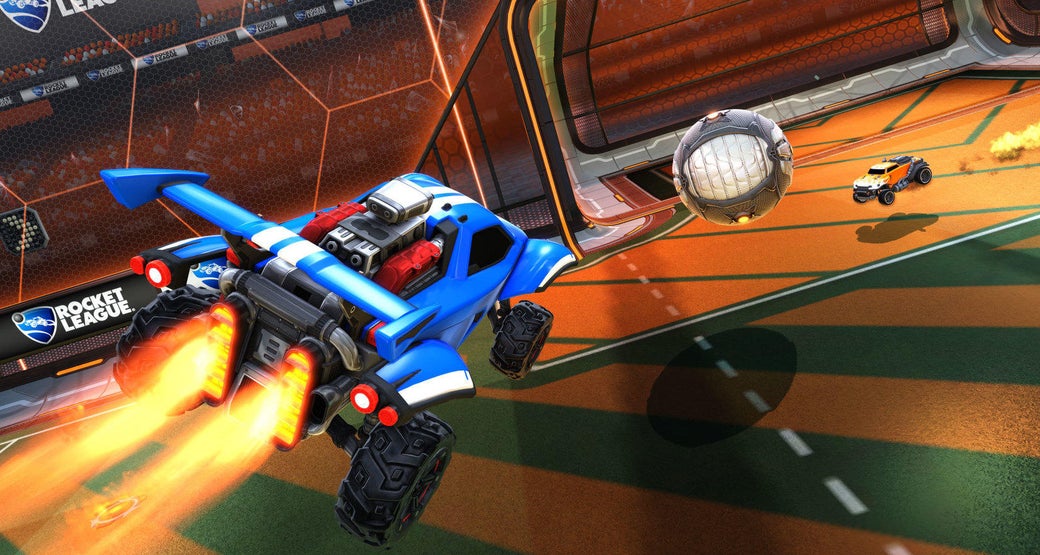 Cloud9 took the Rocket League Championship Series (RLCS) by storm last season with their consistency and teamwork putting them above the rest of the North American teams in their debut season. Veteran player, Torment, came into the season with rookies, Squishy and Gimmick, after a strong off-season performance by the team. Cloud9 dominated their first League Play finishing first with a record of 6-1, only dropping a single series to G2 Esports. During the Regional Championship, Cloud9 once again made history by defeating the three-time North American champion NRG Esports in the semifinals before going on to secure the first seed at the World Championship with a win over Ghost Gaming in the finals.
Gimmick had arguably the best rookie performance of any player in the league ever. In his debut season, Gimmick finished League Play with the most goals per game at 1.12 as well as the most assists per game alongside Squishy at 0.77. He is the only player to ever lead in both categories. Gimmick and Cloud9 as a whole became known for their offensive prowess and teamwork. The power offensive duo of Gimmick and Squishy with Torment as the passive third-man proved to be a winning combination.
Cloud9 Player Stats in Weeks 1-3
Despite a relatively quiet off-season, there were high hopes for Cloud9 going into Season 5 and the team did not disappoint. Over the course of the first three weeks, the team started off tremendously, surging to a 3-0 record and only dropping a single game across all their series. It was the same Cloud9 that we expected with Gimmick and Squishy leading the offense with a combined 2.60 goals per game and 1.90 assists per game. Torment stayed in his third-man role allowing his teammates to play their game and stepping in when necessary. At the end of the third week, everything seemed to be going well for Cloud9 and they were in prime position to secure a 'Top 2' spot in League Play.
The fourth week started off with Cloud9 finding a win over Evil Geniuses. Despite the series score being 3-1, the Cloud9 offense did not look nearly as polished as before. Gimmick only averaged about 0.50 goals per game on 20% shooting, much lower than in previous weeks. Later in the day, Cloud9 played against G2 Esports in a close five-game series where they ultimately suffered a loss. Once again, Gimmick found himself shooting poorly with only 0.20 goals per game on 10% shooting (once again much lower than in previous weeks). Torment attempted to carry the offensive load with his 1.40 goals per game, but that is not his natural role and it was not enough for the team. Despite Cloud9 having a poor offense during this series, it's rather impressive that they were still able to keep it so close.
Cloud9 Player Stats in Weeks 4-5
The final week of League Play saw Cloud9 face off against Counter Logic Gaming in a much-needed win if they hoped to secure a 'Top 2' finish. Unfortunately for Cloud9, CLG needed this win as well and they were not backing down. Cloud9's streak of having a poor offense continued into this week, resulting in CLG getting a surprising sweep over the team. Cloud9 found themselves with a team-wide shooting percentage of 10.53%, only 2 goals out of 19 shots. This time, Gimmick was unable to find any goals throughout the series. This loss locked Cloud9 into third place in League Play and will force the team to fight for a spot at the World Championship during the Regional Championship this weekend.
There is definitely a stark difference in the Cloud9 we saw in the first half of the season versus the latter half. Their team-wide shooting percentage dropped from 35.96% to a poorer 24.97%. With Gimmick's goals per games dropping sharply from 1.60 to 0.31, Cloud9's offensive game became pretty much nonexistent. The team relies on Gimmick and Squishy finding a connection on offense and was a major factor in the team's success last season. If they hope to qualify for the World Championship, they will need Gimmick to play like the all-star player we know him to be.
Cloud9, coming into the Regional Championship as the third seed, will be playing against Ghost Gaming, the sixth seed, for a spot at the World Championship. Ghost did not have a spectacular season, only finding wins over the bottom two teams. However, they should not be counted out because of their League Play performance. In last season's Regional Championship, Ghost Gaming also found themselves fighting for a spot at the World Championship. They fought through the bracket defeating FlyQuest and then G2 Esports to surprisingly secure the second seed.
Cloud9 will need to make sure they bring the offensive game that we have come to expect and not what we've seen in recent weeks. They also need to not take this series lightly, as it is only a single series to decide their fate and whether or not they will be competing at the World Championship. Make sure to tune in this weekend as we figure out which teams will qualify for this season's World Championship!
RLCS Regional Championship Weekend Schedule

NA Broadcast - Saturdays at 12:00 PM PDT
EU Broadcast - Sundays at 9:00 AM PDT