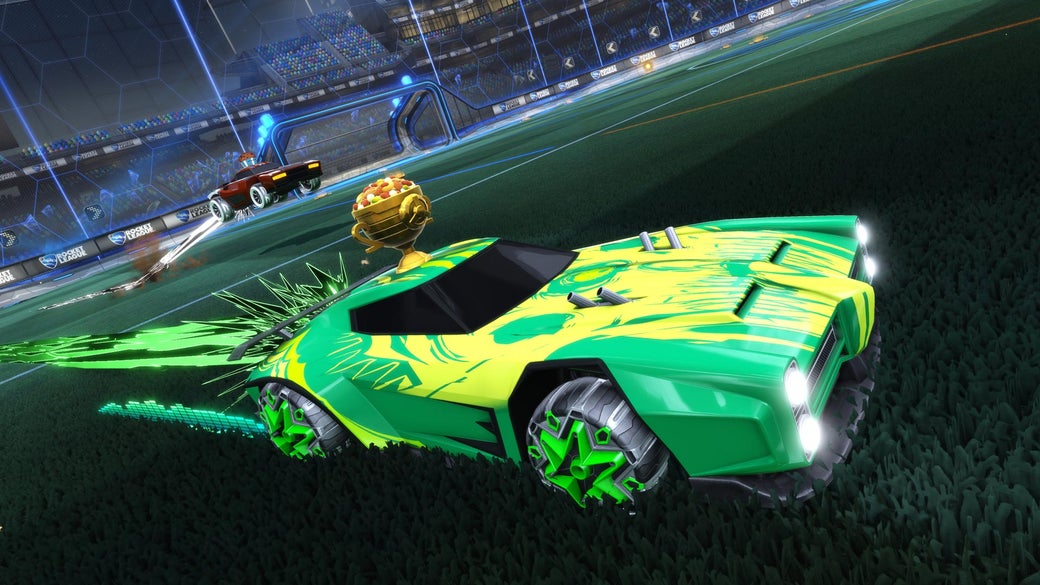 Welcome back to another installment of Calculated! This week we're focusing on the new Evil Geniuses (EG) roster that turned a disappointing performance last season into a nearly-flawless run this season (so far). In Season 4 of the Rocket League Championship Series (RLCS), Evil Geniuses competed under the FlyQuest organization where they finished League Play with a record of 2-5 and lost in the Regional Championship via sweep by Ghost Gaming. Veteran player SadJunior was in a noticeable downtrend in the prior months, which culminated in a weak performance during the season. SadJunior had the lowest goals per game in the league at 0.28 with the lowest shooting percentage at 11.54%. As a result, CorruptedG was forced into taking on a bulk of the team's offensive plays should they hope to secure any wins.
Percentage of Team Stats in Season 4
The team had one of the biggest contrasts in stats ever seen. While SadJunior was one of the lowest scorers in the league, CorruptedG was one of the best, finishing with the second highest goals per game at 0.97 and the highest shooting percentage at 35.23%. Impressive numbers from a glance, but it is not a good trait to have all the offense for a roster come from just one player, as it takes everyone to ultimately win championships. After all, teams that have balanced stats tend to be the teams that perform better as well.
Following their poor performance in Season 4, the roster opted to leave the FlyQuest organization and drop SadJunior to try out new players for the third spot on their roster. Ultimately, the team settled on Klassux, who had a remarkable performance in Season 4 under Ghost Gaming, and together, they joined under the banner of Evil Geniuses.
With the backing of a new organization, the team has been off to a hot start this season, surging to a 3-1 record over the first two weeks of League Play. Granted that the team has had arguably the easiest schedule of any team, it is still impressive nonetheless, with them clearly showing they are a step above the teams at the bottom of the standings (with victories over Counter Logic Gaming, Out of Style and Ghost Gaming).
Evil Geniuses even put up an incredible fight against the ELEAGUE champions, G2 Esports. This series went the entire length with every game being decided by a single goal. Game 5 went into overtime and despite finding themselves with a loss against G2 Esports, Evil Geniuses proved that they have the ability to compete with the best teams in North America.
Player Stats in Season 5
Chrome has stepped up his offensive game tremendously, blasting past his Season 4 goal total of 13 with 15 goals in just the first two weeks. This allows for Evil Geniuses to have a secondary threat behind CorruptedG, which has been a major player during their newfound success.
Surprisingly, this has led to Klassux becoming the primary playmaker for the team, a role that we haven't seen him fill before. He was the primary goal scorer for Ghost Gaming last season with only about 0.51 assists per game. This season, he has adapted to a more complementary play-style by setting up opportunities for Chrome and CorruptedG to score. Klassux is sitting in second for assists per game at 0.94 showing that his passing play is on point, however, playmaking isn't only limited to passing. Klassux is fourth in demolitions per game (behind all of CLG) with 13 demolitions across his 17 games, trying to open up the enemy defense in any way possible to allow for more chances for his team.
The final two weeks of League Play will be tough for Evil Geniuses as they will have to face off against some of the better teams in the league. Their first match of the weekend is against the defending North American champions Cloud9 who have also been off to an incredible start with a record of 9-1 games across their three series. This is sure to be a real test for the Evil Geniuses team. With EG currently in second for assists per game at 2.00 behind Cloud9 at 2.60, this is sure to be an exciting match with passing plays all around. If EG hope to succeed, they will need to look to disrupt these plays from Cloud9, while countering with plays of their own.
The second match will see them face off against Rogue who have had a better season than expected, currently sitting at 2-2 with losses only against Cloud9 and NRG Esports. It is important that Evil Geniuses do not underestimate the Rogue roster, as they have very talented individual players, especially with the addition of Jacob in the off-season. If Evil Geniuses hope to contest for one of the top two spots in League Play, this match is a must-win for them.
As we draw closer to the end of the season, every match becomes that much more important. Be sure to tune into the show as playoff seeding will begin to take form this weekend!
RLCS League Play Weekend Schedule
NA Broadcast - Saturdays at 12:00 PM PDT
EU Broadcast - Sundays at 9:00 AM PDT