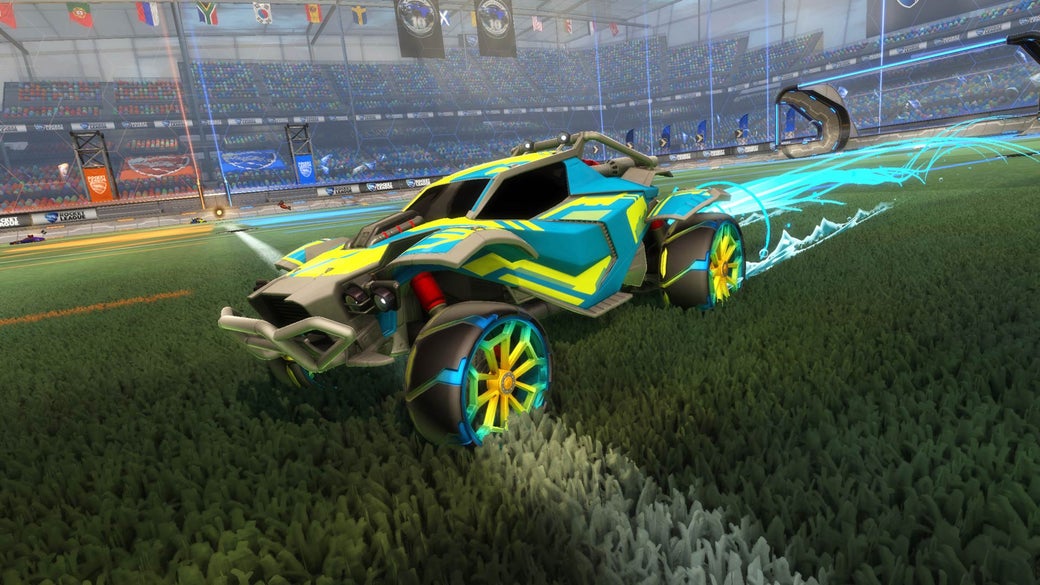 Thanks to their stellar performance in Season 5 of the Rocket League Championship Series (RLCS), Team Dignitas has proven that the 'champion's curse' is no more. Following their victory at the Season 4 World Championship (then under the Gale Force Esports organization), the roster struggled before the start of Season 5 and many fans expected a challenger to rise up. Before long, Team Dignitas returned to their true form with dominant victories in the EU Regional Championship, securing the top seed in the region. The domination continued at the Season 5 World Championship, with the roster winning their second title and Pierre 'Turbopolsa' Silfver securing a 'threepeat.' Coming into this season, Team Dignitas are the unanimous favorite and, if the first few weeks of League Play are any indication, there are no doubts with the expectations for this squad.
Team Dignitas started off the European RLCS with a very convincing sweep over Fnatic in the first match of the season. They held Fnatic to only a single goal in the series, while putting up 10 of their own across three games. While this matchup went as expected, it showed that Team Dignitas isn't messing around this season and are still the dominant squad in Europe.
Their second match of the season was a bit more difficult as they had to face off against an impressive mousesports squad coming off a surprising 2-0 Week One. While Team Dignitas won the match, they lost their only game of the season thus far. With scores of 0-1, 3-2, 2-0, and 4-3, the games were incredibly close. The results are more of a testament to mousesports' abilities as a team rather than a weakened Team Dignitas squad; Jos 'ViolentPanda' Van Meurs remained scoreless throughout a series for only the second time ever -- the only other scoreless result coming against PSG eSports last season. In both cases, Team Dignitas was still able to find the win. This shows how much of a threat the DIG roster is, with any member capable of stepping up when needed. During the mousesports series, Alexandre 'Kaydop' Courant was scoring a whopping 1.50 Goals per Game (GPG) on 40% shooting with 88.89% (8/9) goal participation.
Stats Against Teams in RLCS
If the first two weeks aren't proof enough of Team Dignitas' continued elite form, this past weekend sealed the deal. Team Dignitas found themselves against FlipSid3 Tactics in their first match of the day. Last season, FlipSid3 Tactics was the only team to find a series win over them in League Play, doing so in a close sweep. Team Dignitas did not hesitate this time around, as they demolished the FlipSid3 Tactics roster in a sweep of their own with a goal tally of 9:1. Turbopolsa had five goals of his own (1.67 GPG) on 62.50% shooting, leading the offense for Team Dignitas.
Their domination continued throughout their final match of the day against PSG eSports. PSG being one of the lower ranked teams, Team Dignitas had no trouble taking them out in yet another sweep. Team Dignitas' defense was not as immaculate as the previous series, with PSG scoring three goals. However, they countered with their own 10 goals, with four apiece from Kaydop and ViolentPanda.
Team Dignitas stats from RLCS
The statistics on these first four series from Team Dignitas are astonishing. On average, they allow less than one GPG and barely over half an Assist per Game (APG). The opposing teams have been completely unable to produce any offense against DIG. What is even more impressive, though, is that the overall goal differential for Team Dignitas this season is +27 (38-11). In just a single series, Team Dignitas scores nearly as many goals as have been scored against them in the entire season thus far.
Looking at individual statistics, Kaydop is having another dominant season as he leads the league at 1.31 GPG on a league-leading 40.48% shooting. He is also the only player to average above 400 score per game (SCPG) at 416, more than 40 SCPG over Turbopolsa's 374. With Kaydop scoring so many goals, it only makes sense that one of his teammates would be leading the league in assists per game (APG), with Turbopolsa at 1.00 APG flat. If we create a rating system to statistically compare every player to an RLCS league-average player, we find that all three members of Team Dignitas are at the top, with Kaydop at 1.37, Turbopolsa at 1.29, and ViolentPanda at 1.12. This just further illustrates the dominant performance that Team Dignitas has put on so far this season.
Team Dignitas now sits alone at the top of the European standings as the only undefeated team with a 4-0 series record and an impressive 12-1 game record. What makes Team Dignitas so good is that no single player carries the load for the entire team. Every player on the roster steps up to the plate when needed and takes control of the offensive game, whether it's scoring goals or creating opportunities for the other two players. In other words, Team Dignitas is an incredibly tough team to face and it should be no surprise that they are at the top going into Week 4.
RLCS League Play Weekend Schedule
NA Broadcast - Saturdays at 12:00 PM PDT
EU Broadcast - Sundays at 9:00 AM PDT