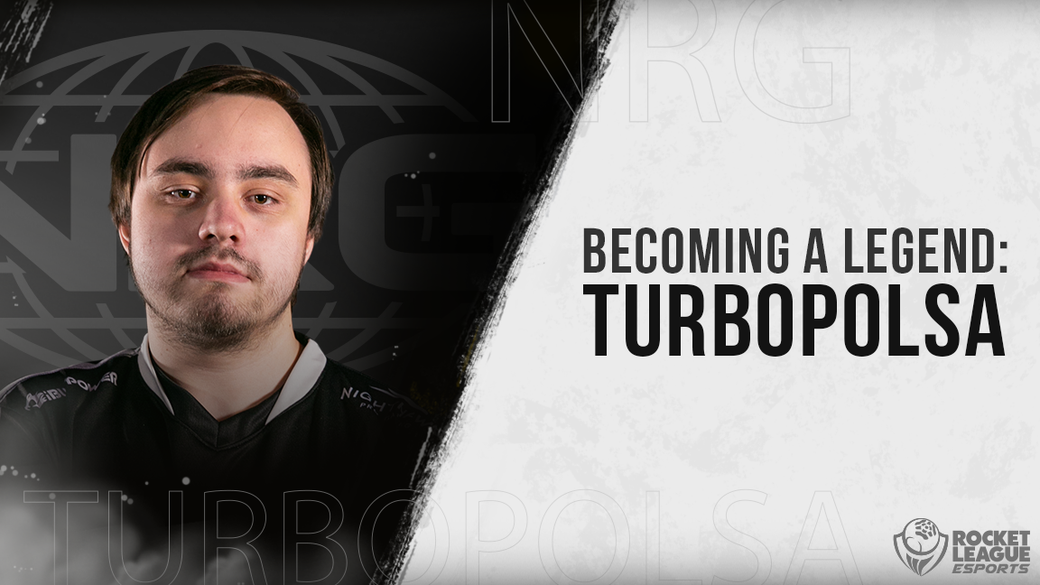 The legends of sports are never made overnight. Their triumphs and achievements are born from tireless efforts to stay ahead of the curve and find ways to win which others fail to see. Pierre "Turbopolsa" Silfver is no different. He stands as the winningest player in Rocket League Championship Series (RLCS) history. With four World Championships under his belt (that's a staggering 50% of all Rocket League World Championships), he has no plans to slow down.
The journey to the top hasn't exactly been a breeze for Turbopolsa though. Rocket League is an unforgiving game at the highest level and that's why being able to stay at the top of the game has become so incredibly rare. It makes Turbopolsa's accomplishments that much more spectacular. But, every hero's journey has to start somewhere. For Turbopolsa, that was as a sub for Northern Gaming during the Season 3 Rocket League World Championship.
For the North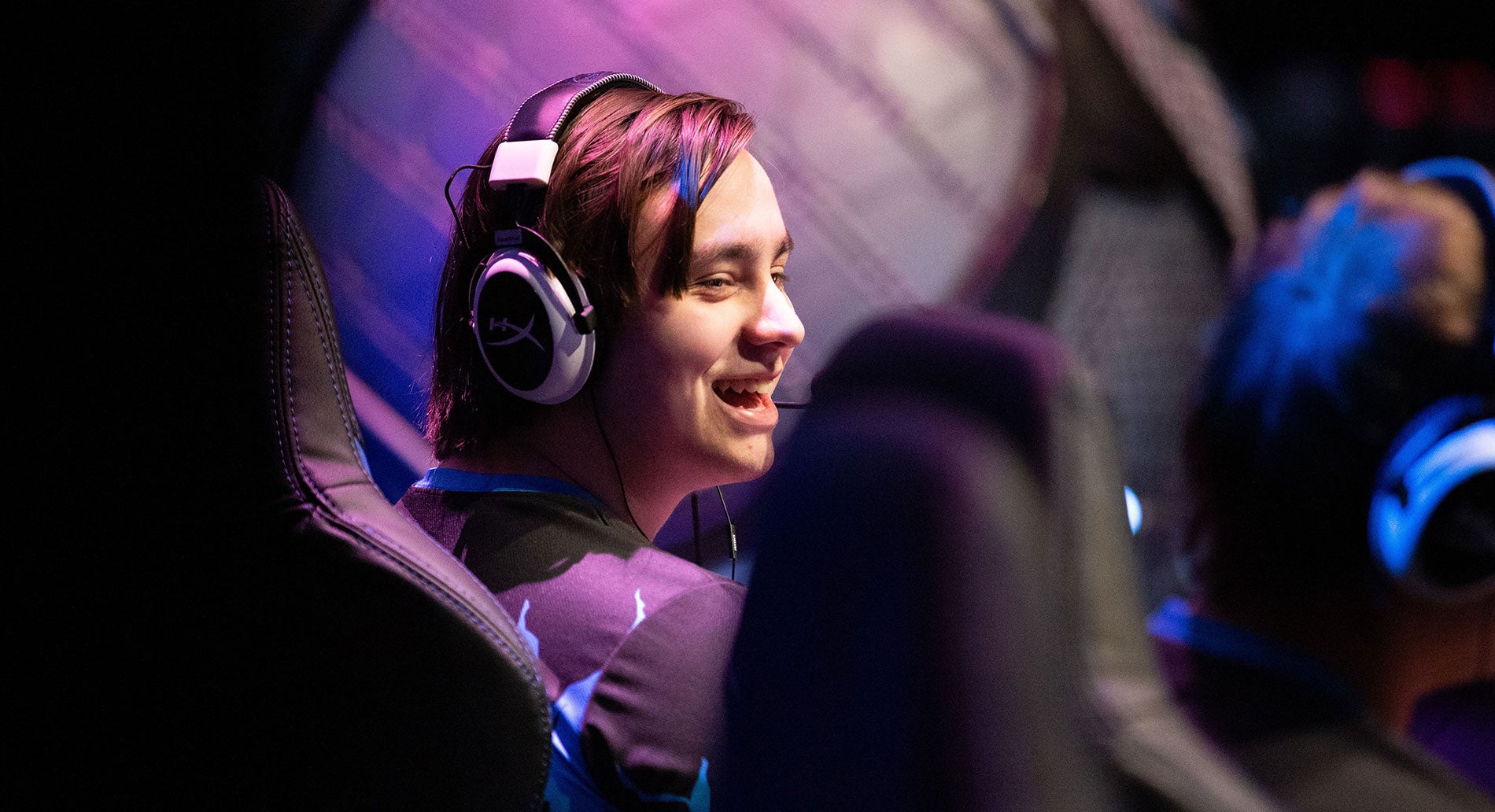 Season 3 wasn't the first time Turbopolsa had been to Worlds. He was in Los Angeles for the Season 1 World Championship, where he competed (and was knocked out early in Round 1 of the Lower Bracket) as part of Mock-It Esports alongside his now-retired teammates Alexander "Sikii" Karelin and Philip "paschy90" Paschmeyer. Season 3 was a bit different for Turbopolsa. Instead of coming in as a starter, he would instead be subbing in for Nicolai "Maestro" Bang as part of Northern Gaming. It's a spot that nobody would envy. Coming in and competing in the biggest tournament in Rocket League history with teammates that you have little-to-no rapport with is an extremely daunting task.
Well, it would be for anyone but Turbopolsa. After getting knocked down to the Lower Bracket by NRG Esports, Northern Gaming began an incredible run through the Lower Bracket, taking down Rogue and The Leftovers, before exacting revenge on NRG Esports to make their way to the Grand Finals. Turbopolsa and Northern Gaming then took down Mock-It in a thrilling bracket reset that spanned a total of 13 games. As Turbopolsa, Remco "remkoe" den Boer, and David "Deevo" Morrow hoisted the trophy, the familiar rain of confetti fluttered around them. It was then that Turbopolsa knew he had ignited a fire within himself. It was just the beginning of something special. "I didn't play during the regular season, so people couldn't have seen how good I was at that time," Turbopolsa says. "And I think if we didn't win the Finals, I would have never gotten picked up to start this journey."
The win ended up being a catalyst for one of the most storied careers in Rocket League history.
The Birth of a Dynasty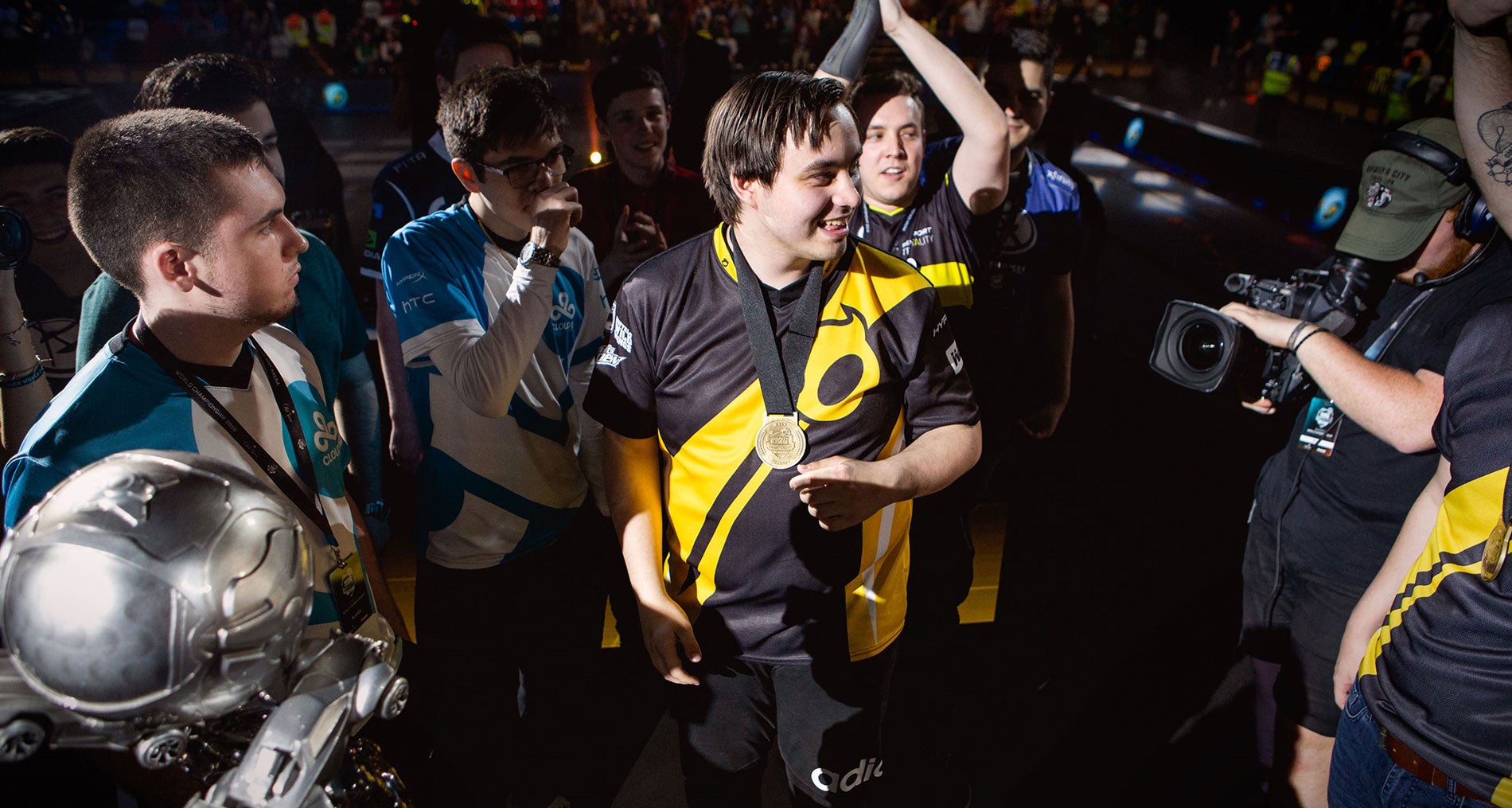 Following his World Championship win in Season 3 and Northern Gaming dropping their roster, Turbopolsa was now on the hunt for a team to call his own. He was eventually given a tryout with Gale Force Esports' rebuild that was focused around Jos "ViolentPanda" van Meurs and Alexandre "Kaydop" Courant. A string of solid performances over the summer helped cement Turbopolsa's spot on the roster, and Gale Force Esports as one of Rocket League's top teams.
In Season 4 of the RLCS, the squad ended up with a respectable 5-2 League Play record before scoring a European Regional Championship win. With the momentum behind them, Gale Force Esports swept through the Upper Bracket of the World Championship. The only thing that stood between Turbopolsa and a second-straight World Championship was Method—and it didn't last long.
In a 4-0 beatdown, Gale Force Esports outscored Method 10-3 on their way to a perfect sweep and another World Championship win for Turbopolsa. It was a welcome surprise for the then two-time champion, who had high hopes for the tournament, but never imagined that he'd be winning another World Championship so soon. "I had a top 4 finish in my head but I never imagined winning back-to-back," reflects Turbopolsa. "I always think about why this happened to me. What did I do to deserve to be where I am? But, here we are."
After their World Championship win in Season 4, Gale Force Esports hit the pitch again in Season 5 for their first-ever title defense as a squad. It started off with a dominant 6-1 League Play record, which was then followed up—almost predictably—by another European Regional Championship win. All that winning was beginning to catch the eyes of bigger esports organizations that wanted to sign up for Rocket League Esports with a team as dominant as Gale Force Esports. And that's exactly what happened right before the Season 5 Rocket League World Championship. Dignitas swooped in and picked up the roster ahead of the World Championship, instantly locking down one of the best teams in the world.
Dignitas started strong at the Season 5 World Championship, taking down Chiefs Esports Club 3-1 in the Upper Bracket Quarterfinals, but they were swiftly knocked down to the Lower Bracket after a 1-3 defeat against NRG Esports in the Upper Bracket Semifinals. Turbopolsa's third-straight World Championship had to be earned through the Lower Bracket. Dignitas took down Evil Geniuses, Cloud9, and Complexity on their way to a fiery rematch with NRG Esports in the Grand Finals.
In what became a definitive match of competitive Rocket League, Dignitas fought to a bracket reset—and what a bracket reset it was. Like it was ripped straight from a storybook, everything came down to Game 7. With Dignitas ahead by a single goal, it looked all but done as the clock hit zero, but then Justin "jstn." Morales hit the shot of his life to tie up the game and send the Grand Finals to an all-or-nothing overtime. With only 22 seconds having ticked by in overtime, the unthinkable happened as Garrett "GarrettG" Gordon and Jayson "Fireburner" Nunez collided into each other, opening the door for a shot from Turbopolsa. Bang. With a flick off of the wall, Turbopolsa sank the dagger that defeated NRG Esports and made him the first—and only—three-peat champion in Rocket League Esports history.
"I remember seeing them from the corner of my eye and fortunately I got a touch on the wall that I really didn't try to do," remembers Turbopolsa. "I was going to air dribble it but the bounce was perfect for a shot and I just exploded with relief and happiness. Scoring a series-deciding goal is such a good feeling."
As Turbopolsa helped lift the trophy once more, it hit him that he had just accomplished something that had never happened in Rocket League Esports. With one goal, he'd gone from one of the most dominant players of all time to the most dominant player of all time. His hardware cabinet could now do all the talking for him. At the time, he'd won three out of five Rocket League World Championships and as the confetti and crowd around him finally settled, he reflected on what was truly a monumental achievement it was. "After that insane Finals, I just felt a lot of relief. To make history that no one will break was insaaaane to think about," he says. "In my head, I'm always thinking: 'I can't believe I'm the best in the world at something I do.'"
There's an old adage that states: "Good things don't last forever." And unfortunately, that adage came true faster for Turbopolsa than he—or anybody else—thought it would.
Finding Himself Again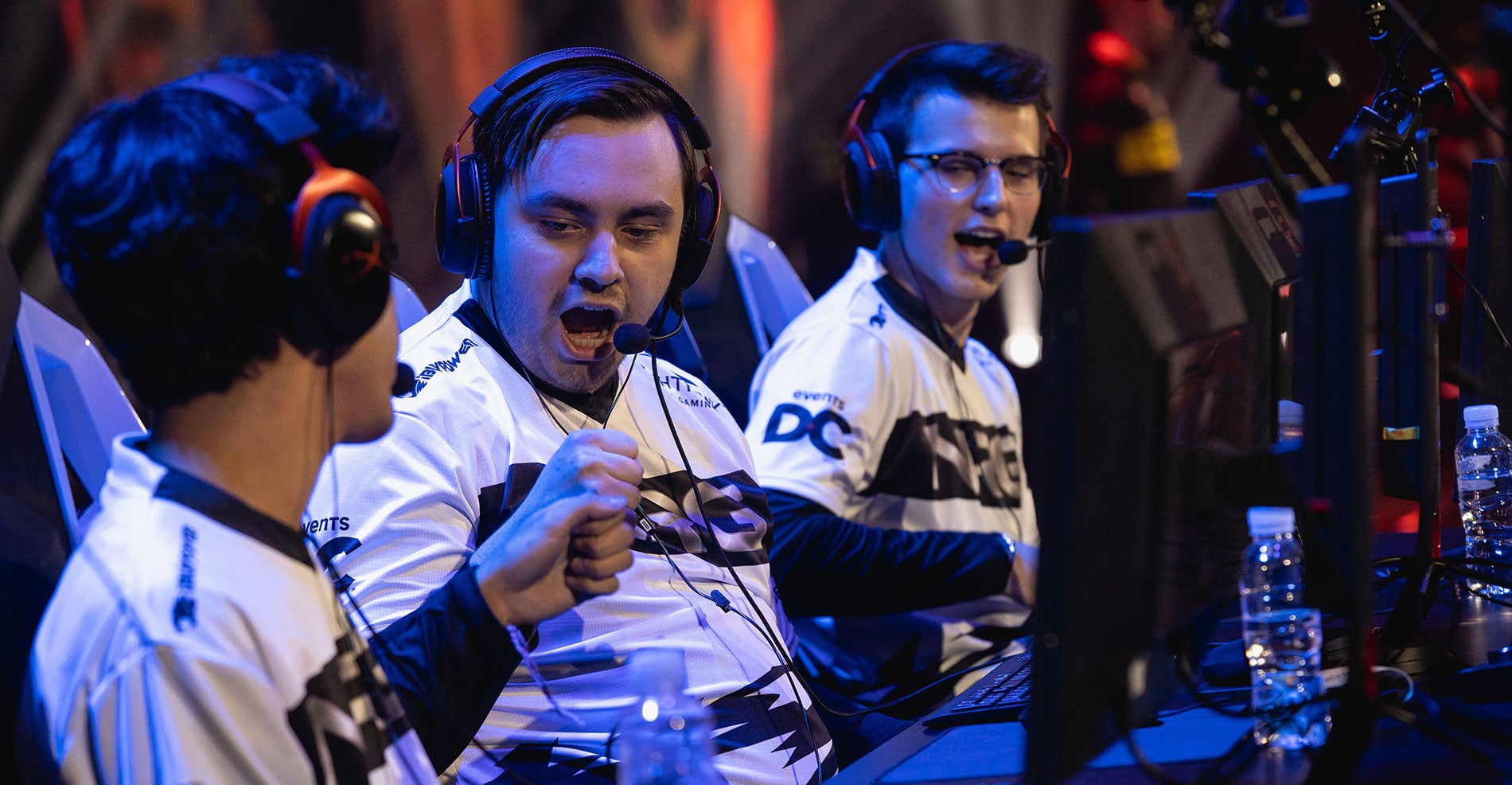 Turbopolsa and Dignitas got out to a scorching start during RLCS Season 6, earning a nearly unheard of perfect 7-0 League Play record. The perfect record was quickly followed up by yet another European Regional Championship win that instantly catapulted Dignitas to World Championship favorites.
This time around, Dignitas would defend their throne across the Atlantic in Las Vegas, Nevada. Their World Championship campaign started with a close 3-2 win over Evil Geniuses, followed by a well-fought 3-1 win over Flipsid3 Tactics before qualifying for the Grand Finals with a 4-1 win over We Dem Girlz in the Winner's Bracket Finals.
Meanwhile in the Lower Bracket, North America's Cloud9 was picking up steam with each win they notched. In what became the most epic Lower-Bracket run of all time, Cloud9 went on an impressive run of five-straight series wins on their way to a date with Turbopolsa and Dignitas in the Grand Finals.
With mechanical fireworks that Rocket League Esports had never seen before, Cloud9 dismantled Dignitas in back-to-back, 4-1 wins to reset the bracket and win the title. From the outside, it looked like Cloud9's high-octane, mechanical display was too much of a mismatch for Dignitas to overcome, but it was more than that to Turbopolsa. "It [Cloud9's victory over Dignitas] was a mix of Cloud9 overperforming," says Turbopolsa. "And us having internal issues ever since Season 4 between me and ViolentPanda."
With the seams slowly coming undone for the Dignitas dynasty, Kaydop astutely saw the writing on the wall and left to form a super team with Victor "Fairy Peak" Locquet and Kyle "Scrub Killa" Robertson on Renault Vitality. This left Turbopolsa and ViolentPanda locked together for another season, except this time they'd be joined by their newest addition, Maurice "Yukeo" Weihs, who came from Flipsid3 Tactics. It was a season that they'd all like to forget.
Dignitas looked nothing like their former selves, stumbling to a paltry 3-4 League Play record, which was a far cry from their perfect 7-0 League Play record just a season ago. It was just enough to sneak them into the European Regional Championship where they took down TSM 4-2 before being knocked out of World Championship contention by PSG Esports. "I think after Kaydop left, my confidence sank to the bottom. That's why I had the worst season of my career, stats-wise," Turbopolsa admits. "I just think we had reached the end of the Dignitas dynasty with me and ViolentPanda, so something had to change."
It was the first season since Season 2 that Turbopolsa would have to watch the World Championship from home. To add insult to injury, he had to watch his former teammate Kaydop pick up his third World Championship trophy with a different team. Yet, for Turbopolsa, it was a logical outcome of his poor play and only served to motivate him to step up his game, no matter where he was playing in Season 8. "I honestly didn't feel bad about myself because I knew I didn't deserve to play at Worlds based on my play," admits Turbopolsa. "Instead, I worked harder for the next one."
As it would turn out, he wouldn't have to wait much longer for another shot at the World Championship.
Back Up to Speed
Turbopolsa's departure from Dignitas came swiftly and it signalled the true end of an era in Rocket League Esports. Where Turbopolsa would go was anyone's guess, but he joked about going across the pond. "It first started as a joke when I was talking to Garrett. I said, 'Pick me up, loser,'" says Turbopolsa. But then it got increasingly serious as Turbopolsa began scrimming with NRG Esports. "We scrimmed a couple of times and it went well even though I had 120 ping," he says. "I told him to try out other players before making a decision, because I want them to actually WANT to play with me and not just pick me up for my history."
It took just over a month for NRG Esports to make it official. On July 25, 2019 Turbopolsa's transfer to NRG Esports (and by extension North America) quickly became the biggest roster move of all-time and only the second cross-region transfer in RLCS history.
Turbopolsa made a noticeable difference to the squad nearly instantly. The team's first major tournament was the inaugural Rocket League Summit Presented by Beyond the Summit. They viewed the tournament as an opportunity to get acclimated to each other ahead of RLCS Season 8. The acclimation period didn't take long. NRG Esports messed around and won the whole thing. It was a win that proved to this new roster that they could win. "I think that win was huge for Garrett and jstn. and their mentality," says Turbopolsa. "Knowing they actually are able to win a tournament is a huge confidence boost, and it was just straight good vibes from there."
Turbopolsa and NRG Esports rode that momentum through Season 8 League Play, knocking off every team but Rogue for a dominant 6-1 record. In the North American Regional Championship, NRG Esports stormed through their two matches that included a 4-0 demolition of the Pittsburgh Knights in the Grand Finals to lock in their spot as North America's top seed at Worlds.
NRG Esports came out guns blazing at the World Championship, and headed into Championship Sunday with a spotless match record. "I try to be relaxed after every game, drink some water and not take a loss or win for granted," says Turbopolsa. "Every game is different and you always have to remember that, you can lose 1-8 one game but win 8-1 the next one, so I try to keep the team motivated and not tilted."
Those strengths would become even more crucial as NRG Esports made their way to the Season 8 World Championship Grand Finals where they faced off once again against Renault Vitality. It ended up being one of the best series in Rocket League Esports history. After years of GarrettG and jstn. struggling to become World Champions, Turbopolsa helped guide the team to a Game 7, Grand Finals overtime. The next goal decided a World Champion.
It was early into overtime when GarrettG cleared long down the field and jstn. could be seen saying simply: "I'm up." With just 21 seconds on the clock: splash. At long last, NRG Esports finally took home a World Championship. As it turned out, Turbopolsa's veteran leadership was everything they needed to make it happen. "My reaction was the same as any other overtime goals: hyped and full of happiness," remembers Turbopolsa. "That feeling is something so special and only a few will know about it."
Onwards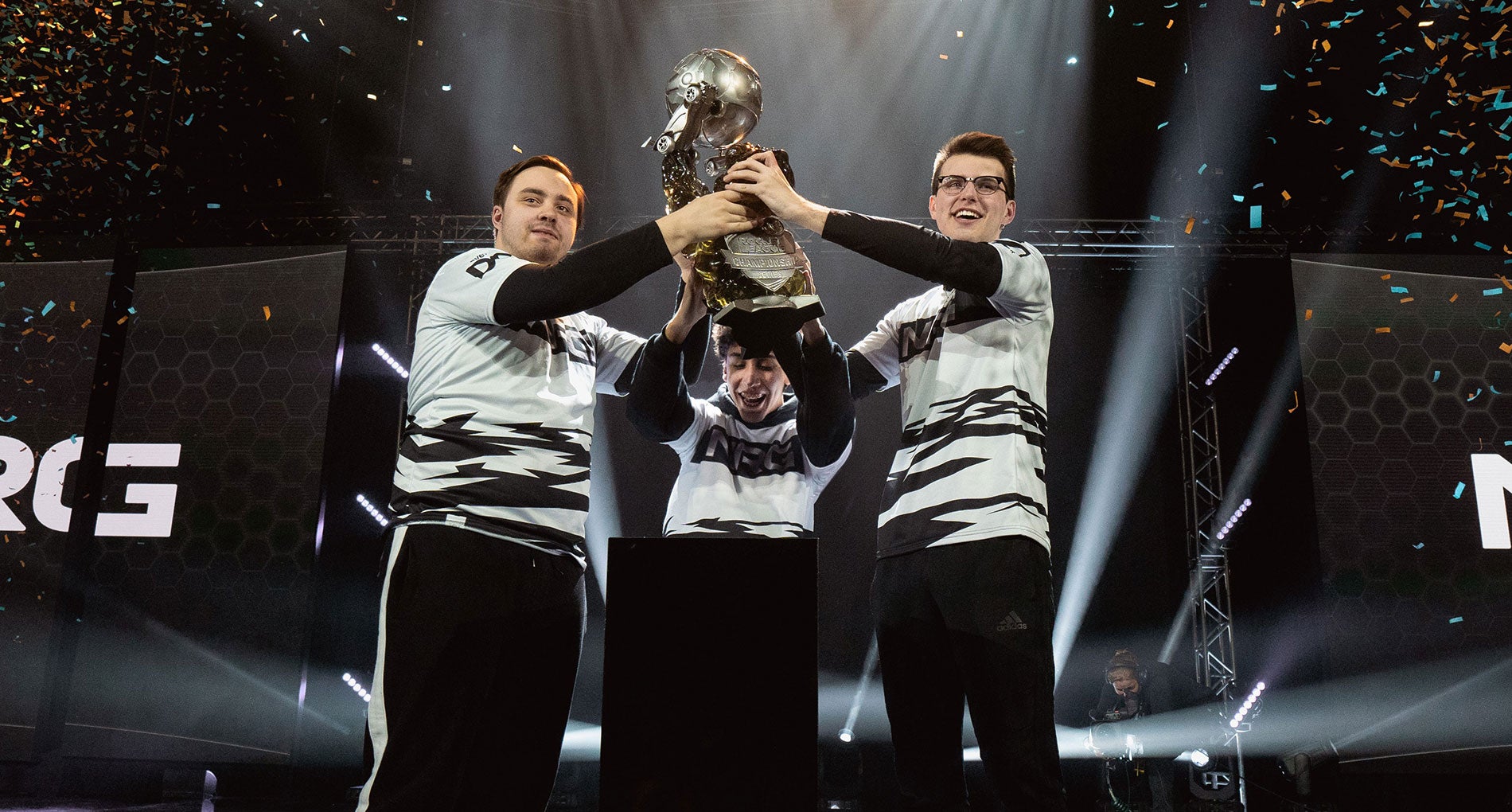 More than a month has passed since that monumental win that made Turbopolsa the only four-time Rocket League World Champion. It's a time that he can't help but look fondly back on, and it still brings him joy to this day. "I've known Garrett since the beginning of Season 1 and at this point I'm more happy for him and jstn. winning Worlds and Summit than I am for myself. I feel happier than ever right now," he says. "When we won after they tried so many times, I cried a bit inside. On the flight back home I was getting tears in my eyes just thinking about that moment and the history with the team."
Turbopolsa knows that he can't linger on those good memories forever. Season 9 is coming up fast and he's already gearing up to hit the pitch and defend his title. But after becoming the winningest player ever to play the game of Rocket League one has to ask what's next for Turbopolsa. He knows and it's quite simple: "Keep winning tournaments," says Turbopolsa. "I'm a born competitor and I HATE losing, so that's the last thing I want to do."
It comes from a drive deep within himself that compels him to keep pressing for more. Turbopolsa isn't content with just being one of the best, he wants to be the best. He wants to ascend to the top and continue until he's set the bar so impossibly high that it can't be touched by any other player. He says it more concisely, and it comes down to one simple statement: "I just want to be a legend in this game."
Here's the thing about Turbopolsa—He already is.