The Rocket League Championship Series (RLCS) has created countless memorable moments, but as the esport grows each season, the RLCS needs to follow suit.
RLCS X will represent the most fundamental changes to the RLCS since its inception in 2016. On top of a huge $4,500,000+ overall prize pool, we're making sweeping changes to the league and its structure to build a foundation for competitive Rocket League for the years ahead. RLCS X represents our first step toward a brand-new vision for the RLCS.
Introducing the New RLCS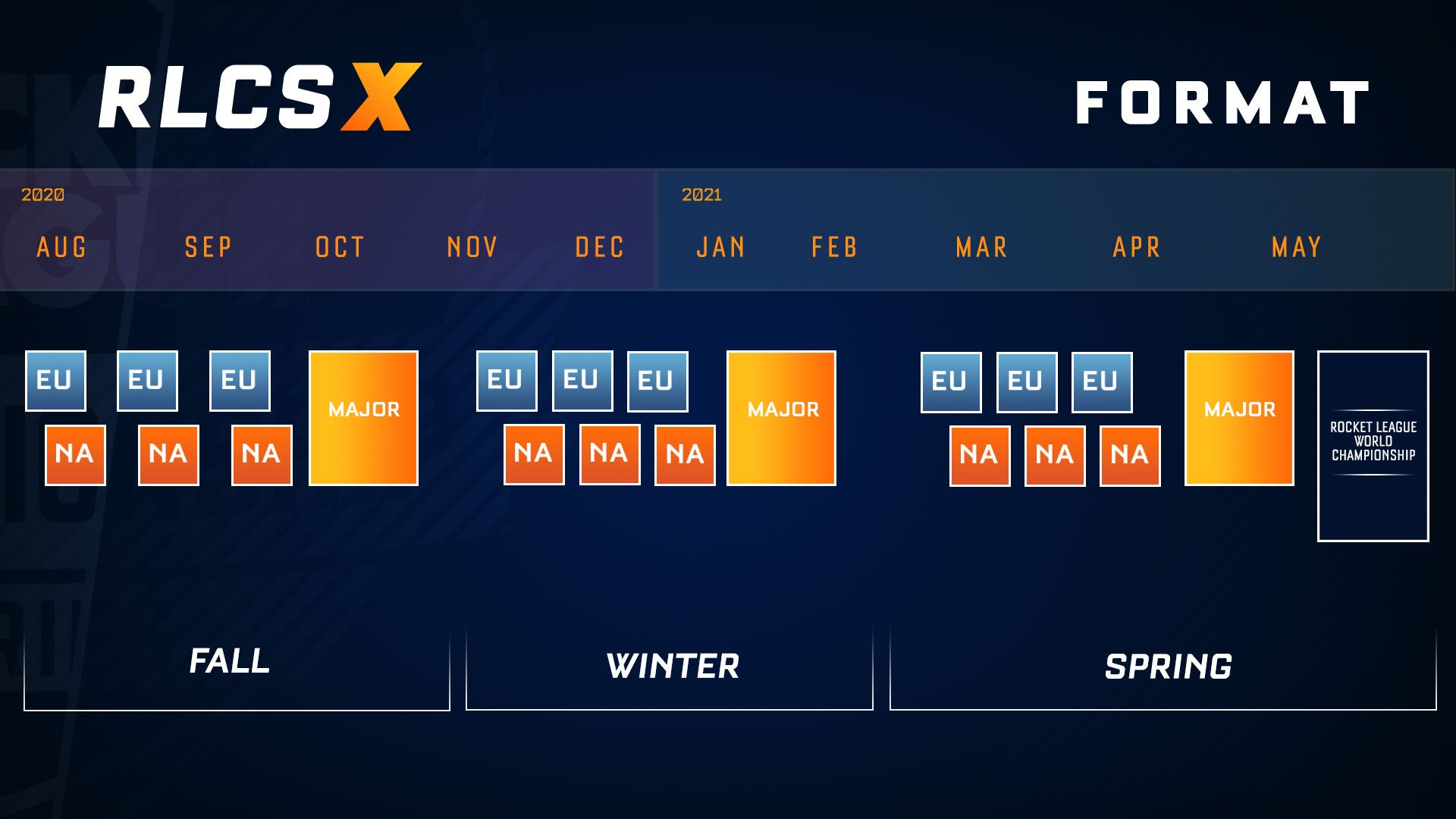 Let's begin with how we're changing the RLCS. We're moving away from the League Play format and bi-annual seasons. RLCS X will be an open event-based circuit format that culminates in an annual Rocket League World Championship. We believe this format strikes a healthy balance between open competition and rewarding consistent, high-level performance. It also gives us the flexibility to continue to award points towards World Championship qualification if live international events are not possible during the season due to world wide health concerns.
Let's break down what RLCS X will look like:
Three Splits constitute a full season (Fall, Winter, and Spring)

Each Split will feature three standalone Regional Events for both North America and Europe (six between the two regions for a total of 18 Regional Events per season)

All Regional Events will begin with an Open Qualifier on Battlefy

Each Split will culminate with a Major (three Majors per season)

All three Splits will showcase a different tournament format

The Fall Split is a 32-team tournament format

The Winter Split will be a 24-team format

The Spring Split will be a 20-team format

Regional Events will provide $100,000 in prizing per event

Majors will provide $250,000 in prizing per Split

The Rocket League World Championship will provide $1,000,000 in prizing

By the end of the season, more than $4,500,000 in prizing will be awarded across all regions
As mentioned above, each Split will showcase its own format. Here's a look at what you can expect from the Fall Split. We'll reveal additional details about the Winter and Spring Splits later on.
Fall Split
Each Regional Event will have 32 teams

Teams that earned their spot from RLCS Season 9 will be auto-invited to Regional Events (bypassing Open Qualifiers)

Teams that earned their spot from the previous Rival Series season will be auto-seeded into Day 3 of the Open Qualifiers

The 32 qualified teams will be placed into two groups of 16 with each playing a Swiss format

The top eight teams from each group will proceed to another 16-team Swiss format

The top eight teams from that group will move on to a single-elimination bracket

All events in the Fall Split will be online

Sign ups are open now and will close on July 24 for each region's first Regional Event

Broadcasts for the Fall Split will begin on August 1 with the first European Regional Event
Every event in RLCS X grants points towards World Championship qualification. Regional Events grant fewer points and will also be used to qualify for Majors, which grant more points. It's important to note that points will reset between Splits for Major qualification, but points accumulated over all three Splits will still serve for World Championship qualification. This helps keep competition for Major qualification healthy each Split, while rewarding teams with World Championship qualification for long-term competitive consistency.
Speaking of the World Championship, it's getting bigger and better. Along with the $1,000,000 prize pool, we're also expanding the World Championship to 16 teams (six from North America, six from Europe, two from South America, and two from Oceania).
We're working with South American and Oceanic tournament organizers to create their own circuit of events that will serve as official pathways to Majors and the World Championship. They'll have their own point systems and their prize pools are being increased across the board. More information will be available soon.
RLCS: The Grid
Another big change to our competitive ecosystem is The Grid, a new weekly tournament circuit that brings top teams together to battle for Grid Points, prize money, better seeding, and a spot at the Majors. The Grid was inspired by the motorsport concept of 'starting grids,' and this league reflects that philosophy, with results informing RLCS Regional Event seeding and qualifying top-performing teams for RLCS Majors.
Here's how it works:
Nine weekly tournaments per RLCS Split

Teams earn Grid Points and a cut of a $10,000 (per region) weekly prize pool

The Grid will inform seeding for RLCS Regional Events

The team with the highest accumulated Grid Points will qualify for that Split's Major

At the end of each Split the top ten teams retain their spots, while the bottom six teams will have to fight for their spots in The Grid

The 16 teams invited to the first season of The Grid are the teams that earned RLCS and Rival Series auto-qualifications via their performance in Season 9

Grid Points will reset after each Split and can't be used to qualify for the World Championship.
We're also opening up The Grid broadcasts to allow individual teams to stream, making it easy to follow your favorite team's run. We'll share more details on this as we get closer to the start of The Grid.
Moving Forward
RLCS X is our first step towards a new, exciting way for players and fans to experience professional Rocket League.
Battlefy's expertise will help us deliver a better tournament experience while also tracking results, points earnings, and more in real-time. In fact, you and your team can head over to our landing page and sign up RIGHT NOW on Battlefy before the deadline on July 24 at 10 a.m. PT (5 p.m. UTC)! So, get to practicing and don't miss your shot at competing in RLCS X.
We'll have more information to share as we get closer to the season so stay tuned to Rocket League Esports on Twitter! But, in the meantime, make sure to assemble your squad and sign up today. We'll see you on the RLCS pitch!