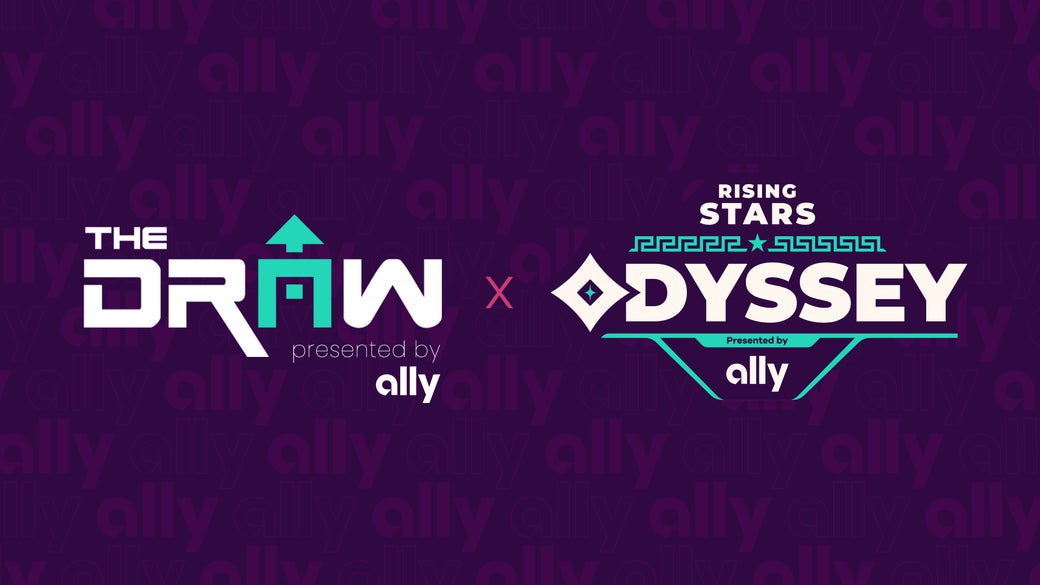 Ally and Rocket League Esports have teamed up for two community tournament series in Europe and North America! Without further ado, we're proud to introduce The Draw and Rising Stars Odyssey. Ally is proudly supporting Rocket League's amateur and semi-pro scene with a series of tournaments across Europe and North America that'll provide aspiring players a chance to play against some of the top Rocket League Championship Series (RLCS) players and teams in the world.
Now you've got the idea, let's jump right into the details.
What is The Draw?
The Draw is a North American series of high-stakes tournaments presented by community favorites Jamesbot and Rizzo! These tournaments will see top RLCS teams competing against new and rising talent with a $70,000 overall prize pool on the line ($14,000 per event). The Draw will consist of a total of five tournaments and ten live broadcasts, which will be broadcast live on Rizzo's Twitch Channel.
Format and Schedule Details
Each event of The Draw will consist of a Qualifier and a Main Event. Each Qualifier will have open sign-ups on start.gg to qualify 12 teams.The Draw Main Event will consist of 16 teams, including four invited RLCS teams and the 12 qualified teams. There will be four total rounds of Single-Elimination matches. However, rounds one, two, and three will be determined by a random draw—it's the name, get it? The final two remaining teams will play in the Grand Finals to see who will be crowned The Draw Champions.
Here's a quick glance at the dates you need to know:
April 22-23 - The Draw I

May 13-14 - The Draw II

June 10-11 - The Draw III

July 15-16 - The Draw IV

August 5-6 - The Draw V
More information on timing will be announced soon. Be sure to follow Rizzo on Twitter to stay up to date!
What is the Rising Stars Odyssey?
Rising Stars Odyssey (RSO) is an international tournament series in Europe produced by community stalwart Rocket Baguette. This tournament will pit amateur and pro European teams against each other in an exciting international competition that'll be broadcast in English and French (with more languages to be confirmed)! Rising Stars Odyssey will consist of five events, each with a qualifier and main event day. The prize pool consists of $70,000, and you can catch the broadcasts on Rocket Baguette's Twitch Channel.
Format and Schedule Details
Rising Stars Odyssey consists of five Open Qualifier events and five Main Events, and sign ups are now open! Qualifiers are a six-pool, Double-Elimination Bracket played on day one, with the top two teams securing a spot in the Main Event on day two! The Rising Stars Odyssey Main Events will feature sixteen teams in a seeded Single-Elimination Best-of-7 Bracket, culminating in the Top 2 teams competing for who will claim Rising Stars Odyssey glory.
Here's a look at the dates you'll need to know:
April 22-23 - RSO I

June 3-4 - RSO II

July 1-2 - RSO III

September 2-3 - RSO IV

September 16-17 - RSO V
To stay up to date on all things Rising Stars Odyssey, be sure to follow Rocket Baguette on Twitter!
Let's Go!
We can't wait to see some of the best rising competitors in both North America and Europe hit the pitch. If you want to stay up to date with the latest, make sure to follow Rocket League Esports, Rizzo, and Rocket Baguette on Twitter. Be sure to tune in on Rizzo's Twitch channel for The Draw I and Rocket Baguette's Twitch channel for the first Rising Stars Odyssey Open Qualifier. We'll see you then!