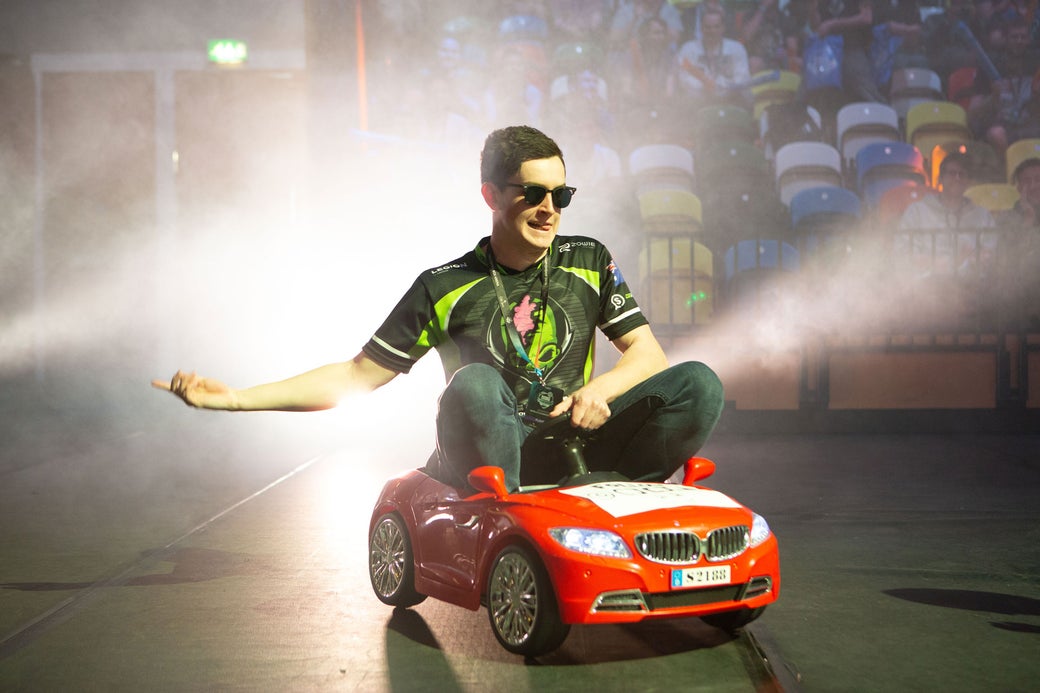 Cameron "CJCJ" Johns is another mainstay of the Rocket League Championship Series from the Oceania (OCE) region, having just qualified for his third straight World Championship -- this time, on team Tainted Minds along with Nathan "Shadey " Logan and Jonathan "Express" Slade. With this new roster, CJCJ and company have taken down the Chiefs three times this season to nab the OCE #1 seed AND a first-round bracket draw against North American team Evil Geniuses. The team is turning a lot of heads with their success this season after dethroning the Chiefs as the best team in OCE. Now CJCJ is eager to lead them on a deep run in Las Vegas and compete with the best teams in the world. I had the chance to talk to Cameron about his team, the season and the upcoming World Championship.
Q: First off, congrats on qualifying for #LANVegas! I'm really excited for you. How does it feel to qualify for the World Championship again?
Cameron "CJCJ" Johns: It feels unbelievable to be going for a third World Championship and with a different roster each time. [It's] really awesome. It keeps my drive and passion for the game alive.

Q: How did you and your team react when you qualified?
CJCJ: Tons of yelling was just about the main feature of our Discord call when we qualified. It was incredible and I was so happy for Shadey, in particular, for finally making his first World Championship; and Express for returning to the stage after three seasons.

Q: You guys had a pretty great season of League Play, taking out the Chiefs every series and securing the #1 seed out of OCE. What was your preparation like to make this happen?
CJCJ: We formed this new team just over two months ago, so immediately we had to grind pretty hard. We didn't really click right off the bat, so we had a few important sessions where we all got on the same page with our structure and how we wanted to play as a team. Those [sessions] were crucial and we saw steady growth throughout the season to where we are now. Behind closed doors, we knew we were able to take down Chiefs if we stuck to our guns and played how we wanted to play. Fortunately, we were able to display that three times this season.
Q: What went into the decision to shuffle and bring on Shadey and Express?
CJCJ: In the off-season, I was made aware of Cameron "Kamii" Ingram's intentions to join the Chiefs alongside Matthew "Drippay " Den-Kaat and Daniel "Torsos" Parsons. Upon hearing this, I was approached by Jake, who, at the time, wanted to form a team to take down the Chiefs. Express was, in our opinion, the best player for a "third" and we convinced him to come on board with this new lineup. Unfortunately, Jake quickly realised that university was too much of a toll and he couldn't commit to the team, leaving just Express and myself. We then went to Express' old teammate, Shadey, who was clearly the best option in the region and we were lucky enough to grab him to start grinding. We overhauled a new, aggressive playstyle and the rest is history.
Q: How's the team dynamic?
CJCJ: The team is really awesome. Express and Shadey were already great mates with a lot of history from being on a previous team, so they had synergy right off the bat. We all really bounce off each other and I think it shows in our gameplay with our trust and willingness to play as one cohesive unit. Comms-wise, I am more of the hype man and motivator of the team whilst Express is the strat-caller and Shadey is great at laughing at my jokes.

Q: What do you think gives you guys the edge over the Chiefs and other teams?
CJCJ: I think OCE analyst, David "yumi_cheeseman" Lane, put it pretty well during League Play when he said that we were the "teamiest team" out of everyone. We really work together in a way that I haven't experienced before and we give each other license to play with freedom and have fun. The way we are able to pressure teams and create big plays leading to goals is something that other teams struggle to stop in the region, and this playstyle is something that I can see working very well internationally.
Q: OCE vs the world. Where do you think you guys are at compared to NA and EU?
CJCJ: Both us and Chiefs have improved a heaps this season. I know from my own perspective that this is clearly the best team and feeling that I've had going into a World Championship. It's always hard to compare given the fact that we [usually] only meet once every six months, but I believe that both OCE teams are able to beat any team if we play with confidence and belief in our playstyles. Except Dignitas, of course, but they're probably not human anyway.
Q: You face a bracket starting with Evil Geniuses with Team Dignitas looming as the potential next match. How do you feel about the bracket draw? Any words for EG?
CJCJ: We're looking forward to playing Evil Geniuses first up and feel that this matchup will give us a chance to showcase our unique, exciting playstyle to the world and settle into the World Championship. We are confident that if we play our way and have fun on the big stage, then the scoreboard will take care of itself. If we do get the opportunity to play Dignitas, we will absolutely relish it. To play the best team in the world on the biggest stage is an awesome opportunity and we'll go out there backing ourselves in to perform.

I won't be firing too many shots at EG as the trash talk doesn't affect us too much, however, it's very interesting to see talk of them already looking towards Dignitas given their record against OCE?
Q: What are you most excited about for Worlds? Should we be on the lookout for epic walkouts?
CJCJ: I'm most excited to go over with my new teammates and let them (Shadey in particular) really soak up the whole experience. It's a really fun week and I feel great about how the team has been performing; we will hopefully be showing that on the big stage. I don't have anything planned yet for my walkout but I won't be disappointing the fans, that's for sure.

Q: Anything you want to add? The floor is yours.
CJCJ: I'd just like to thank everyone who has supported both myself and the team throughout the season, and pretty much anyone who supports OCE Rocket League. I really want this region to put its name right next to the big guns on the world stage and I think that this is the season for some huge results. I'd also like to thank our org, Tainted Minds, who put faith in myself to build a new team over the off-season and hopefully we haven't let them down so far. Thanks everyone for the love, and I hope you're all cheering hard for the green and pink aliens in Las Vegas (and the Chiefs, too!)