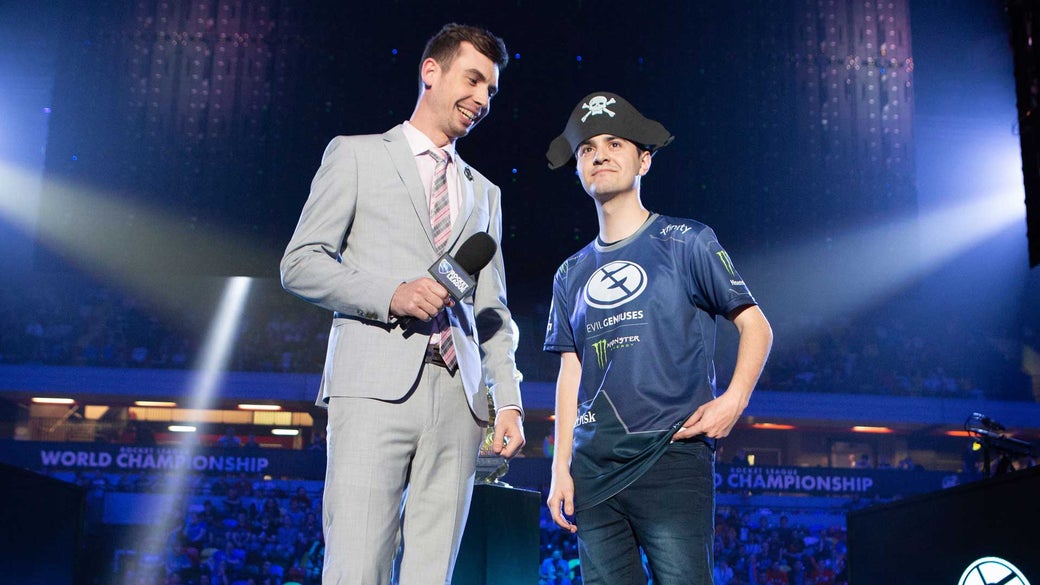 Evil Geniuses had a topsy-turvy season in Rocket League Championship Series (RLCS) League Play, but ultimately prevailed in the final weeks to secure a spot at the World Championship; including a 4-2 series win over Ghost Gaming. The team will arrive in Las Vegas as the number-four seed out of North America where they face Tainted Minds in the first round. EG's Gabriel "CorruptedG" Vallozzi is an RLCS veteran at this point and the backbone of his squad. Alongside Jason "Klassux" Klass and high-flying newcomer Reed "Chicago" Wilen, Evil Geniuses are capable of taking out ANYONE on the right day, with plenty of "fight" in their spirit (as displayed last season, when they placed 5th/ 6th at LANdon, after defeating Vitality and G2 Esports). I had the chance to chat with CorruptedG about this past season and the upcoming World Championship in Las Vegas.
Q: Congrats on making the World Championship! How does it feel to qualify?
Gabriel "CorruptedG" Vallozzi: As always, it feels amazing to qualify for LAN. There's not another feeling like it, if I'm being honest. Knowing you're going to be onstage, competing with a crowd of people cheering for you, is surreal every single time. The Season 5 World Championship in London was one of my favorite moments in my life and I can only assume Las Vegas will be the same or even better.
Q: What's going through your mind in those moments when you are trying to qualify? With such an important season, how much pressure does that add?
CorruptedG: Having one day decide if you go to Worlds is a lot of pressure for teams to have. In the moment, you are kind of just playing your game as best as you can. Personally, I don't think about the outcome until it happens. As a player, it is actually more stressful spectating important series than it is playing; because when you're in control, you feel less nervous when you trust in yourself. With such a short season, every game is filled with so much pressure that, in turn, it prepares you for the high stakes of playoffs.
Q: What went into the decision to drop Robert "Chrome" Gomez and pick up Chicago? How did this change your approach to the season?
CorruptedG: Our decision to pick up Chicago was something we thought about a lot. He was an upcoming player that was valued highly by many pro players, similar to Justin "JSTN" Morales before he joined NRG. We felt that we couldn't miss the opportunity to pick him up to improve our team both on and off the field. Our approach to the season stayed the same – we just wanted to go through it with no regrets and practice as much as we could.
Q: How has the dynamic of the team changed since bringing in Chicago?
CorruptedG: The dynamic of the team has changed because we are more motivated and positive than ever. We want to prove to everyone that this roster change was the correct one. I think that it has worked out so far and I'm excited to see what we can do at the World Championship.
Q: Your first match is against Tainted Minds from the OCE region. How are you preparing for this match and the World Championships?
CorruptedG: For Tainted Minds we are going to treat it like any other game we've had this season. We will look over replays and come up with a game plan. We never like to come into a match overconfident, so that won't change, especially at the World Championship where every team put in a ton of work to be there.
Q: I talked with Cameron "CJCJ" Johns about you guys and he said, "I won't be firing too many shots at EG as the trash talk doesn't affect us too much, however, it's very interesting to see talk of them already looking towards Dignitas given their record against OCE?" Do you have a response?
CorruptedG: I think CJ is talking about the tweet Chicago put out about ruining Dignitas' perfect season. It's always fun to poke at each other to hype up matches, but as I said before, we play every match respecting our opponent while trying not to be overconfident. Personally, I am 0-2 vs OCE, so I am going into this match full-steam ahead and will be looking to end that cold streak.
Q: Cloud9, G2, and NRG have been dubbed "The Big Three" in North America by our creative analysts and community. What do you guys need to do to break into the Big Three and join the conversation about top-tier NA teams?
CorruptedG: "The Big Three" is something we have to break into by defeating them. Once we beat NRG, I thought it was our time to be part of "The Big Four" but we couldn't quite play as consistently as we did that weekend. To break into "The Big Three" we have to consistently beat those teams, which didn't happen this season. We hope to come out swinging this World Championship to prove that we should be in the conversation again as one of NA's contenders.
Q: What would it mean to you to make a deep run in Las Vegas?
CorruptedG: Making a deep run in Vegas would be awesome, especially because we are coming into it with a new roster. We're feeling more confident than last season where we managed to place 5th/ 6th. Every team comes into the World Championship hungry for that trophy, but we all have realistic goals as well. I think surpassing last season's placement would be our goal and then anything after that is a bonus. Anything can happen.
Q: Thanks for taking the time to answer my questions - anything you'd like to add?

CorruptedG: I'd like to thank Evil Geniuses, our sponsors, fans, and family for supporting us this season and we hope to make them proud.